May. 14, 2019
In 1903, Mr. Baudouin founded Baudouin in the city of Marseille, the Third Republic of France.
For more than 100 years, Baudouin has been the main supplier of the French military diesel engine unit.
In 2010, French Baudouin products were officially introduced by Weichai, the establishment of a Sino-French joint venture.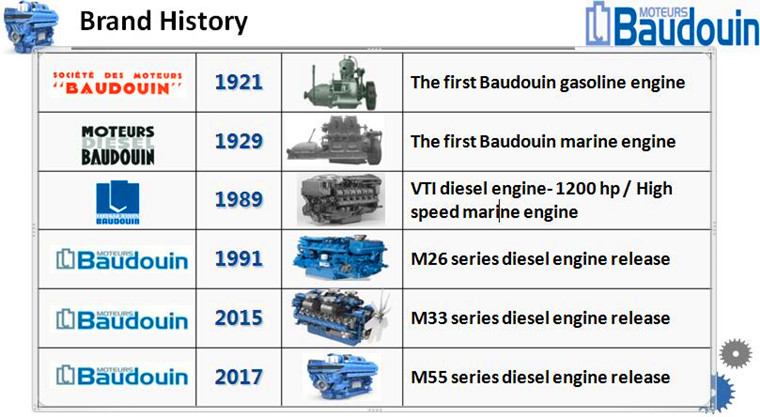 Baudouin product introduction - spectrum planning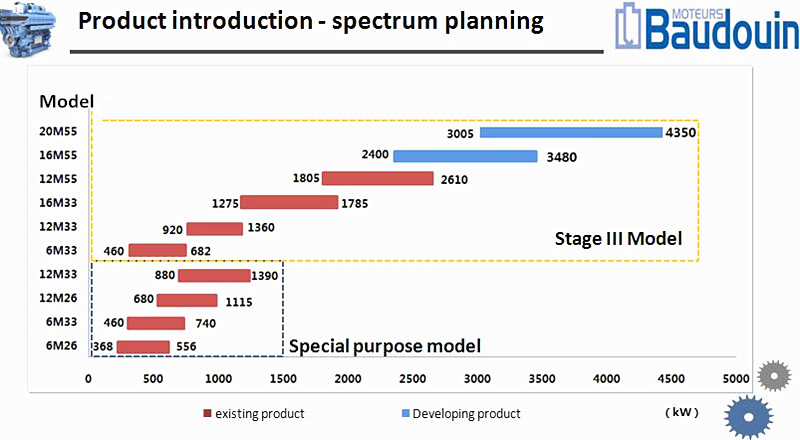 Baudouin Special Purpose Models
Speed (r/min)

Product platform

Model

Speed regulation mode

Prime power

(kW)

Prime power

(kW)

1500

6M26

6M26D447E200

Electronic

406

447

6M26D484E200

440

484

6M33

6M33D572E200

520

572

6M33D633E200

575

633

6M33D725E210

Electronic control

---

725

12M26

12M26D748E200

Electronic

680

748

12M26D792E200

720

792

12M26D902E200

820

902

12M26D968E200

880

968

12M33

12M33D1108E200

1007

1108

12M33D1210E200

1100

1210
Speed (r/min)

Product platform

Model

Speed regulation mode

Prime power

(kW)

Prime power

(kW)

1500

6M26

6M26D447E201

Electronic

406

447

6M26D556E201

506

556

6M33

6M33D572E201

520

572

6M33D670E201

610

670

6M33D740E211

Electronic control

---

740

12M26

12M26D748E201

Electronic

680

748

12M26D792E201

720

792

12M26D902E201

820

902

12M26D1012E201

920

1012

2M26D1115E201

---

1115

12M33

12M33D1108E201

1007

1108

12M33D1265E201

1150

1265

12M33D1390E201

---

1390
Stage III Models
Speed (r/min)

Product platform

Model

Speed regulation mode

Prime power

(kW)

Prime power

(kW)

1500

6M33

6M33D506E310

Electronic

High Pressure Common Rail

460

506

6M33D550E310

500

550

6M33D633E310

575

633

12M33

12M33D968E310

880

968

12M33D1108E310

1007

1108

12M33D1240E310

1130

1240

16M33

16M33D1650E310

1530

1650

12M55

12M55D2175E310

1986

2175

16M55

16M55D2900E310

2647

2900

20M55

20M55D3625E310

3308

3625
Speed (r/min)

Product platform

Model

Speed regulation mode

Prime power

(kW)

Prime power

(kW)

1500

6M33

6M33D506E311

Electronic

High Pressure Common Rail

460

506

6M33D550E311

500

550

6M33D633E311

575

633

6M33D682E311

620

682

12M33

12M33D1012E311

920

1012

12M33D1210E311

1100

1210

12M33D1360E311

1235

1360

16M33

16M33D1785E311

1625

1785

16M33D1910E311

---

1910

12M55

12M55D2610E311

2383

2610

16M55

16M55D3480E311

3175

3480

20M55

20M55D4350E311

3970

4350
M33 Series Power Generation Product Introduction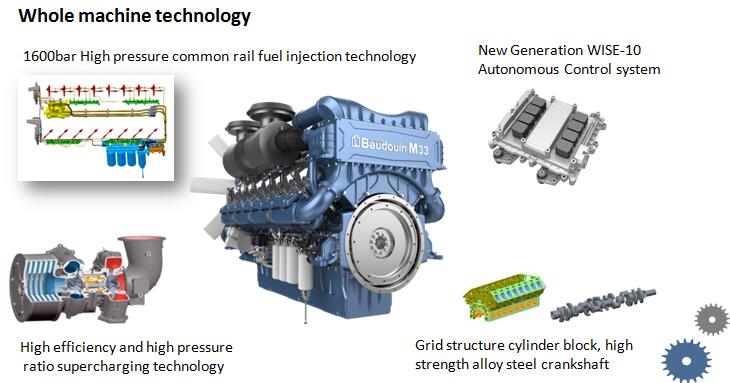 Standard hand pressure oil pump
Pre-lubricate the engine to extend engine life and facilitate the replacement of lubricating oil.
Oil cooling filter modular
Oil filter, oil cooler modular design, first filter and then cooling. High filtration efficiency and long service life of oil cooler
Bypass oil eccentricity
The rotor eccentricity is adopted to improve the quality of lubricating oil, greatly extend the replacement cycle of lubricating oil and reduce the use cost.
Three-level "nanny" filter
Standard water removal rest assured filtration, improve filtration accuracy; standard electric oil pump and fuel heating, can start quickly at low temperature; integrated design, simple and beautiful connection pipeline.
Radial seal lightweight air filter
Injection molding, tail rotating air intake, light weight, small vibration, reduce noise, improve the life of parts.
Lightweight Modiwen fan
Small weight, low power loss, low fuel consumption, low moment of inertia, high reliability of gear train, long replacement cycle of belt.
Integral protective radiator
Completely protected front wheel train, safe and beautiful.
Standard water heating inlet and outlet
Equipped with switch and interface, it is convenient for users to connect the pipeline and control the preheating cycle switch. The original imported rotary valve has high reliability.
M55 Series Power Generation Product Introduction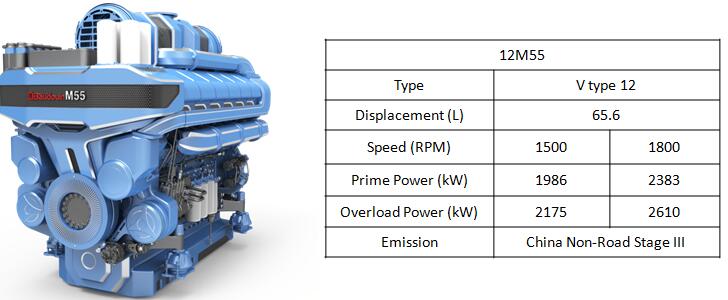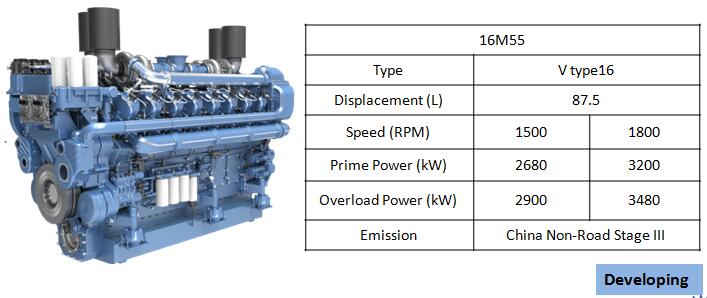 M55 Engine Features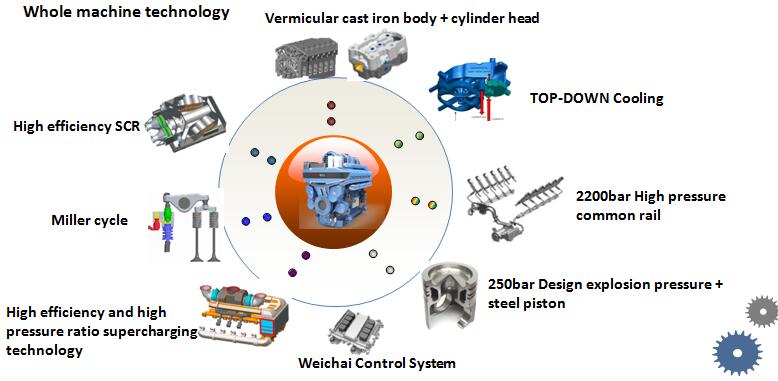 1. High strengthening, high reliability design
Develop high-strength, high-reliability diesel engines that have reached the international advanced level;
Reinforced structural design of the body, cylinder head and crank linkage;
Using vermicular graphite cast iron technology;
Steel piston
Adopt top-down cooling technology;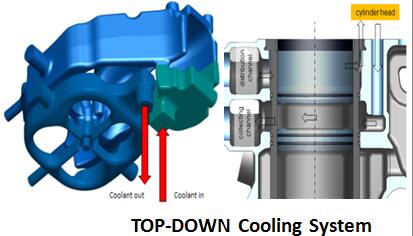 Develop vibration and noise control technology for diesel engines.

2. Efficient combustion technology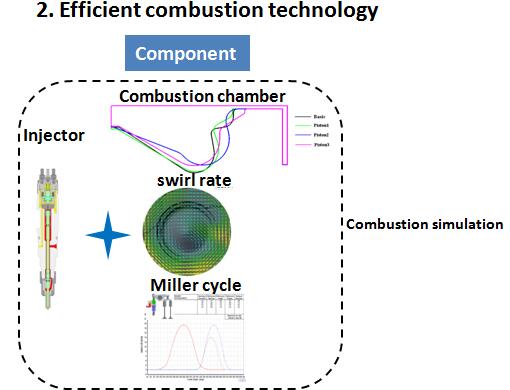 3. High pressure common rail fuel injection
Multiple injections
Realize rail pressure of 220MPa
Ultra-small nozzle design to enhance oil beam atomization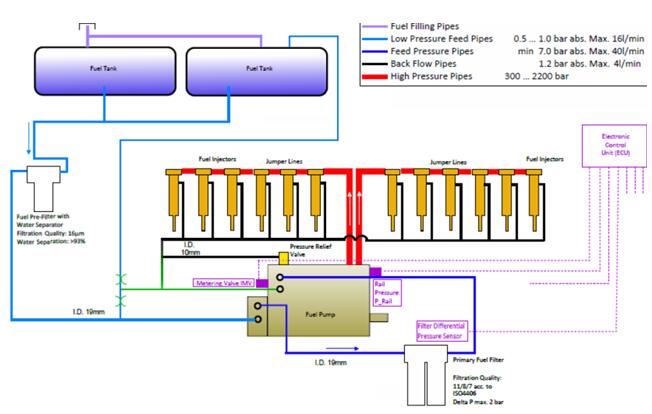 4. High efficiency and high pressure technology
Increase the pressure ratio, the single-stage pressure ratio reaches 5.6, reaching the international leading level;
A high efficiency supercharger with a total efficiency as high as 65% is used.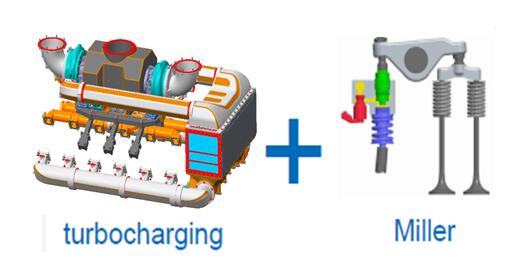 5. Modular design
Fully consider the generalization, modularization, and serialization of the engine to reduce the cost of the engine.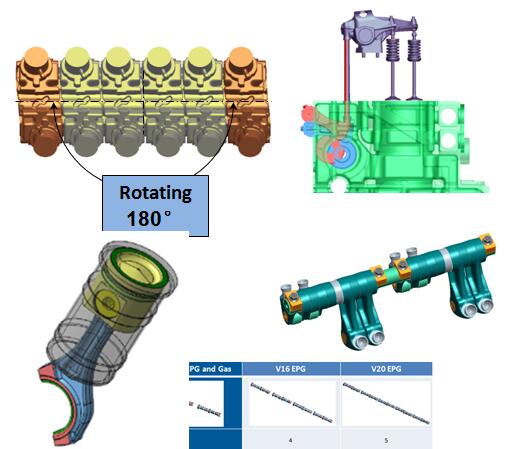 6. Intelligent control, Weichai core
Weichai has the ability to develop fully independent knowledge products ECU products. At present, 11 types of ECU products have been developed to meet the various requirements of power generation, ships, vehicles, construction machinery, agricultural machinery and other uses, as well as different emission levels. Weichai has a complete self-made ECU development capabilities.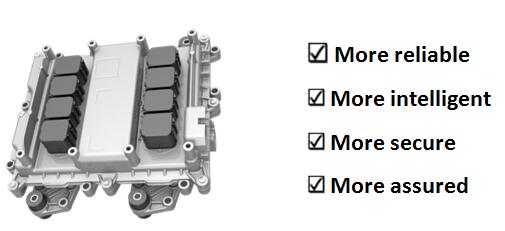 More reliable
Injector hole wear adaptive compensation strategy
Accurately predict the ageing wear of the injector and correct the fuel injection
Prevent engine over-power operation and ensure reliability
More intelligent
Power generation and grid connection
Built for power generation conditions, flexible adjustment of important parameters;
More stable power generation frequency and higher power generation quality;
Flexible selection of dual-frequency power generation;
Manual and automatic grid connection to meet different customer needs.
More secure
Overload operation alarm;
Overload running time monitoring;
Severe overload operation alarm;
More assured
Weichai Power Smart Cloud Platform
The smart cloud platform monitors the engine running status in real time, and realizes functions such as fault pre-judgment and remote diagnosis to make users feel more at ease; based on big data mining and analysis, the engine product quality is continuously improved.