Jun. 13, 2022
China has a vast territory, and even in summer, the weather in some highland areas is still very cold. For enterprises, the configuration of standby diesel generator sets can enable enterprises to supply power normally even in extreme weather, so as to avoid sudden power failures. Businesses cannot operate normally, and cold weather can affect your diesel generators in a number of ways.

At 0°C, the battery can only deliver less than half of the usual current, and the fuel and lubricants thicken, turning to tar if it's particularly cold. It is important to regularly test your diesel generator under normal conditions so you know it can reach its full potential. Jiangsu Starlight Electricity Equipments Co.,Ltd. recommends testing your generator every few months, if your unit has been exposed to extreme cold conditions, then additional inspections and maintenance will need to be arranged to ensure safety.
1. Heater.
Make sure they are plugged in and functional, you don't need to run it all the time, but you will need to warm up the generator for a few hours before starting. If you don't have a heater, it's an important investment, as if you're running a power source in an area prone to severe weather, it can differentiate between power and blackouts.
2. Battery.
Always keep the battery charged to peak and make sure the battery charger is in good working order. If the battery dies, you won't be able to power up for a short period of time.
3. Inspection Manual.
The generator manual will detail the quality of your generator and will include information on cold weather starting. It's also important to pay attention to the make and model of your generator so that if you need help, we can help you get the correct basic parts and information.
4. Check the generator.
Do a visual walk to make sure there is no debris around the generator and check for leaks, puddles, stains, or any other signs of failure.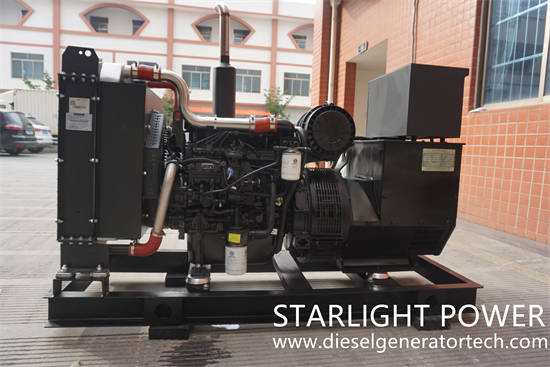 5. Basic maintenance.
This is critical to ensure generator longevity and reliability, regardless of the weather. You will need to change the engine oil, change the air filter, check the spark plugs, check the radiator coolant mixture, and as above, charge and test the battery. Check out our range of essential parts here.
6. Test the digital control panel.
When cold weather hits, you need to be aware that some older models can be difficult to start. Some may not even light up or light up at all, making it difficult to read the meter. Newer models won't be a problem, but it's always important to check.
7. Exhaust and ventilation.
Bad weather, especially snow, can choke your generator, preventing it from starting. If the generator is regularly exposed to snow, you may want to consider installing a snow cover to reduce this.
8. Check the fuel.
Diesel fuel can sometimes gel in extremely cold temperatures, and if this happens, your generator will certainly not be powering you anytime soon! Make sure the fuel in your tank is properly treated with anti-gelling and antimicrobial additives.
Jiangsu Starlight Electricity Equipments Co.,Ltd. is a manufacturer of professional generators, diesel generator sets, Cummins generator sets, Volvo generator sets, etc. The company has advanced testing equipment, excellent production technology, professional manufacturing technology, perfect quality management system, and Strong R&D technical strength. It can provide 15KW-2500KW various specifications of universal, automatic, four protection, automatic switching, low noise and mobile, etc., high-quality, low-energy generating sets to meet customer power needs, and can also meet users' different voltages and different frequencies, as well as the power supply system of multiple units connected in parallel, welcome customers to inquire. For more details, please contact us with sales@dieselgeneratortech.com.