Aug. 12, 2022
In the whole body of the generator set, the cooling water tank plays a very important role in ensuring the normal operation of the generator set. If it is used improperly, the light one will damage the diesel engine and the generator set, and in more serious cases, the diesel engine may be scrapped.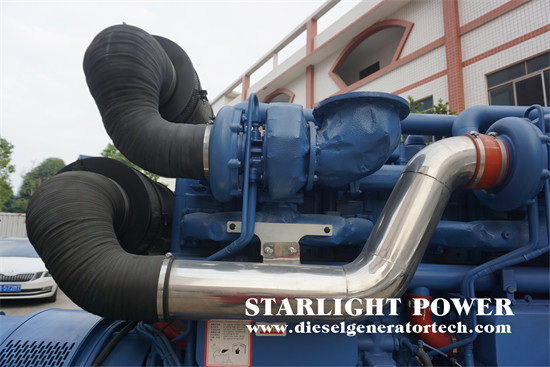 When the generator set is running, the coolant in the cooling water tank is usually very hot and under pressure. Therefore, it is strictly forbidden to arrange the radiator or remove the pipes when it is not cooled, let alone operate the radiator or open the fan protection when the fan is running. cover.
Corrosion issues are a major cause of radiator failure. It is recommended that the pipe joints be checked frequently for leaks, and that the tank should be filled with water regularly to evacuate the system. The cooling water tank should not be in a state of partial water injection, because this tends to accelerate the corrosion process. For the generator set that is not working, the water tank should be completely evacuated or completely filled. If conditions permit, it is best to use distilled water or natural soft water, and add an appropriate amount of rust inhibitor.
Another problem is the cleaning of the tank. Tank cleaning is divided into external cleaning and internal cleaning. This is an extremely important link, which will directly affect the use effect of the radiator, and then affect the use of the entire generator set.
For generator sets that work in the open air, the gaps in the radiator may be blocked by debris, insects and other debris. You can often spray with low-pressure hot water (appropriately added detergent), and pay attention to spray steam or water from the front of the radiator to the fan. When spraying, cover the diesel engine and alternator with cloth. If the deposits are difficult to remove, the radiator can be removed and soaked in hot alkaline water for about 20 minutes, then rinsed with hot water.
Jiangsu Starlight Power Generation Equipment Co., Ltd. was founded in 1974 and is one of the earliest manufacturers of generators and diesel generator sets in China. The company has a registered capital of 218.88 million yuan. The company covers an area of 86,000 square meters and a building area of 55,000 square meters. There are more than 660 employees, including 456 professional technicians and 106 senior technicians. It has 46 sales and service outlets nationwide. The main products are diesel engines, generator sets, and diesel generators, providing users with a one-stop service of design, supply, debugging and maintenance at any time. Starlight has always insisted on using first-class talents, building first-class enterprises, manufacturing first-class products, creating first-class services, and making every effort to build a first-class domestic enterprise. If any question please feel free to visit our website https://www.dieselgeneratortech.com/ or send email to sales@dieselgeneratortech.com.