Dec. 07, 2022
Jiangsu Starlight Electricity Equipments Co.,Ltd. Guide: The diesel generator set operates in parallel, and the closing output is successful. Within the set time, it is converted to the power management function, and the unit is automatically increased or decreased according to the load.

Shutdown operation: After the mains power is restored, there are two modes of shutdown operation for users to choose.
(1) Continuous recovery (unattended management mode).
This mode needs to be approved by the local power supply bureau and allows reverse synchronization grid connection. That is, a module connected with the power grid is set in the power station module, which will command all unit control modules through the CAN bus, track the mains voltage and frequency, adjust the unit voltage and frequency, and issue the quasi synchronous closing command of the mains power. After the mains switch is closed, the unit load will be smoothly transferred to the mains power, and each switch of the unit will be disconnected, opened, and shut down for cooling.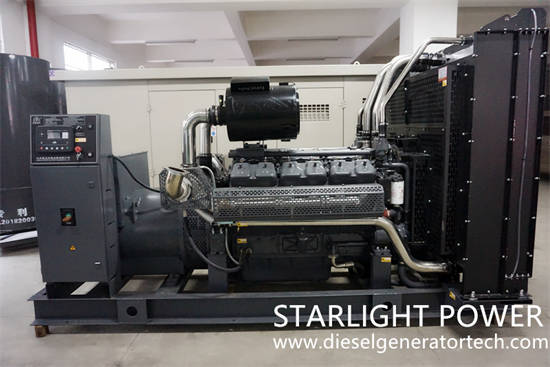 (2) Intermittent recovery.
When the mains power is restored, the unit control panel can automatically control (or manually control) if the main output switch of the oil engine is opened after manual intervention to unload the shunt load step by step. Then, the mains power switch is closed, the shunt load is put into operation, and the mains power recovery signal is sent again. It is forced to automatically disconnect, cool down and stop the unit, and enter the preparation state again.
If the mains power is restored, the main output switch of the unit will be manually operated directly, which belongs to sudden load unloading and will cause the unit frequency to surge up instantaneously. In this case, as long as the frequency protection setting range is wide enough, the parallel controller will quickly and automatically adjust the control, and the entire parallel system will maintain stable operation.
Control of grounding resistance cabinet: only one neutral point of all operating units of high-voltage parallel connection is grounded. This requires the input sequence of the vacuum contactor controlling the high-voltage central grounding resistance. The parallel controller integrates the PLC control function, which can directly control the sequence and quantity of neutral point grounding resistance input.
Founded in 1974, Jiangsu Starlight Electricity Equipments Co.,Ltd., a wholly-owned subsidiary of Jiangsu Starlight Power Group, is one of the earliest manufacturers of generating sets in China. Over the past 40 years, the company has won the recognition of users by relying on advanced testing equipment, modern production technology, professional manufacturing technology, perfect quality management system, strong R&D technology strength. For more details, please contact us with sales@dieselgeneratortech.com.