Jun. 10, 2022
Industrial diesel generators can be the power security system at the operation or any other project site that is not connected to the local grid. These generators can run equipment, lights, and anything else needed to complete a project, especially during seasons with harsh weather conditions, where heavy snow or power line failures can cut power without much warning.

Of course, maintaining a reliable and stable power supply from diesel generators at all times requires a certain level of maintenance. If the generator fails, it can bring the entire project to a standstill. How to keep the industrial diesel generator set in the best operating condition? Today, Jiangsu Starlight Electricity Equipments Co.,Ltd. will share with you some methods and techniques in this regard.
Periodic inspection.
One of the easiest ways to detect new problems is to conduct routine checks. Ideally, the generator should be checked before starting a shift, and every time the refueling is interrupted, to make sure everything is working properly and there are no leaks that could indicate a malfunction.
If you're not sure where to start, a basic generator checklist might help. This standardizes the process for crew members and ensures that generator inspections are seen as a norm in the daily work schedule.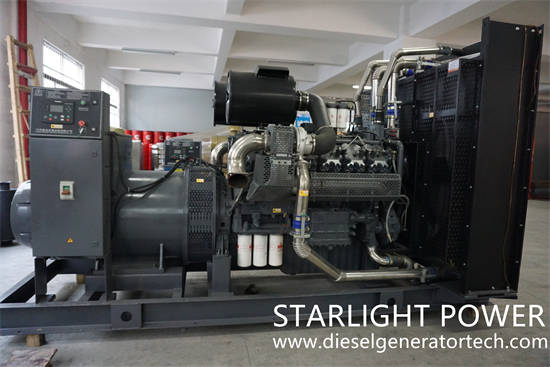 Frequent maintenance of diesel generators.
When a diesel generator is purchased, it should come with a recommended maintenance schedule included in the operator's manual and a record of when and how long the machine has been used.
Use this data to determine the optimal maintenance interval for each make and model. Use this maintenance plan to build a program so that it can be maintained without negatively impacting job site productivity.
Test battery.
Just like a car, the battery is necessary to start the engine. Severe high or low temperatures, improper charging, aging, and several other factors can affect battery life. Once it's dead, it's nearly impossible to get your generator to start.
Regularly testing the battery ensures that the generator always starts when needed. A simple load test can determine if there are any bad cells in the battery and if it can handle the load required to start the generator engine.
Choose your fuel wisely
Industrial generators have a variety of different fuel requirements. In the short term, choosing inferior fuel may seem to save you money, but in the long run, inferior fuel can damage engine internals and shorten the life expectancy of the generator.
Over time, low-quality fuel can clog or wear fuel injectors, damage and clog fuel lines, and cause many other internal engine problems that can make repairs expensive or difficult to repair. The best and most cost-effective option over time is to choose a high-quality fuel for your diesel generator.
Keep Diesel Generators Clean.
Diesel generators can get dirty, dusty and dirty on construction sites or in industrial environments. It's a fact of life. But getting them dirty can make it harder to tell if there's a new leak or a problem that might be hidden by dirt.
Diesel generators don't need to be spotless, but keeping them at least moderately clean can prevent dirt from hiding any indicators you might want to keep an eye on.
Start diesel generators regularly.
If you don't use a diesel generator often, don't store it in a warehouse until you need it again. Generators need to be started on a weekly or monthly basis to ensure internal components remain lubricated.
For longer storage, you'll need to take extra steps like changing the oil and adding fuel stabilizer to the tank to prevent the fuel from turning to a jelly-like consistency, which can damage the tank fuel system.
Store with care.
A diesel generator might be outdoors every day, rain or shine, but there's no reason to leave it there if you don't need to. Store the generator carefully when not in use.
Ensuring the reliability of industrial diesel generators.
Industrial diesel generators keep facilities running even during severe weather events. However, maintaining this level of reliability requires strong organizational skills and standards of mechanical use and maintenance.
Whether your diesel generator is new or old, it won't run forever if you don't take care of it. Follow a few simple steps and you'll have a reliable generator that will provide you with constant and stable power for your future jobs.
Jiangsu Starlight Electricity Equipments Co.,Ltd. is a manufacturer of professional generators, diesel generator sets, non-moving generator sets, Cummins generator sets, Volvo generator sets, etc. It has 64 sales and service departments across the country, providing users with design, supply, debugging, and maintenance at any time. Welcome customers to come to consult and visit. Looking forward to your inquiry, please send email to us for details sales@dieselgeneratortech.com.