Apr. 19, 2023
Brand awareness is an extremely important intangible asset of diesel generator set manufacturers, whose key lies in the way customers view well-known brands. This is also how customers perceive the brand awareness and image of diesel engines, and how the product is perceived by consumers. The high-profile Jiangsu Starlight generator set has always been called the old brand diesel generator. Jiangsu Starlight Power has released brands such as Yuchai, Shangchai, and Cummins, with multiple price ranges, various parameters, and configurations. Jiangsu Starlight Power carefully analyzed and found that the Jiangsu Starlight system is equipped with generator capacity, with sincerity and sincerity, directly filling the capacity. In order to avoid your excessive dazzlement, the editor is allowed to share with you the configuration options of personalized options for Jiangsu Starlight Power generation units.

1. Open type fixed installation diesel generator.
This type of installation is applicable to projects where the diesel generator is installed in the building and does not need to be moved once installed. Therefore, this kind of diesel generator does not need any enclosure to protect it from the impact of bad weather, nor does it need any mobile equipment.
In general, the diesel generator will be installed on a concrete slab (with or without an integrated fuel tank) to maintain the static mechanical requirements and the vibration that the generator will be able to withstand throughout its service life.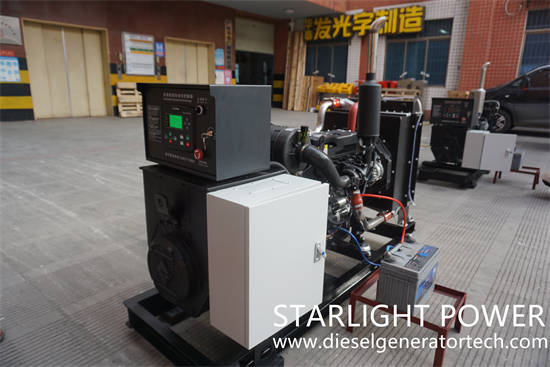 2. Fixed silent box type device.
When the diesel generator is exposed to severe weather conditions, and the generator is not allowed to make excessive noise around the scene, the diesel generator must be in a silent state and the noise it produces must be very low. The fixed silent box type diesel generator installation is ideal.
The diesel generator is enclosed in a steel cabinet to protect it from bad weather. The interior of the box is covered with soundproofing materials, which can reduce the level of noise emitted. Therefore, this type of installation is suitable for applications where noise is a key factor.
3. Mobile trailer mute box diesel generator.
This is the type of generator commonly seen in temporary installations (such as events, film shoots, field operations, etc.). Its unique feature is that this type of generator must have the possibility of being transported to places where electricity is needed. Therefore, it will be installed on the trailer.
The mobile trailer mute box type diesel generator is placed on some special anti vibration dampers and can withstand the shear stress (or lateral deformation) that may occur during the cycle: braking, acceleration or turbulence and other factors. In this way, efforts can be made to protect the overall (engine AC generator set) and ensure the functionality and durability of the generator. As a professional diesel generator manufacturer in Jiangsu Province, Starlight Power takes famous and high-quality products, preferential prices and real services as its service tenet, and warmly welcomes customers to follow up and purchase. Starlight Power will always have a suitable diesel generator for you.
Founded in 1974, Jiangsu Starlight Electricity Equipments Co.,Ltd. is a professional manufacturer of generators and diesel generator sets. It is one of the earliest manufacturers of generators and diesel generator sets in China. The company has first-class inspection equipment, advanced production technology, professional manufacturing technology, to provide you with 3KW-2500KW various specifications of popular, automatic, four protection, automatic switching, low noise and mobile, etc., high quality, low energy consumption. The generator sets can meet all the power needs of customers, and can also meet the requirements of users with different voltages and frequencies, as well as multiple parallel-connected grid-connected power supply systems. For more details, please feel free to visit our website https://www.dieselgeneratortech.com/ or send email to sales@dieselgeneratortech.com.