Aug. 10, 2022
Diesel generator sets play an important role in many fields, such as airports, communications, petroleum, factory production, shopping malls, etc. Diesel generator sets ensure the continuity of production and activities in these important places. However, many users who want to buy diesel generator sets also find that for the same power, the price gap between different manufacturers is not small. For example, the price of a 200KW diesel generator set can range from 50,000 RMB to 100,000 RMB. Why is there such a huge price difference? Jiangsu Starlight Electricity Equipments Co.,Ltd. will take you to find out.

In fact, this is because there are many optional brands, models and configurations of diesel generator sets. Different brands, models, and configurations of generator sets have different quotations. Different generator sets selected by users will inevitably have different quotations. Diesel generator sets are used as power equipment. The application industry is very wide, the units selected in different industries and environments are different, and the user should choose the appropriate unit according to the work needs.
For many users, it is not easy to buy a cost-effective diesel generator set. Generator manufacturers suggest that users should comprehensively consider the following aspects when purchasing a diesel generator set: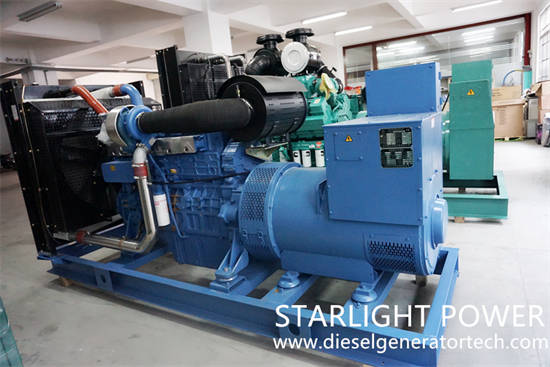 1. The user needs to know what the electrical equipment is, what the power is, and whether the diesel generator set is used as the main power supply or the backup power supply, and then finalize the required power of the diesel generator set.
2. The user needs to confirm the use environment of the diesel generator set, whether it is used outdoors or indoors, and does it need to be moved frequently? Based on this, the style of the generator set is finalized: fixed generator set, mobile generator set, silent generator set, or equipped with noise reduction machine room, etc.
3. The user's requirements for the degree of automation of diesel generator sets and cloud services, etc. According to this standard, Jiangsu Starlight Electricity Equipments Co.,Ltd. will divide diesel generator sets into: dashboard generator sets, four-protection generator sets, self-starting generator sets, automatic power generation units, cloud service generator units, etc., the degree of automation increases in turn.
4. Determine the diesel engine and generator brand of the diesel generator set according to the budget. Diesel engine brands include Cummins, Perkins, Volvo and other foreign brands and Yuchai, Weichai and other domestic brands. Generator brands include Stanford, Marathon and other brands.
5. Users search for multiple generator set manufacturers on the Internet, and comprehensively compare the production capacity, research and development capabilities, pre-sale, in-sale and after-sales service capabilities of the manufacturers to finalize the diesel generator manufacturer.
By fully considering the above factors, users can better purchase satisfactory units.
Jiangsu Starlight Power Generation Equipment Co., Ltd. was founded in 1974 and is one of the earliest manufacturers of generators and diesel generator sets in China. The company has a registered capital of 218.88 million yuan. The company covers an area of 86,000 square meters and a building area of 55,000 square meters. There are more than 660 employees, including 456 professional technicians and 106 senior technicians. It has 46 sales and service outlets nationwide. The main products are diesel engines, generator sets, and diesel generators, providing users with a one-stop service of design, supply, debugging and maintenance at any time. Starlight has always insisted on using first-class talents, building first-class enterprises, manufacturing first-class products, creating first-class services, and making every effort to build a first-class domestic enterprise. If any question please feel free to visit our website https://www.dieselgeneratortech.com/ or send email to sales@dieselgeneratortech.com.