May. 25, 2022
Buying a generator shouldn't be that difficult. Just by following some of these suggestions, you'll be able to gauge your needs, make a list to narrow down your options, and ultimately choose the one that's right for you. Here is the base case:

First, you must understand your electrical needs. Your generator's main purpose is to provide you with electricity, and if you're on a tight budget, list all the appliances you'll need to use in the event of a power outage. The less output power you need, the cheaper the generator you can buy. Typically, an average home of moderate size, about one thousand to three thousand square feet, requires about three to five kilowatts of power output. This already covers your lights and basic appliances. But then again, if you're going to use refrigerators, air conditioners, TVs, computers, etc., all you have to do is add up the watts they need, add them all up, and get a generator that can power them all.
Another consideration is its size, the noise it makes and your ability to store it. You should be able to have a place to store it and keep it away from elements that could damage it, such as rain, dust, and debris. Generators are noisy, so you should determine if you can store it in a peaceful and quiet place away from your home and away from your neighbors. Also, if you want a portable generator, check that they are lightweight and have wheels for easy transport.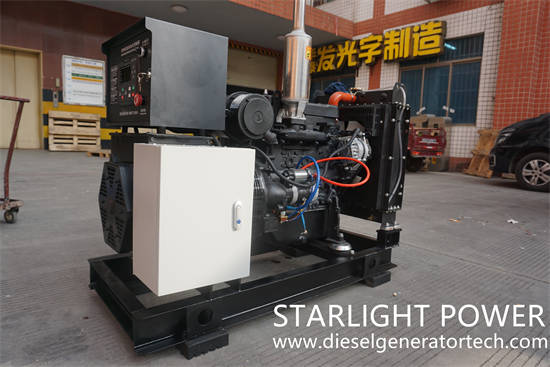 The fuel for your generator is also the most important. Some are cheaper, some are more efficient, some are better for the environment, and some are more readily available in your area. List the pros and cons of each fuel. Also, check how big your powertrain's gas tank is so you can estimate how long you'll need to fill it up.
You should also check how many sockets you need. Don't risk overloading your electrical system or using dangerous octopus sockets. It should also have circuit breakers that will shut down the generator to reduce potential hazards and the risk of damage.
Jiangsu Starlight Electricity Equipments Co.,Ltd. is a manufacturer of professional generators, diesel generator sets, Cummins generator sets, Volvo generator sets, etc. The company has advanced testing equipment, excellent production technology, professional manufacturing technology, perfect quality management system, and Strong R&D technical strength. It can provide 15KW-2500KW various specifications of universal, automatic, four protection, automatic switching, low noise and mobile, etc., high-quality, low-energy generating sets to meet customer power needs, and can also meet users' different voltages and different frequencies, as well as the power supply system of multiple units connected in parallel, welcome customers to inquire. For more details, please contact us with sales@dieselgeneratortech.com.