Jul. 05, 2022
Looking for industrial diesel generators but also wondering how they operate? You don't need to be a mechanical engineer to understand it. Industrial diesel generators and their basic working principles are as follows.

First, it is important to know the different working parts of an industrial diesel generator. Here's a list of all the working parts you need to know. Engines, alternators, fuel systems, regulators, cooling and exhaust systems, lubrication systems, batteries, control panels.
Second, now that we know the various working parts, let's discuss how they all work together.
When the generator starts, the battery starts the fuel system, pumping fuel into the engine. The engine then drives the alternator to generate electricity by electromagnetic induction. The alternator is a complex aspect of a generator, and the most important part. Basically, this means that an alternator uses various magnets and wires to create alternating current (AC). The voltage regulator ensures that the voltage and amperage of the AC current does not vary with engine speed.
The function of the cooling system is very similar to that in a car engine: it regulates the waste heat of the engine and alternator. The exhaust system works with the engine to draw exhaust gas away from the engine and anyone.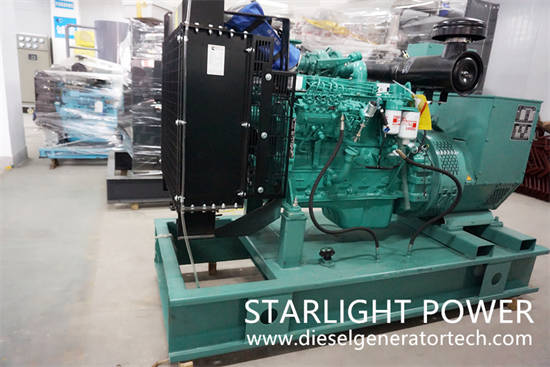 The function of the lubrication system is also similar to the oil in a car: it guarantees the stable operation of the engine components. All of this is operated from the control panel, usually within easy reach of the person using the generator.
The above is a brief introduction of Starlight Power on how industrial diesel generators work. If you would like more information, please contact Starlight Power. Our friendly and competent staff will be happy to provide you with any additional information you need.
Jiangsu Starlight Electricity Equipments Co.,Ltd. is a manufacturer of professional generators, diesel generator sets, Cummins generator sets, Volvo generator sets, etc. The company has advanced testing equipment, excellent production technology, professional manufacturing technology, perfect quality management system, and Strong R&D technical strength. It can provide 15KW-2500KW various specifications of universal, automatic, four protection, automatic switching, low noise and mobile, etc., high-quality, low-energy generating sets to meet customer power needs, and can also meet users' different voltages and different frequencies, as well as the power supply system of multiple units connected in parallel, welcome customers to inquire. For more details, please contact us with sales@dieselgeneratortech.com.