Mar. 27, 2023
The two-point grounding of the rotor of a diesel generator set on the control panel generally results in an increase in excitation current and stator current, a decrease in excitation voltage and terminal outlet voltage, a rise in power factor, and even phase leading, accompanied by severe vibration. Starlight reminds everyone that if such a situation occurs, it should be handled as an accident emergency shutdown. Close the hydraulic part immediately, and switch off the excitation switch at the same time. Otherwise, the following hazards may occur: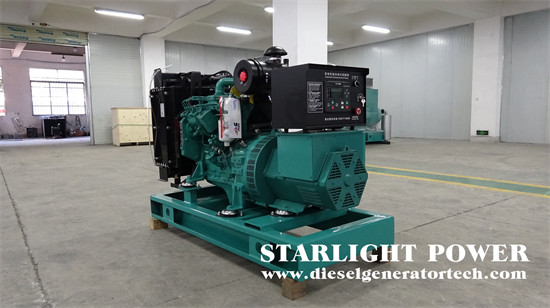 1. After the excitation winding of the generator is grounded at two points, the winding is partially short-circuited, reducing the DC resistance of the winding and increasing the excitation current; If the number of short circuit turns is large, it will reduce the main magnetic flux in the generator magnetic circuit, reducing the inductive reactive power output from the unit, causing a drop in the terminal outlet voltage, and at the same time, the stator current may rise sharply.
2. Due to the distortion of the rotor magnetic field, the symmetry of the magnetic potential in the air gap is damaged, resulting in torque imbalance, which will lead to severe vibration of the rotor, and even resonance, endangering the safety of the unit and plant structure.
3. After the rotor is grounded at two points, a large short-circuit current will flow between the two grounding points, and the arc generated by the current may burn the excitation coil and the rotor body, even causing a fire.
Rotor point grounding is a prelude to rotor point grounding. To completely prevent rotor point grounding, it is necessary to promptly and effectively deal with rotor point grounding. Therefore, it is necessary to keep abreast of the insulation status of the rotor winding, carefully monitor and protect the insulation of the rotor winding, and take corresponding preventive measures.
Jiangsu Starlight Power Generation Equipment Co., Ltd. was founded in 1974 and is one of the earliest manufacturers of generators and diesel generator sets in China. The company has a registered capital of 218.88 million yuan. The company covers an area of 86,000 square meters and a building area of 55,000 square meters. There are more than 660 employees, including 456 professional technicians and 106 senior technicians. It has 46 sales and service outlets nationwide. The main products are diesel engines, generator sets, and diesel generators, providing users with a one-stop service of design, supply, debugging and maintenance at any time. Starlight has always insisted on using first-class talents, building first-class enterprises, manufacturing first-class products, creating first-class services, and making every effort to build a first-class domestic enterprise. If any question please feel free to visit our website https://www.dieselgeneratortech.com/ or send email to sales@dieselgeneratortech.com.