Jul. 06, 2022
As a facility owner, one of your tasks is to ensure that your facility has sufficient power for all machines, equipment and electrical installations. While the reliability of the power generation system is critical, it is equally important to have an affordable generator to help reduce operating and energy costs. If you have a need for a commercial backup generator or are looking to upgrade your current system, Starlight Power's team can provide the solution you need.

Why have a backup generator?
Having a backup generator may seem like an unnecessary expense. Some facility owners try to save money by relying only on the main grid and not installing backup solutions. The problem with this is that, depending on the nature of your business, industry or service, a power outage can be very costly, disruptive or even dangerous. Consider the types of facilities that require reliable power at all times, including:
Hospitals and medical centers, data centers and communications hubs, high-value manufacturing facilities, power generation facilities, water and wastewater treatment facilities, nuclear facilities, prisons and detention centers.
These are just a few types of facilities that cannot live without electricity. With the aging power grid in many parts of the country and the risk of natural disasters such as floods, tornadoes or hurricanes, backup diesel generators are needed in both business and industry. For many other industrial, commercial and educational facilities, power outages are detrimental, resulting in lost productivity and profits that are difficult to restore.
Choosing the right type and wattage of a commercial backup generator system comes down to researching the unique power needs of your facility and selecting a generator that can meet their needs. Starlight Power's experienced generator technical team can help you gather information about the power consumption of your buildings, equipment and machines.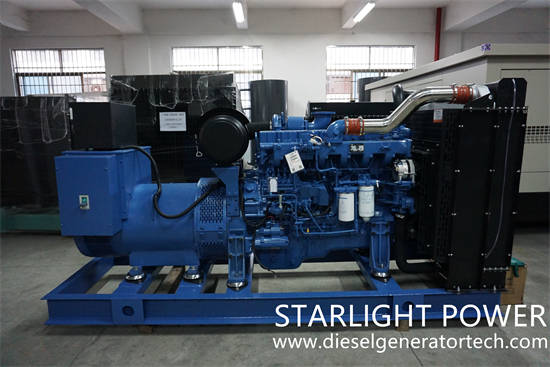 With this information, Starlight Power can help you select the right commercial diesel generator from our new inventory. You can save up to 20% and benefit from turnkey generators that are ready to go. Since Starlight Power has fully serviced and inspected generators all over the country, you don't need to wait.
Do you already know what size and type of commercial diesel backup generator your facility needs? You can browse our catalog and request a free quote now. If you need help with your selection, or want more information on how to calculate your power needs, please let the Starlight Power team know. Starlight Power will take the time to research your facility power needs and recommend a generator that combines performance, efficiency, reliability and value to ensure your business, building or facility always has backup power.
Jiangsu Starlight Electricity Equipments Co.,Ltd. is one of the earliest manufacturers of generating sets in China. It has first-class testing equipment, advanced production technology, professional manufacturing technology, perfect quality management system, and strong R&D technical strength. It can provide 3KW-2500KW various specifications of universal, automatic, four protection, automatic switching, low noise and mobile, etc., high-quality, low-energy generating sets to meet all customers' power needs, and can also meet users' different voltages and different frequency requirements, as well as the parallel-connected power supply system of multiple units, use excellent talents to build excellent enterprises, create excellent products, create excellent services, and strive to build excellent domestic enterprises. For more product details, please contact us with sales@dieselgeneratortech.com.