May. 25, 2022
The fuel consumption of diesel generator sets decreases as the load decreases. If the diesel generator set is used with less than 20% load, special treatment is required, which is detrimental to the performance of the diesel generator set itself, which will cause problems when driving the diesel generator set with a heavy load with low load input. While providing high output current and high efficiency of the generator set, the diesel generator set can be reduced to lower fuel consumption.

For diesel generators in operation, diesel consumption is generally related to two levels, one is the fuel consumption of the generator set itself, and the other is the load. Below, the manufacturer of Starlight Power diesel generator sets will describe the actual diesel consumption rate and load factors of diesel generators, and look forward to giving customers a reference.
Generally speaking, everyone thinks that the same well-known brand, the same type of diesel generator, when the load is relatively large, the fuel consumption is relatively large. Conversely, when the load is smaller, the relative fuel consumption is smaller, but in special cases, this should be another matter.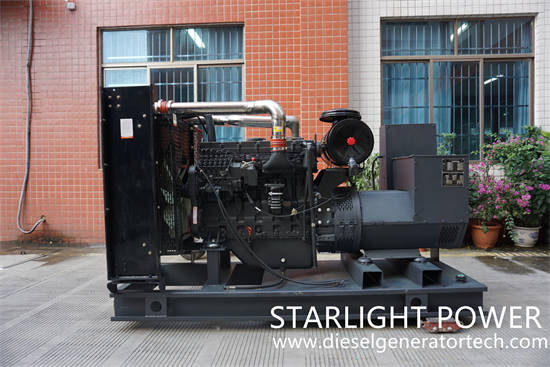 In general, when the load is 80% of the rated load, the fuel consumption is relatively low. Assuming that the diesel generator load is 80% of the rated load, one liter of oil converts 3.5 kwh of electricity. Assuming that the load rises forward, the fuel consumption will increase. The fuel consumption of diesel generators is positively related to the load. When the generator set is used, it is beneficial to reduce the workload properly. Do not let the unit run under overload even in winter. However, if the load is less than 20%, it will cause damage to the diesel generator. Not only will the fuel consumption of diesel generators increase significantly, but even the diesel generators will be destroyed. In order to better reduce the fuel consumption of diesel generators, diesel generators can operate up to 80% of the steady load. Long-term low-load operation can increase fuel consumption and even destroy the generator set. Therefore, we must correctly treat the relationship between the fuel consumption of diesel generators and the load.
Jiangsu Starlight Electricity Equipments Co.,Ltd. is one of the earliest manufacturers of generating sets in China. It has first-class testing equipment, advanced production technology, professional manufacturing technology, perfect quality management system, and strong R&D technical strength. It can provide 3KW-2500KW various specifications of universal, automatic, four protection, automatic switching, low noise and mobile, etc., high-quality, low-energy generating sets to meet all customers' power needs, and can also meet users' different voltages and different Frequency requirements, as well as the parallel-connected power supply system of multiple units, use excellent talents to build excellent enterprises, create excellent products, create excellent services, and strive to build excellent domestic enterprises. For more product details, please contact us with sales@dieselgeneratortech.com.