Dec. 27, 2022
Do you know the nuclear safety level diesel generator set in nuclear power plants? In the event that the main power supply outside the plant and the auxiliary power supply outside the plant are lost, each emergency diesel generator set has the ability to meet the requirements for emergency auxiliary power to ensure the safe shutdown of the reactor. And prevent the damage of important equipment caused by power loss of normal external power system. The equipment of each nuclear power unit is two independent and mutually standby emergency diesel generator sets.

The main regulations, specifications and standards followed by the nuclear safety level diesel generator set include:
1. HAF003 Nuclear Power Plant Quality Assurance Safety Regulations.
2. HAD003 series of safety guidelines related to design and item manufacturing in quality assurance of nuclear power plants.
3. Safety guidelines related to emergency power system and seismic design and evaluation in the design of HAD102 series nuclear power plants.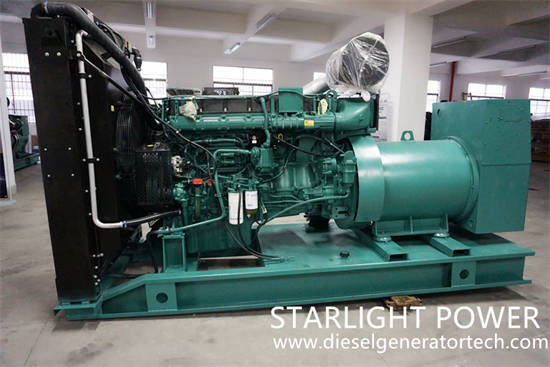 4. RCC-M French Code for Design and Manufacture of Nuclear Island Mechanical Equipment of PWR Nuclear Power Station.
5. RCC-E French PWR Nuclear Power Plant Nuclear Island Electrical Equipment Design and Manufacturing Specification.
6. IEEE387 Design Criteria for Diesel Generator Sets for Standby Power Supply in Nuclear Power Plants.
7. IEEE649 Standard for Regular Inspection of Diesel Generator Sets for Standby Power Supply.
8. IAEA 50-SG-D1 Classification Specification for Safety Functions and Components of BWR and PWR Nuclear Power Plants.
9. ISO 8528 Reciprocating internal combustion generator set.
10. ISO 3046 Reciprocating internal combustion engine performance.
Jiangsu Starlight Electricity Equipments Co.,Ltd. is a manufacturer of professional generators, diesel generator sets, Cummins generator sets, Volvo generator sets, etc. The company has advanced testing equipment, excellent production technology, professional manufacturing technology, perfect quality management system, and Strong R&D technical strength. It can provide 15KW-2500KW various specifications of universal, automatic, four protection, automatic switching, low noise and mobile, etc., high-quality, low-energy generating sets to meet customer power needs, and can also meet users' different voltages and different frequencies, as well as the power supply system of multiple units connected in parallel, welcome customers to inquire. For more details, please contact us with sales@dieselgeneratortech.com.