Jun. 09, 2022
Without an energy-dependent life support system and equipment or electrical appliances, it is impossible to live comfortably in a house, and an enterprise cannot produce and operate normally and stably. However, the situation in recent years is that whenever the peak season of electricity comes, sometimes it will be in a state of power outage for several hours or even days. In order to maintain the convenience of life and the minimum technical requirements of life, you need to be equipped with diesel generator sets, it can meet the needs of residential or enterprise for continuous and stable power. Jiangsu Starlight Power can choose a suitable diesel generator set for you according to the needs and characteristics of the application, combined with the advantages and characteristics of diesel generators.

Generator application type definition:
Generators can serve as both a primary source of power and a backup if needed, sensible business owners prefer to be prepared, with insurance, just in case. At this point, the operating conditions of the device are customized in each case. Some people need electricity during construction to use power tools and lighting. At this time, a medium-power mobile generator with periodic demand may be required, or in areas without power transmission lines, at this time, a construction unit that can meet the needs of the construction unit may be more needed. All kinds of machinery and equipment require electricity, which is not only electricity for lighting and equipment, but also equipment powerful enough to be used in life support systems.
Another option is for the generator to act as a backup power source in the event of an emergency outage, which is quite common. Depending on the specific situation in the region, this force majeure can last for several days, often restarting and disconnecting with backup power, so diesel generators are indispensable.
In order to determine the power required by the generator, the total load of the equipment that still needs to be started during the outage should be calculated. In order to accurately calculate diesel generator power, it is necessary to: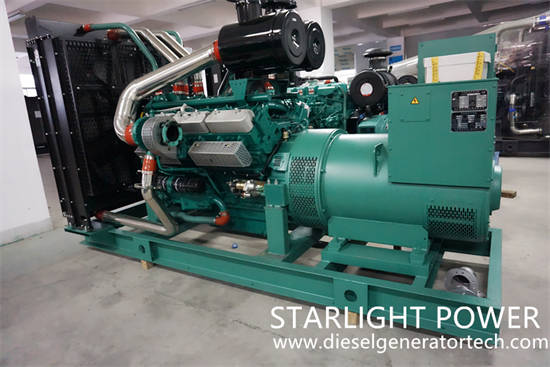 1. Identify all equipment that requires power supply: which instruments or equipment are most likely to be involved.
2. Determine the power of each device: the factory certificate usually indicates the rated power and starting current coefficient at the same time. If the generator manufacturer omits these information, the quality of the various technologies on the network will be shown.
3. Do the calculation: Multiply the rated power by the starting current factor and add the results for all devices or appliances.
4. Plus 10%: Generators that have reached their limit wear out faster, and the number of equipment or appliances may also increase.
Which generators are needed in the business or home sector:
Converting mechanical energy into electricity, modern generators can run not only on diesel and gasoline, but also natural gas. Natural gas generator sets are considered the most economical, but are rarely used by businesses because their costs are much higher than their counterparts, and in many areas, natural gas is more difficult than electricity. When choosing a generator, business owners often compare gasoline and diesel generators:
Gasoline Generator:
It has the characteristics of medium and small power, and the cost is lower than that of diesel varieties. Even the most famous brands of gasoline engines can run about three thousand moto hours. At this point, it is worth considering that gasoline generators are not designed for continuous operation for a long time, it is an emergency equipment for several hours, and its fuel consumption and power generation costs are also high. While you can get slightly less consuming, better quality current, and boast an inverter petrol model, the cost is also well over budget, and frequent and prolonged trips are not uncommon. Therefore, gasoline generators are not the best option.
Diesel generators:
Diesel generators range in power from household models up to 45 megawatts per 2kW for industrial diesel generators. Diesel engines are noisy during operation, but their working life is also several times longer. Unlike gasoline generators, diesel generators are also able to run uninterrupted for long periods of time, and high-power fixtures need no rest at all. The diesel engine also consumes about 60 percent less fuel, which is one of the most important factors. Diesel equipment costs more than gasoline equipment, but is ultimately more profitable considering the difference in consumption and more work resources. If generators are the main source of power, and stable and long-term downtime is no competition for diesel.
The functions and operating characteristics of the unit:
Both types of generators are single-phase and three-phase, which needs to be considered when choosing. And if a single-phase device can be run from a three-phase model, conversely, it will fail. High-power diesel fixtures are all three-phase, which is not a principle characteristic for domestic generators.
Due to the structural characteristics of the diesel engine, the overall size of the generator is affected by the number of revolutions, and the compact size of the unit can only be used with a high-speed engine (3000 rpm). And the lower-revving model, at 1500 rpm, is more powerful but larger in size. The high speed of the engine may cause rapid wear and tear, but if it is a diesel generator of Jiangsu Starlight Electricity Equipments Co.,Ltd., then there is no need to worry.
In order to reduce the noise effect that accompanies the operation of diesel engines, Jiangsu Starlight Electricity Equipments Co.,Ltd. has introduced a silent generator model with an outer casing, which not only maximises quietness, but also protects the equipment and is more attractive to many users.
Starlight Power was founded in 1974 and is one of the earliest manufacturers of generators and diesel generator sets in China. If you want get more information, please feel free to send email to sales@dieselgeneratortech.com, we will pay highly attention on your question.