Oct. 13, 2021
Diesel generators must be maintained after long-term use. At the same time, all parts of diesel generators must be cleaned. The oil stains, carbon deposits, scale and rust on the surface of the parts are not cleaned in time, which may cause malfunctions. Due to the different nature of various contaminants, their removal methods are also different. The following starlight power generation equipment will give you a brief summary.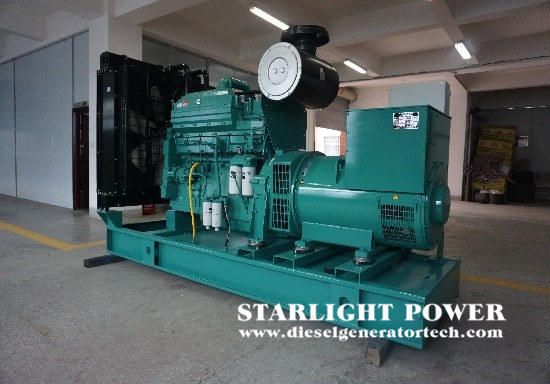 Carbon deposit removal. A simple mechanical removal method can be used to remove the carbon deposits, that is, with a metal brush or scraper, etc., but this method is not easy to remove the carbon deposits, and it is easy to damage the surface of the parts. It is best to use chemical methods to remove carbon deposits, that is, first use a decarbonizer (chemical solution) to heat to 80~90℃ to expand and soften the carbon deposits on the parts, and then use a brush to remove it.
Grease cleaning. If the oil deposits on the surface of the diesel generator parts are thick, it should be scraped off first. Generally, the oil stains on the surface of diesel generator parts should be cleaned in hot cleaning fluid. Commonly used cleaning fluids include alkaline cleaning fluid and synthetic detergent. When using alkaline cleaning fluid for thermal cleaning, heat to 70~90℃, immerse the parts for 10~15min, then take it out and rinse it with clean water, and then dry it with compressed air.
Starlight power generation equipment reminds users: it is not safe to use gasoline to clean; aluminum alloy parts cannot be cleaned in strong alkaline cleaning fluid; non-metallic rubber parts should be cleaned with alcohol or brake fluid.
Removal of scale. Chemical removal method is generally adopted for scale removal. The chemical solution for removing scale is added to the coolant, and the coolant is replaced after the engine has been working for a period of time. Commonly used chemical solutions for removing scale include: caustic soda solution or hydrochloric acid solution, sodium fluoride hydrochloric acid descaling agent and phosphoric acid descaling agent. Phosphoric acid descaling agent is suitable for removing scale on aluminum alloy parts.
Jiangsu Starlight Power Generation Equipment Co., Ltd. was founded in 1974 and is one of the earliest manufacturers of generators and diesel generator sets in China. The company has a registered capital of 218.88 million yuan. The company covers an area of 86,000 square meters and a building area of 55,000 square meters. There are more than 660 employees, including 456 professional technicians and 106 senior technicians. It has 46 sales and service outlets nationwide. The main products are diesel engines, generator sets, and diesel generators, providing users with a one-stop service of design, supply, debugging and maintenance at any time. Starlight has always insisted on using first-class talents, building first-class enterprises, manufacturing first-class products, creating first-class services, and making every effort to build a first-class domestic enterprise. If any question please feel free to visit our website https://www.dieselgeneratortech.com/ or send email to sales@dieselgeneratortech.com.