Sep. 13, 2023
Today we will introduce to you the cleaning of scale blockage in the cooling fins of Volvo generator sets. If you have any questions or are not familiar with this, please consult our Dingbo website. Next, we will briefly explain the relevant content.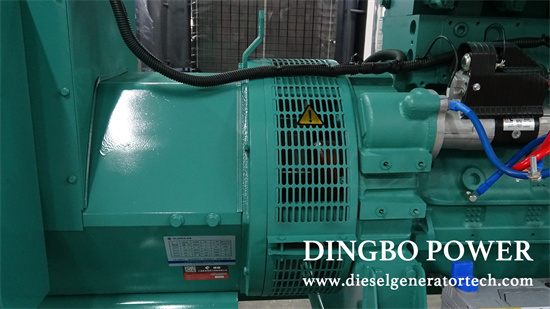 When studying chemistry, it is common to know that after using a kettle for a long time, a layer of difficult to remove gray objects will form on the bottom of the glass wall, which is called scale. The water contains calcium ions, and the teacher said that the main component of this thing is calcium carbonate, which is a stable salt object. The engine radiator also forms scale with calcium carbonate as the main body due to the circulation of cooling water. Scale is relatively insulated, just like our walls, Directly affecting the heat dissipation effect of the heat sink, it is generally difficult to clean it through ordinary brushing methods, and some chemical substances need to be added.
From a chemical reaction perspective, calcium carbonate is slightly soluble in water, so it cannot be dissolved in water. It should be completed using some acidic substances, such as hydrochloric acid, which has the best treatment effect.
This will turn calcium carbonate into calcium chloride, carbon dioxide, and water. Calcium chloride is soluble in water, so it can be easily solved by replacing the cooling water. Carbon dioxide, on the other hand, can directly escape into the air, achieving the goal of cleaning.
Of course, hydrochloric acid is strongly acidic, and radiators are made of metal such as aluminum, which can corrode aluminum. Therefore, the concentration should be controlled well, and it is best to add something like baking soda to neutralize it after cleaning to avoid damage to the heat dissipation fins.
Guangxi Dingbo Power Equipment Manufacturing Co.,Ltd has been established for many years. In addition to strict requirements on the quality of diesel generator set products and after-sales service, it also has strict regulations on the plant environment, production equipment and supporting facilities, which reflects the strict style of Dingbo people. It is not only responsible for generator products, customers, but also employees, so that every employee of Dingbo Power generation equipment can work in a comfortable environment, Make it comfortable for every visiting customer to visit. Dingbo Power Group, relying on high-quality generators, generator sets, diesel generator, diesel generator sets, good services and the care of friends from all walks of life, carries forward the enterprise spirit of "pragmatic innovation, pioneering, unity and hard work, dare to be the first", and adheres to the enterprise style of "treating people with sincerity and heart to heart", has won the strong support of customers in the fields of post and telecommunications, finance, petrochemical, metallurgy, transportation, education, medical care, etc, Having a proud performance. Dingbo people are gradually moving towards economies of scale and entering the international market after joining the WTO with flexible sales strategies and relying on the company's advantages and strength. If you would like to get more information welcome to contact us via sales@dieselgeneratortech.com.