Oct. 14, 2022
The diode used by Volvo diesel generator is as important as other components. Therefore, to ensure that the diode can reach high standards and can be used in harsh environments, attention should be paid to the structural characteristics of the diode, because the structural characteristics of the diode can directly affect the normal operation of Volvo diesel generator. The following is a brief introduction of the structural characteristics and application of the secondary tube of Volvo diesel generator.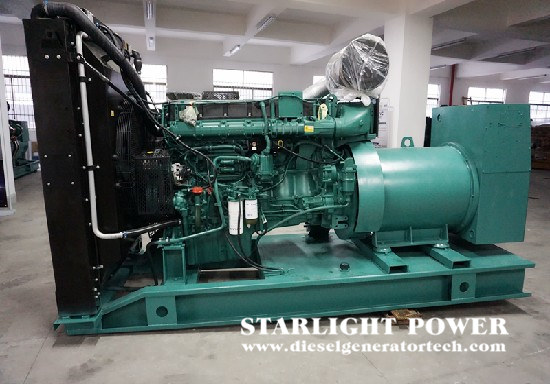 (1) Structural characteristics of secondary tube of Volvo diesel generator
The diode of diesel generator is composed of a PN junction, corresponding leads and pipe shell structure. According to different structures, it can be divided into point contact type and surface contact type. The point contact diode cannot pass large current due to its small contact resistance. It is commonly used for small current. Compared with the point contact diode, the PN junction of the surface contact diode can be made larger, so it can pass large current. However, because the PN junction capacitance is larger, it is often used for low-frequency power rectification.
(2) Application of diode in diesel generator
Diodes are widely used in diesel generators. Because the diode has a single conductivity, it can be used as a rectifier device to form various rectifier circuits. Rectification circuit can convert AC current and voltage into unidirectional current and voltage. In the excitation device of diesel generator, diode can be used to form bridge rectifier circuit.
The above contents are the structural characteristics and application of the secondary tube of Volvo diesel generator, which I hope will be helpful to users. However, in order to meet the growing demand in the competitive market, we must continue to carry out innovative research and development, streamline the structure, reduce energy consumption and improve the performance of diodes.
Jiangsu Starlight Power Generation Equipment Co., Ltd. was founded in 1974 and is one of the earliest manufacturers of generators and diesel generator sets in China. The company has a registered capital of 218.88 million yuan. The company covers an area of 86,000 square meters and a building area of 55,000 square meters. There are more than 660 employees, including 456 professional technicians and 106 senior technicians. It has 46 sales and service outlets nationwide. The main products are diesel engines, generator sets, and diesel generators, providing users with a one-stop service of design, supply, debugging and maintenance at any time. Starlight has always insisted on using first-class talents, building first-class enterprises, manufacturing first-class products, creating first-class services, and making every effort to build a first-class domestic enterprise. If any question please feel free to visit our website https://www.dieselgeneratortech.com/ or send email to sales@dieselgeneratortech.com.