Aug. 10, 2021
What do you think are the advantages of Volvo diesel generator sets? First of all, Volvo diesel generator sets use Volvo's patented PT fuel system, which has a unique overspeed maintenance device: low-pressure fuel pipeline, fewer pipelines, low failure rate, high reliability; high-pressure injection, combustion abundant. At the same time, it is equipped with fuel supply and return check valves, which are safe and reliable to use. Regarding the characteristics of the intake and exhaust systems, Volvo diesel generators are equipped with dry air filters and air resistance indicators, and exhaust turbochargers are used to ensure sufficient air intake and guaranteed performance.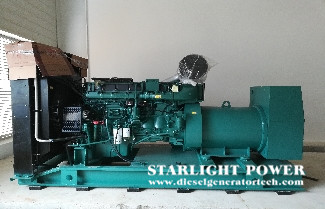 In addition, the generator set use of pulse dry exhaust pipes can effectively use exhaust gas energy and give full play to the performance of Volvo diesel generator sets. Volvo diesel generator sets are equipped with large-diameter exhaust elbows and exhaust bellows for easy connection. The cooling system of Volvo diesel generator set is characterized by forced water cooling by gear centrifugal water pump, large flow water channel design, good cooling effect, can effectively reduce heat radiation and noise, and has a unique spin-on water filter, which can prevent rust and corrosion and control Acidity and remove impurities.
Its lubrication system features a variable-flow oil pump with a main oil passage signal tube, which can adjust the pump oil volume according to the main oil passage oil pressure to optimize the oil volume entering the Volvo diesel generator set. Of course, low oil pressure can effectively reduce pump oil power loss, improve power performance, and improve the economy of Volvo diesel generator sets. The power output feature is also a highlight. The Volvo diesel generator set can be equipped with a double-slot power output crankshaft pulley in front of the shock absorber, and the front end of the Volvo diesel genset is equipped with a multi-slot accessory drive pulley, which can be equipped with various front-end power outputs. The device is suitable for the connection and assembly of equipment with various transmission requirements.
Starlight Power has a management team with advanced consciousness, strong youth, and proficient business. It takes the establishment of a high-tech innovation enterprise as the starting point, adheres to "high starting point, high technology, and excellent service", actively gathers and absorbs advanced technology and products at home and abroad, and continuously monitors products. Renewal. In recent years, the company has extensively cooperated with Swedish Volvo, American Cummins, British Perkins, Korean DOOSAN, German MTU, Ricardo, Shanghai Diesel, Yuchai, Weichai, Jichai, Tongchai, Wudong and other companies, and become (OEM ) Supporting factories and technical centers have laid a solid foundation for opening up the international market. Starlight has advanced testing equipment, modern production technology, professional manufacturing technology, perfect quality management system, and strong technical research and development capabilities. It can provide 3KW~2500KW various specifications of ordinary, automatic, four protection, automatic switching, low noise and mobile generator sets, high quality and low energy consumption to meet the diverse power needs of customers, and can also meet users with different voltages and different frequencies. It is required to create a parallel power supply system for multiple units. For more information, welcome to send email to sales@dieselgeneratortech.com.