Jul. 29, 2022
Today we will briefly introduce the main advantages and disadvantages of asynchronous diesel generator sets.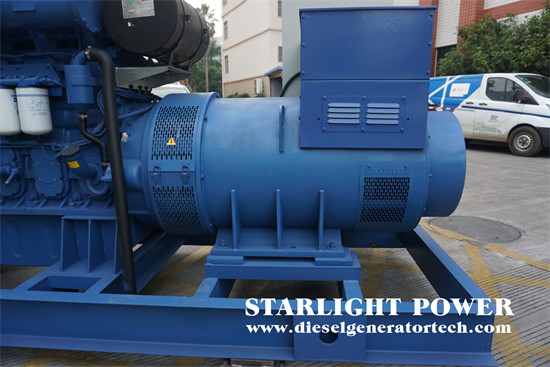 Main advantages: The cage rotor asynchronous diesel generator set is simple in structure and firm, especially suitable for high peripheral speed motors. Without collector rings and carbon brushes, it has high reliability and is not restricted by the place of use. Since there is no rotor excitation magnetic field, no synchronization and voltage adjustment devices are required, and the power station equipment is simplified. The load control is very simple. In most cases, the turbine governor is not needed, and the turbine can run at full speed or at a variable speed within a certain speed range under the locked guide vane opening. Although the asynchronous diesel generator set may appear power swing, it does not have the similar oscillation and out-of-step problems of the synchronous diesel generator set. Grid connection is easy to operate.
The main disadvantage is that the large-capacity asynchronous diesel generator set must be run in parallel with the synchronous diesel generator set or connected to the grid, and the synchronous diesel generator set or the grid provides the excitation reactive power required by itself, so the asynchronous diesel generator set is the reactive load of the grid. Although in principle, the asynchronous diesel generator set can operate in a self-excited state with the help of capacitors, but in this operating state, the diesel generator set has a weak voltage regulation capability, and when the diesel generator set reaches a critical load, it will cause voltage collapse. The excitation of asynchronous diesel generator sets can generally be provided by synchronous diesel generator sets, grid or static capacitors. The specific excitation supply method is determined by the power station type or grid operating conditions. Although asynchronous diesel generator sets cannot provide the reactive power required by themselves and the load, which may be a drawback, when used properly, they can be used as a means of grid reactive power optimization. It will bring obvious technical and economic benefits to the power station and power grid.
Jiangsu Starlight Power Generation Equipment Co., Ltd. was founded in 1974 and is one of the earliest manufacturers of generators and diesel generator sets in China. The company has a registered capital of 218.88 million yuan. The company covers an area of 86,000 square meters and a building area of 55,000 square meters. There are more than 660 employees, including 456 professional technicians and 106 senior technicians. It has 46 sales and service outlets nationwide. The main products are diesel engines, generator sets, and diesel generators, providing users with a one-stop service of design, supply, debugging and maintenance at any time. Starlight has always insisted on using first-class talents, building first-class enterprises, manufacturing first-class products, creating first-class services, and making every effort to build a first-class domestic enterprise. If any question please feel free to visit our website https://www.dieselgeneratortech.com/ or send email to sales@dieselgeneratortech.com.