Jun. 10, 2022
Silent diesel generator sets usually have a metal casing to protect the equipment, so they can be installed anywhere.

Protecting the generator set from severe weather and other adverse environmental factors, as well as providing greater comfort to the customer and isolating the adverse effects of the generator set during operation are the primary functions of the enclosure.
At the generator level, the enclosure protects it from rain, moisture, dust and dirt, and provides the device with an enclosure to protect its components from improper handling. This allows the generator set to be placed almost anywhere. In addition, with elements such as insulation, ventilation, heating, etc. integrated into the housing, the device can be adapted to operate in cold, hot, humid, dusty environments...
At the customer level, enclosures typically contain barriers for sound insulation, electromagnetic radiation, and vibrations to the ground. In short, it isolates all harmful and unpleasant effects of a generator set so that the customer perceives them as little as technology allows, always in compliance with current regulations.
However, it must always be taken into account that while the enclosure is perfect, the genset will always need cooling, which can usually be solved with adequate air circulation.
It is also necessary to pass the exhaust port of the exhaust muffler.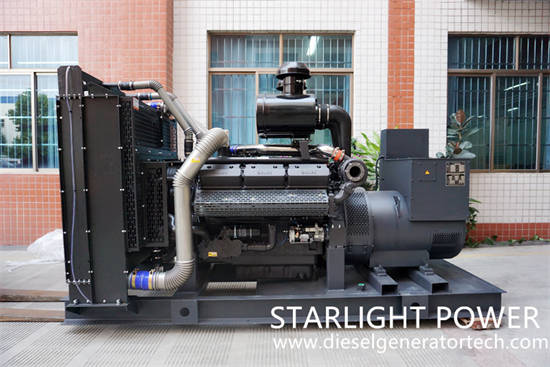 Despite good insulation, gensets can emit noise, vibration, etc., even very quiet. These factors must be considered when choosing where to place the equipment, even if it is soundproofed.
Another advantage of the silent diesel generator set is that it is easy to transport. In this sense, one of the most common forms of high-power equipment is the manufacture of housings in shipping containers, through which the generator set can be transported to almost anywhere in the world.
Why choose silent diesel generator set?
It is true that a silent diesel generator set requires more work and dedication in design and manufacture, which makes it more expensive initially. But there are many advantages:
They are suitable for outdoor installation. Their housing protects the components from water intrusion.
This type of generator must be installed in areas with acoustic emission requirements.
The installation site can be reached, installed, connected and put into service without any major requirements. This means that soundproofing is the best option for outdoor installation when it is not possible to install it in a specific air-conditioned room within a building.
If the generator has to be installed in occupied areas, hospitals or emergency situations, this format offers the huge advantage of connecting and making it ready to operate safely and keeping the limits of comfort and safety for the user.
Great versatility and flexibility.
It is very easy to prepare a generator set for shipping, which facilitates its logistics.
This type of generator set maintains the characteristics of reliability and power supply security.
They can be equipped with the necessary control tools to be part of a secure energy supply. They are a great tool for powering remote facilities. For example, in renewable energy power plants where there are no buildings to accommodate such equipment.
They apply to specific events such as sporting events, concerts or similar events. If we have an emergency, installing silent diesel generator sets can be immediate, reliable and ready to operate anywhere in the world in the event of an energy demand: hygiene, emergencies caused by natural disasters, or even for any part of the world when the military needs it local detachments or units provide reliable power.
Its plug-and-play functionality is suitable for any type of application. All you need is fuel and it's ready to run at full capacity.
In any case, although they are very reliable and robust equipment and ready to operate in extreme environments, their reliability always depends on proper maintenance.
Jiangsu Starlight Electricity Equipments Co.,Ltd. is one of the earliest manufacturers of generating sets in China. It has first-class testing equipment, advanced production technology, professional manufacturing technology, perfect quality management system, and strong R&D technical strength. It can provide 3KW-2500KW various specifications of universal, automatic, four protection, automatic switching, low noise and mobile, etc., high-quality, low-energy generating sets to meet all customers' power needs, and can also meet users' different voltages and different frequency requirements, as well as the parallel-connected power supply system of multiple units, use excellent talents to build excellent enterprises, create excellent products, create excellent services, and strive to build excellent domestic enterprises. For more product details, please contact us with sales@dieselgeneratortech.com.