Sep. 06, 2017
To read this article, you will learn Shangchai generator H series SC4H160D2 product features as well as technical parameters listed below.
Product Features:
1. Four valves per cylinder and optimized design of air port swirl ratio and combustion chambers provide higher air intake efficiency; P7100 injection pump and vertically and centrally-mounted injectors, as well as the application of new fuel mixing and atomization technology result in decrease of fuel consumption by 8%-10%.
2. It is safe and reliable with its service life (B10) over 10,000 working hours.
3. Electronic governor with high precision of adjustment effectively controls over the engine state characteristics.
4. One-piece cylinder head, rear gear train, elastic connection and modular design result in small volume, light weight and industry-leading vibration and noise control.
5. Its cold start temperature is as low as at -10 °C without an air intake heating aid, providing strong environmental adaptability.
◎ POWER RATING
Engine Speed

Type of Operation

Engine Power

rpm

kW

Ps

1500

Prime Power

105

143

Stanby Power

116

160
1. The engine performance is as per GB/T2820
2. Ratings are based on GB/T1147.1
3. Prime power is available for an unlimited number of hours per year in a variable load application. The permissible average power output over 24 hours of operation shall not exceed 80% of the standby power rating.
4. Standby power is available in the even of a utility power outage or under test conditions for up to 200 hours of operation per year. The permissible average power output over 24 hours of operation shall not exceed 80% of the standby power rating,
◎ SPECIFICATIONS

◎ FUEL CONSUMPTION

ㅇEngine Model

SC4H115D2

ㅇPower

L/h

ㅇEngine Type

In-line, 4 strokes, water-cooled, 4 valves

25%

6.6




Turbo charged

50%

12.8

ㅇCombustion type

Direction injection

75%

16.7

ㅇCylinder Type

Dry liner

100%

25.0

ㅇNumber of cylinders

4

110%

27.7

ㅇBore × stroke

105(4.14) × 124(4.89) mm(in.)






ㅇDisplacement

4.3(262.4) L(in3)






ㅇCompression ratio

16 : 1






ㅇFiring order

1-3-4-2

◎ FUEL SYSTEM




ㅇInjection timing

11°BTDC

ㅇInjection pump

Longkou in-line "P" type

ㅇDry weight

Approx.450kg (992.1 lb)

ㅇGovernor

Electric type

ㅇDimension

1053×717×1158 mm

ㅇFeed pump

Mechanical type

(L×W×H)

(41.5×28.3×45.6in.)

ㅇInjection nozzle

Multi hole type

ㅇRotation

Counter clockwise viewed from Flywheel

ㅇOpening pressure

250 kg/cm2 (3556 psi)

ㅇFly wheel housing

SAE NO.3

ㅇFuel filter

Full flow cartridge type

ㅇFly wheel

SAE NO. 11.5

ㅇUsed fuel

Diesel fuel oil










◎ MECHANISM

◎ LUBRICATION SYSTEM

ㅇType

Over head valve

ㅇLub. Method

Fully forced pressure feed type

ㅇNumber of valve

Intake 2, exhaust 2 per cylinder

ㅇOil pump

Gear type driven by crankshaft

ㅇValve lashes at cold

Intake 0.25mm (0.0099 in.)

ㅇOil filter

Full flow, cartridge type




Exhaust 0.50mm (0.0197 in.)

ㅇOil pan capacity

High level 13 L ( 3.4 gal.)








Low level 11 L ( 2.9 gal.)

◎ VALVE TIMING

ㅇAngularity limit

Front down 25 deg.




Opening Close




Front up 35 deg.

ㅇIntake valve

20.9°BTDC 44.9°ABDC




Side to side 35 deg.

ㅇExhaust valve

51.7°BBDC 11.7°ATDC

ㅇLub. Oil

Refer to Operation Manual










◎ COOLING SYSTEM

◎ ENGINE DATA

ㅇCooling method

Fresh water forced circulation

ㅇ Water flow

155 liters/min/1500 rpm

ㅇWater capacity

(engine only)

6.8L ( 1.8 gal.)

ㅇHeat rejection to coolant

15.5kcal/sec/1500 rpm







ㅇHeat rejection to CAC

7.8kcal/sec/1500 rpm


ㅇPressure system

Max. 0.5 kg/cm2 ( 7.11 psi)

ㅇAir flow

7.39m3/min /1500 rpm

ㅇWater pump

Centrifugal type driven by belt

ㅇExhaust gas flow

16.3m3/min /1500 rpm

ㅇWater pump Capacity

155 liters( 136 gal.)/min at 1,500 rpm (engine)

ㅇExhaust gas temp.

600 °C /1500 rpm

ㅇ

Thermostat

Wax-pellet type

ㅇMax. permissible restrictions







Opening temp. 82°C

Intake system

3 kPa (initial)




Full open temp. 95°C

6 kPa (final)

ㅇ

Cooling fan

Blower type, plastic

Exhaust system

6 kPa (max)




550 mm diameter, 9 blades

ㅇMax. permissible altitude

2000 m






















◎ ELECTRICAL SYSTEM

◆ CONVERSION TABLE

ㅇCharging generator

24V×55A

in. = mm × 0.0394

lb/ft = N.m × 0.737

ㅇVoltage regulator

Built-in type IC regulator

PS = kW × 1.3596

U.S. gal = L × 0.264

ㅇStarting motor

24V×4.5kW

psi = kg/cm2 × 14.2233

kW = 0.2388 kcal/s

ㅇBattery Voltage

24V

in3 = L × 61.02

lb/PS.h = g/kW.h × 0.00162

ㅇBattery Capacity

120 AH

hp = PS × 0.98635

cfm = m3/min × 35.336






lb = kg × 2.20462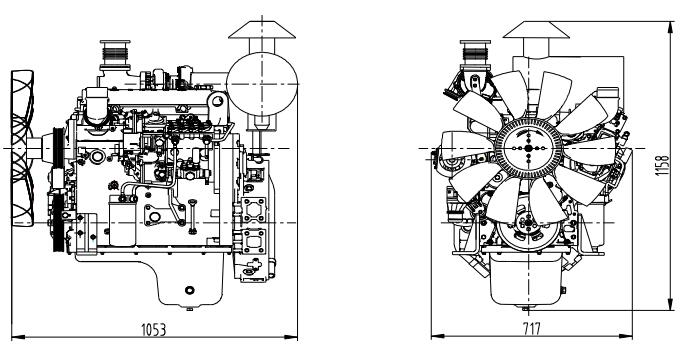 Maybe You Also Like Diesel Generator