May. 15, 2020
Cummins is the largest company in the world to design, manufacture and sell diesel engine and compressed natural gas engines.
In this article, Starlight Power mainly shares the technical data of Cummins QSK19 – G11X diesel generator set. QSK19 – G11X diesel engine is produced by Chongqing Cummins Engine Co.,Ltd. (CCEC). CCEC is the first heavy duty and high horse-power (HHP) diesel engine manufacturing base invested by Cummins Inc.USA. CCEC has the engine manufacturing history of 35 years since 1981. It is also the first joint venture plant in internal combustion industry of China and also the biggest heavy duty and HHP engine (maximum displacement from 11L to 50L) producer and seller with the largest customer population in this field.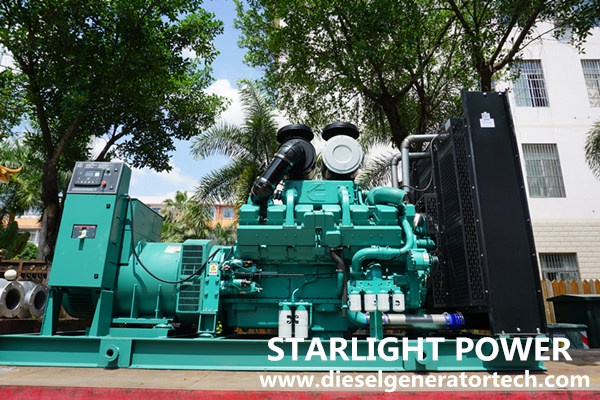 Basic Technical Parameters of 600KW Cummins Diesel Generator Set manufactured by Starlight Powe

r
Type

XG-600GF

Prime / standby power

600KW / 660KW

Engine

CCEC QSK19-G11X

Alternator

MARATHON MX-600-4

Controller

SmartGen 6110

Rated current

1080 A

Rated frequency

50Hz

Startup time

5~ 6S

Power factor

0.8 lagging

Standard configuration

Radiator 50°C max

Fans are driven by belt, with safety guard

24V charger alternator

Dry type air filter, fuel filter, oil filter

Alternator: single bearing alternator

IP23, insulation class H/H

Main line circuit breaker

Automatic control panel

Shock pad

Muffler

User manual
CCEC Cummins Engine QSK19-G11X General Data
All data is based on the engine operating with fuel system, water pump, lubricating oil pump, air cleaner, and muffler, not included are altemator, compressor, fan, optional equipment and driven components.
Manufacturer

Chongqing Cummins Engine Co.,Ltd.

Type

4 cycle, in-line, 6 cylinder

Aspiration

Turbocharged, Air to air aftercooled

Bore and stroke (mm)

159 x 159

Compression ratio

15.0 : 1

Dry weight

Fan Hub to Flywheel Engine (kg)

1901

Wet weight

Fan Hub to Flywheel Engine (kg)

1973

Firing Order

1-5-3-6-2-4

Exhaust system

Maximum Allowable Back Pressure (1500/1800 rpm) – in.Hg (kPa)

2.3/3 (7.8/10.2)

Air Induction System

Maximum Allowable Intake Air Restriction With Heavy Duty Air Cleaner




Clean Element - (kPa)

3.73

Clean Heavy Duty Element – (kPa)

6.20

Cooling System




Coolant capacity engine only – (L)

42

Minimum Allowable Pressure Cap @ sea level – (kPa)

48

Maximum Static Head of Coolant Above Engine Crank Centerline – (m)

18.3

Maximum Coolant Friction Heat External to Engine – (kPa)

34.5

Standard Thermostat (modulating) Range - (°C)

(82-93)

Lubrication system




Oil pressure

@Idle – (kPa)

138

@ Rated speed - (kPa)

275.8-413.7

Oil Flow at Rated Speed – (L/min)

151.4

Maximum Allowable Oil Temperature - °C

121.0

Oil Pan Capacity Option OP4084

High – (L)

72.0

Low – (L)

64.0

Total System Capacity (Including By-Pass Filter) – (L)

84.4

Fuel System

Fuel Injection System

Cummins MCRS

Maximum Allowable Fuel Temperature - °C

71.1

Maximum Fuel Supply – (kg/h)

454/469

Maximum Fuel Drain – (kg/h)

284/295

Fuel consumption




110% - 667KW

138 kg/h

100% - 607KW

126 kg/h

90% - 546KW

112 kg/h

75% - 455KW

94 kg/h

50% - 304KW

66 kg/h

25% - 152KW

34 kg/h
Marathon alternator MX-600-4 technical parameters
Marathon MX series three phase AC synchronous brushless generator is a new generation brushless generator. It can be combined with different kinds of diesel engine (internal combustion engine) to make fixed or movable electrical power.MX Series generators are of unique design, advanced construction, excellent performances and reliably using, it is especially suited for the system where all and part of the load is non-linear, and these outstanding features make it the first ideal generator for computers, telecommunication centers, commercial buildings, hospitals, airport, etc, important field.
Manufacturer

SHANGHAI MARATHON•GEXIN ELECTRIC CO., LTD

Rated output

750KVA

Efficiency

95%

Overload

110% load can run 1 hour

Applicable standard

USA UL Canada CSA, Europe CE

Rated voltage

400/230V

Insulation class

H

Protection level

IP23

Exciter type

Brushless

Control system

Self-excited

No of bearings

1

AVR

Electronic

Voltage Regulation

+ or - 1%

Protection

Overload

Over current

Earth fault

Over/under voltage

Over/under frequency
SmartGen6110 controller introduction
HGM6100N series automatic controller, integrating digital, intelligent and network techniques, is used for automatic control and monitoring system of genset. It can carry out functions of automatic start/stop, data measurement, alarm protection and three - remote (remote control, remote measure and remote communication).
Manufacturer

SMARTGEN(ZHENGZHOU) TECHNOLOGY CO., LTD.

Type

Automatic control module

Function

Control generator to start/stop by remote start signal

Control protection

Automatic start/stop of genset, load transfer (ATS control) and perfect failure display and protection

Controller warning alarm

Loss of speed signal

Genset over current

Fail to stop

Low fuel level

Failed to charge

Battery under voltage

Battery over voltage

Low coolant level

Temp. sensor open

Oil pressure sensor open

Maintenance due warning

High temperature

Low oil pressure

Input warn

Over power

ECU warn
Jiangsu Starlight Electricity Equipments Co.,Ltd. is the biggest OEM cooperation manufacturer of Cummins in China, can provide 20kw to 2500kw open / silent diesel generator powered by Cummins engine.
Starlight Cummins diesel generator has the characteristics of sturdy and durable cylinder design, low vibration, low noise, water cooling, low thermal radiator, excellent performance, long service life, easy maintenance, smooth running, high efficiency,etc.