Jun. 06, 2020
Starlight Power will share the performance characteristics of Cummins generator QSK19 Series engine and also the technical parameters of Cummins QSK19-G4 diesel generator.
QSK19 Series Engine Product Performance Characteristics
Super power
Power covers 500~815 horsepower, maximum torque 3086 Newton.m.
The self-weight is 1890 kg, and the power-to-weight ratio is 0.431 hp/kg.
Low fuel consumption Good economy
Cummins PT fuel system, ultra-high injection pressure, to ensure good atomization of the engine and full combustion.
Efficient Holset exhaust turbocharger can ensure sufficient intake air, improve engine efficiency, further improve combustion, and reduce engine specific fuel consumption.
Air to air cooling technology ensures sufficient air intake and better fuel economy.
Compact structure and easy maintenance
Replaceable wet cylinder liner, good heat dissipation and easy replacement.
All models have strong versatility, high degree of serialization, and easy maintenance.
Both the cylinder block and the cylinder head adopt built-in pressure lubricating oil channels, which has a compact structure and a low failure rate.
Advanced design, reliable performance
Cylinder block: made of high-strength alloy cast iron, with good rigidity, low vibration and low noise.  
Cylinder head: Four-valve design per cylinder, optimized air-fuel mixture, effectively improve combustion and emissions.  
Camshaft: Single camshaft design can accurately control valve and fuel injection timing, optimized cam profile can reduce impact force, improve reliability and durability.  
Crankshaft: Integral crankshaft made of high-strength forged steel. The induction technology of fillet and axle journal can ensure higher fatigue strength of the crankshaft.
Piston: Adopting the latest aluminum alloy casting technology, ω-shaped head and barrel-shaped skirt design can compensate for thermal expansion and contraction, to ensure a good fit.
Professional configuration best quality
Lubrication system: all moving parts are forced lubrication; large-capacity gear pump provides pressure lubricant to lubricate the bearings and cool the piston; oil cooler, full-flow filter, bypass filter to ensure that the oil is maintained in good condition.   
Fuel system: Cummins PT fuel system, optimized combustion, surging power; STC stepped timing system to ensure better combustion under all operating conditions; using low-pressure fuel supply system, equipped with fuel one-way circuit, safe and reliable.   
Cooling system: forced water cooling with gear centrifugal water pump, large flow channel design, good cooling effect; spin-on water filter and special DCA additive can effectively control the acidity of the coolant, prevent rust and pitting and remove impurities.   
Intake and exhaust system: efficient Holset exhaust gas turbocharger to ensure sufficient intake and improve combustion; pressure pulse exhaust pipe can make full use of exhaust gas energy to improve engine efficiency; air-air cooling technology to ensure better fuel economy and emissions.
Jiangsu Starlight Electricity Equipments Co.,Ltd. is authorized as CCEC Cummins diesel generator OEM supplier, we can provide N series, M series, KTA19/38/50 Series and QSK series Cummins diesel gensets specifications from 200KW to 1500KW with 50Hz/60Hz rated frequency.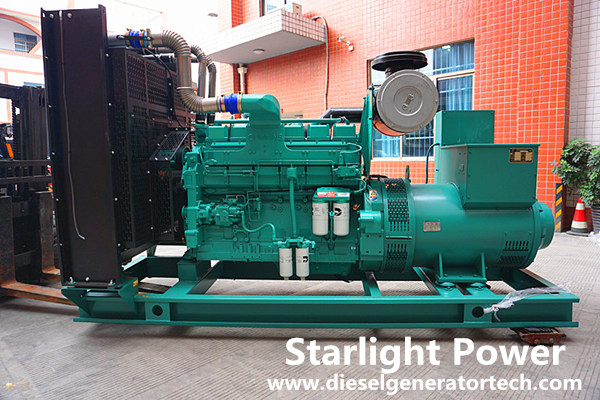 Good quality 500KW Cummins QSK19-G4 Diesel Generator Set Manufactured by Starlight Power
Engine Data
Standard: ISO 3046
Emission Certification: U.S. EPA Tier 2
Model: QSK19-G4
Prime/Standby power: 574KW/634KW
Type: Four cycle, Inline, 6 cylinder
Aspiration: Turbocharged and Charge Air Cooled
Bore and stroke: 159 x 159 mm
Displacement: 18.9L
Compression ratio: 15:1
Fuel system: Cummins MCRS
Fuel consumption
100%: 145 L/hr
75%: 111 L/hr
50%: 79 L/hr
Total system capacity: 84.4 L/hr
Coolant capacity: 41.6 L (Engine only)
Alternator Data
Brand: Stamford
Model: HCI544FS1
Standard: IEC/EN60034, BS5000 and VDE0530
Protection level: IP23
Insulation class: H
Phase: 3 phase 4 wire
Efficiency: 95%
Controller Data
Brand: SmartGen
Model: HGM6110
HGM6100N series automatic controller, integrating digital, intelligent and network techniques, is used for automatic control and monitoring system of genset. It can carry out functions of automatic start/stop, data measurement, alarm protection and three "remote" (remote control, remote measure and remote communication). The controller uses LCD display, optional display interface including Chinese, English, Spanish, Russian, Portuguese, Turkey, Polish and French with easy and reliable operation.
If you are interested in 500KW Cummins diesel generator set, please contact us by email: sales@dieselgeneratortech.com.