Mar. 02, 2023
Excellent quality and reliable performance are the characteristics of silent generator sets, in which the grade and quality of oil play an important role. However, Starlight recently received a customer's report that the engine oil had blackened to varying degrees before the replacement period. Why? Starlight power generation equipment tells you that there are three reasons for the oil color of silent generator set to turn black: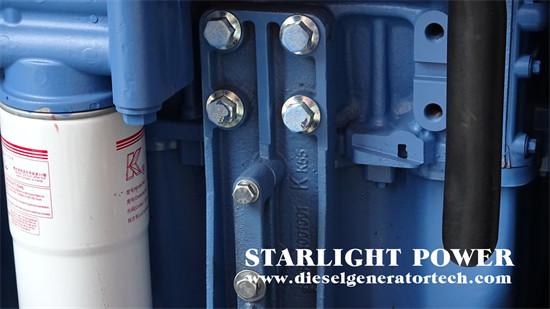 First, the fuel of the silent generator set is not completely burned, and the piston, piston ring and cylinder block are excessively worn, and the seal is not tight. If the fuel combustion is incomplete, the exhaust gas entering the lubricating oil tank will make the lubricating oil black and thick quickly.
Second, the lubricating oil tank and oil passage were not cleaned during oil change. If it is not cleaned, its residue will pollute the new oil and cause the oil to turn black.
Third, the lubricating oil level does not meet the use requirements. High temperature, high speed and high load engines should use high-grade lubricating oil with good oxidation stability and good additive quality. The use of oil with poor quality will quickly deepen the oil color and darken.
If the oil of the silent generator set turns black before the replacement period, you need to pay attention to it, find out the cause in time and take measures to solve it, which is crucial for the normal operation of the silent generator set. If you encounter problems that cannot be solved during use, please contact Starlight's technicians in time, and do not handle them at will.
Since 1982, Starlight Generator has been a generator set manufacturer qualified by the "National Internal Combustion Engine Quality Supervision and Inspection Center". The product quality has passed the IS09001 quality system standard certification. And obtained the qualification certificate for self-operated import and export. Over the years, starlight units have been widely used in all walks of life, and have won the network access qualification of the Ministry of Information Industry, the network access qualification of the Ministry of Radio and Television, the network access qualification of CNPC, the network access qualification of China Mobile, and the manufacturing qualification of marine units. In 2016, Starlight was awarded the Certificate of Qualified Supplier of China Nuclear Power Group. Starlight Generator has been cooperating with Shangchai Power for many years. In 2009, it became the OEM partner of Shangchai Power in China. Starlight generator VOLVO unit ranks the top three in the Asia-Pacific sales volume, and is the core OEM partner of Sweden Volvo VOLVO in the Asia-Pacific region. If any question please feel free to visit our website https://www.dieselgeneratortech.com/ or send email to sales@dieselgeneratortech.com.