Nov. 29, 2019
As we know that Perkins is the world famous engine manufacturer and set up more than 3500 service outlets worldwide. Perkins is committed to product quality, environment and economy. By strictly enforcing the ISO9001 and ISO14001 standard, the products have high emission standard, high efficiency, high stability and high reliability and so on. In addition, Perkins engine also meets international standard of ISO 8528, ISO 3046 and BS 5514 for generator set.
In this article, Starlight Power mainly shares 250KVA Perkins 1506A-E88TAG2 standby generator features and main parameters.
Building upon Perkins proven reputation within the power generation industry the Perkins® 1500 Series Electropak engines now fit even closer to customer's needs.
The 1506A-E88TAG2 ElectropaK is a 6 cylinder, fully electronic, turbocharged, air-to-air charge cooled diesel engine. It is economical, quiet and reliable and provides the high performance that is demanded by customers for their power generation needs.
Focusing on the Perkins common platform theme, changes to engine envelope dimensions and connection points have been kept to a minimum, making for easy installation across the ratings.
Perkins 1506A-E88TAG2 Engine Specification

Number of cylinder

6 vertical in-line

Bore and stroke

112 x 149 mm

Displacement

8.8 litres

Aspiration

Turbocharged, aftercooled

Cycle

4 stroke

Combustion system

Direct injection

Compression ratio

16.1:1

Rotation

Anti-clockwise, viewed on flywheel

Total lubricating capacity

41 litres

Cooling system

Liquid

Length (including air cleaner)

1941 mm

Width

1013 mm

Height

1366 mm

Weight (dry)

1135 kg

Alternator Specification

Brand

Model

LSA46.3 S5

International standard

IEC 60034, NEMA MG 1.32-33, ISO 8528-3, CSA C22.2 n°100-14, UL 1446

Insulation class

H

Protection

IP 23

Number of wires

12

Winding pitch

2/3 (winding 6)

AVR type

R250

Voltage regulation

± 0.5 %

Power factor

0.8

Altitude

≤1000 m

Air flow

0.48 m3/s (50Hz)

Automatic Controller

Brand

SMARTGEN

Model

HGM6110

Screen

132 * 64 LCD disply with backlight

Function

Automatic start/stop, data measurement, alarm protection and three "remote" (remote control, remote measure and remote communication)

Can measure and display 3 phase voltage, 3 phase current, frequency, power parameters of mains/genset

Optional language interface

Chinese, English, Spanish, Russian, Portuguese, Turkey, Polish and French

Communication port

RS485
Features and benefits of Perkins 1506A-E88TAG2 Engine
Dependable power
1. The 1506A-E88TAG2 delivers greater productivity through an improved power to weight ratio.
2. The world-class power density has been achieved from an 8.8 litre turbocharged engine using a hydraulic actuated unit injection (HEUI) fuel system; making this engine robust for all markets due to its ability to cope with the variation of fuel quality around the world
3. In its class, the 1506A-E88TAG2 has been designed to provide dependable power even in extreme ambient climates.
Low operating costs
1. Oil change service intervals are set at 500 hours as standard.
2. Designed to provide low cost of ownerhsip, simple maintenance and reduced downtime.
3. 12 months unlimited warranty with 24 months on Major items. For low use applications <500 hours per year warranty is extended by a further 12 months. See Perkins Warranty Policy for further details.
Flexibility
1. The 1506-E88TAG2 has been designed to hit the power node requirements of customers.
2. Switchability functionality from 50 Hz/1500 rpm to 60 Hz/1800 rpm and vice versa is available to provide greater flexibility for frequency selection.
World class product support
1. Experienced global network of distributors and dealers, fully trained engine experts deliver total service support around the clock, 365 days a year. They have a comprehensive suite of web based tools at their disposal, covering technical information, parts identification and ordering systems, all dedicated to maximising the productivity of your engine.
2. Perkins actively pursues product support excellence by insisting our distribution network invest in their territory to provide customers with a consistent quality of support across the globe
3. Throughout the entire life of a Perkins engine, we provide access to genuine OE specification parts giving 100% reassurance that you receive the very best in terms of quality for lowest possible cost, wherever your Perkins powered machine is operating in the world.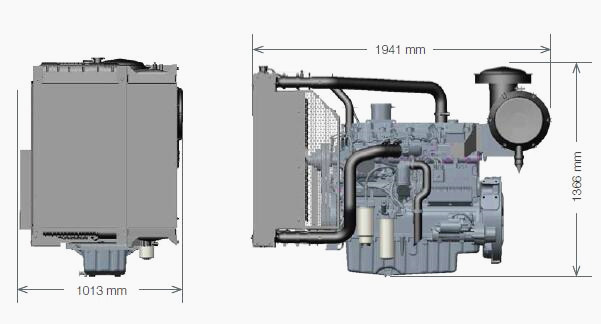 Technical information
Air inlet system - Mounted air filter and turbocharger
Fuel system
1. HEUI fuel system with full authority electronic control
2. Electronic governing to ISO 8528-5 with stand-alone isochronous and load-sharing capabilities
3. Fuel filter, fuel transfer pump, fuel priming pump
4. Spin on primary, secondary and water filter separator
Lubrication system
1. Wet full aluminium sump with filler and dipstick
2. Full-flow spin-on filters
3. Oil pump, gear driven
Cooling system
1. Thermostatically controlled with belt driven, circulating pump and belt-drive fan
2. Mounted belt driven pusher fan
3. Radiator supplied loose with all guards and pipes
4. Air-to-air charge cooler incorporated in radiator
Electrical equipment
1. 24V starter motor and 24V, 45 amp alternator with DC output
2. Electronic Control Module (ECM) mounted on engine with wiring looms and sensors
Flywheel and housing
1. High inertia flywheel to SAE 1 J620 Size 355.6 mm (14 in)
2. Aluminium SAE 1 flywheel housing
Mountings - Front engine mounting bracket
Perkins Diesel Generator Maintenance
1. Perkins diesel generator needs to change oil, clean diesel filter and air filters after 60 hours of operation.
2. The electrolyte of the battery should be checked frequently and replenished in case of shortage.
3. Should always check the tightness of the belt, adjust the tensioning mechanism to maintain the tensioning state.
4. In the cold season, the water heating and oil heating switches should be turned on to keep the genset at a certain temperature to ensure the normal use of the diesel generator set.