Jul. 27, 2019
Yuchai YC6C series engine is a self-developed product by Yuchai combining the advanced technology for large engines both at home and abroad. The configurations, such as four valves, turbocharged intercooled, electronic unit pump, are adopted for it; and it is optimized and verified through the advanced combustion development technology of Yuchai, and is characterized by energy-saving and environment-friendly, high reliability, strong loading capability and good maintainability.
Yuchai Generator YC6C1660-D30 Engine Characteristics
1. The technologies for four valves and turbocharged intercooled are adopted for ensuring sufficient air intake, full combustion and low fuel consumption.
2. Electronic unit pump technology is adopted for ensuring stable operation, good transient speed governing performance, and strong loading capability.
3. High-quality alloy cast iron cylinder block of reinforced grid structure with cambered surface, high-strength vermicular iron cylinder head, dual protection anti-impact cylinder gasket structure, and self-developed cooling technology for the bottom of the cylinder head are adopted, which ensure high reliability.
4. The Yuchai proprietary carbon-scraping self-cleaning technology is adopted for ensuring low lubricating oil consumption.
5. Electric pre-supply oil technology is adopted, which effectively protects kinematic pair and improves the service life of engine.
6. The structure of one head for one cylinder is adopted; maintenance window is set at the side of the engine body, which ensures easy maintenance.
7. Support dual energy start.
Yuchai YC6C1660-D30 Engine for Diesel Generator Main Technical Parameters (High pressure common rail, T3 emission)
Model

YC6C1660-D30

Type

Vertical, in-line, water cooling, four valves

Air intake mode

Turbocharged and Intercooled

Combustion chamber form

Direct injection ω

Cylinder

6

Single valve number

4

Bore (mm)

200

Stroke (mm)

210

Displacement (L)

39.584

Compression ratio

13.5:1

Cylinder type

Wet cylinder liner

Fuel supply system

High pressure common rail

Lubrication method

Pressure and splash combination

Start mode

Electric start

Oil capacity (L)

150 - 180

Working order

1-5-3-6-2-4

Crankshaft rotation direction

Counterclockwise (facing power output)

Rated power/speed kw/(r/min)

1110/1500

Standby power/speed kw/(r/min)

1221/1500

Fuel consumption rate g/(kW·h)

≤220

Oil consumption rate g/(kW·h)

≤0.5

minimum idling speed ( r/min)

550-650

Fuel grade

Summer: GB 252-2011 superior or first grade No.0, No.5 ordinary diesel oil

Winter: GB 252-2011 superior or first grade No.0, No.-10, No.-20, No.-35 light ordinary diesel oil (selected according to ambient temperature).

Oil grade

Summer: 15W-40 CH-4

Winter: 5W-30 CH-4, 10W-30 CH-4, 15W-30 CH-4 or the quality grade suitable for the environment is not lower than that of CH-4 diesel engine oil.

Speed drop (%)

≤1

Relative speed setting drop range (%)

≥3.5

Relative speed setting rise range (%)

≥2.5

Steady state speed fluctuation rate (%)

≤0.5

Transient speed deviation (for rated speed)

100% sudden reduction power

≤+10

Sudden power

≤-7

Speed recovery time (s)

≤3

Maximum allowable intake resistance (kPa)

6

Maximum allowable exhaust back pressure (kPa)

10

Noise limit (sound pressure level) Lp dB(A)

≤101.5

Emission

Non-road stage III (T3)

Net weight (kg)

4500

Dimension (LXWXH) mm

2851 x 1430 x 1966

Match genset power (kw)

Prime: 1000

Standby: 1100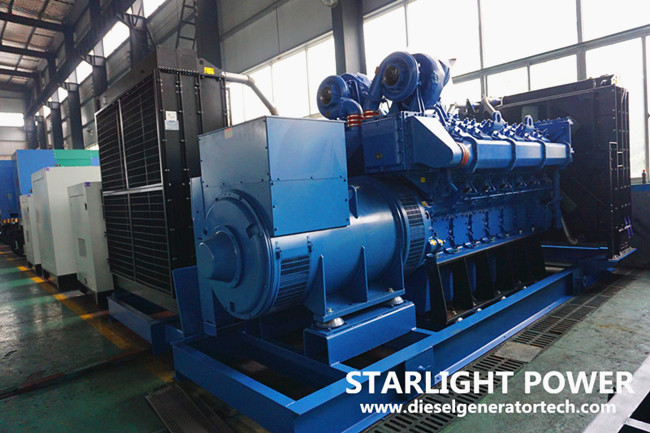 Starlight Power is authorized as Yuchai diesel generator OEM, can provide 20KW to 2200KW prime/standby generator with Yuchai engine. If you are interested, contact us by email: sales@dieselgeneratortech.com.