Dec. 24, 2022
Jiangsu Starlight Power Guide: Variable frequency diesel generator set includes engine, multipole permanent magnet generator, power conversion system and control module. It can automatically adjust the engine speed according to the change of load power, so as to adjust the output efficiency of the generator, so that the generator set can always work in the most energy-saving state. With adjustable speed generator, the output power is adjustable, and the working speed is 1200~3000 r/min, which can achieve the best matching with the load. The power output is related to the speed, so as to avoid carbon deposition and other damage caused by the engine working in the low load area. At the same time, the reliability without excitation winding and bearing is greatly improved. The frequency conversion DC diesel generator set has the following advantages:
1. Reduce fuel consumption.
The diesel engine is at the rated maximum speed under full load through closed-loop control. When the load is reduced, the diesel engine will automatically reduce the speed to ensure that the speed of the diesel engine is always synchronized with the load so as to reduce fuel consumption. In theory, the greater the speed range of diesel engine, the more obvious the fuel saving.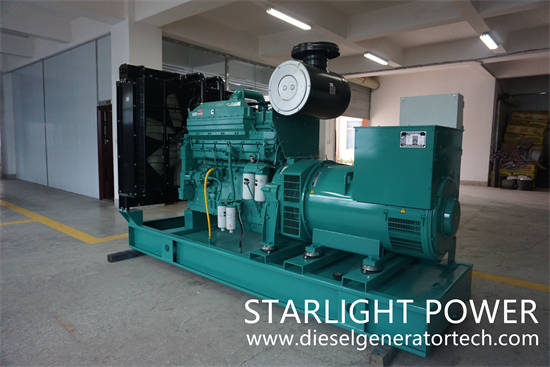 2. Improve the output power of diesel engine.
The use of high-speed diesel engine can significantly reduce the fuel consumption compared with that of medium speed diesel engine. At the same time, the power of diesel engine is greatly increased, which also reduces the cost and weight of the unit.
3. Improve the maintenance and wear of diesel engine caused by long-term low load and high constant speed operation of diesel engine. DC output is available for convenient access and efficiency improvement.
Jiangsu Starlight Electricity Equipments Co.,Ltd. is a manufacturer of professional generators, diesel generator sets, Cummins generator sets, Volvo generator sets, etc. The company has advanced testing equipment, excellent production technology, professional manufacturing technology, perfect quality management system, and Strong R&D technical strength. It can provide 15KW-2500KW various specifications of universal, automatic, four protection, automatic switching, low noise and mobile, etc., high-quality, low-energy generating sets to meet customer power needs, and can also meet users' different voltages and different frequencies, as well as the power supply system of multiple units connected in parallel, welcome customers to inquire. For more details, please contact us with sales@dieselgeneratortech.com.