Jan. 31, 2023
Volvo diesel generator set has the characteristics of small volume, low fuel consumption, low emission, low noise, compact structure, etc. In addition, Volvo diesel generator set has high load bearing capacity and fast and reliable cold start performance. Stable operation, low exhaust emissions, low operating costs, compact appearance. Power range: 64KW-550KW. Volvo diesel generator set has won the favor of customers all over the world because of its reliable performance, strong horsepower, green environmental protection and humanized safety design.

Technical description of Volvo diesel generator set:
1. Standard environmental conditions for generator unit operation.
The atmospheric pressure is 100kPa. The ambient temperature is 25 ℃. Relative humidity 30%. Under the above conditions, when the fuel quality meets the technical requirements, the generator set can reach the rated load output.
2. Standards and specifications for product design.
Including but not limited to the following standards and specifications: ISO9001, GB/T 2820-2009, JB/T 10303-2001, GB/T 15548-2008, GB/T 20136-2006, etc.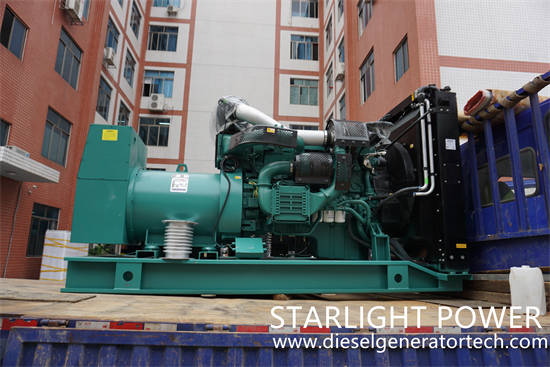 3. When the generator set is in standby.
When the generator set is in standby for a long time, it can be manually started regularly and run at no load to self-check its starting performance.
4. Fuel is applicable.
No. 0 light diesel oil shall be selected in summer, and No. 10, - 20 or - 35 light diesel oil shall be selected in winter according to regional climate conditions.
5. Lubricating oil system.
The generator set lubrication system is a closed self-circulation lubrication system. The engine is equipped with organic oil tank (oil pan), oil transfer pump, manual/electric pre-supply pump, oil filter, oil cooler, etc.
6. Cooling system.
The cooling water shall be slightly alkaline clean water and shall not contain corrosive compounds. Its main indicators are as follows: hardness 0.7~5.3mol/L, chloride ion content < 150mg/L, PH value 6~8.5. Use antifreeze in winter.
The generator set is started by DC motor, and the working power supply is DC 24V. The battery is equipped with an automatic charging device, which can automatically charge it to ensure that the battery has sufficient power.
Unit electrical index: rated frequency 50HZ (60HZ optional), power factor COS Ф= 0.8, rated voltage 400/230V, phase line: three-phase four-wire system. If you need to know other information about the unit, the price of Volvo diesel generator unit or the unit parameters of the power model not shown, please contact us.
Jiangsu Starlight Electricity Equipments Co.,Ltd. is a manufacturer of professional generators, diesel generator sets, Cummins generator sets, Volvo generator sets, etc. The company has advanced testing equipment, excellent production technology, professional manufacturing technology, perfect quality management system, and Strong R&D technical strength. It can provide 15KW-2500KW various specifications of universal, automatic, four protection, automatic switching, low noise and mobile, etc., high-quality, low-energy generating sets to meet customer power needs, and can also meet users' different voltages and different frequencies, as well as the power supply system of multiple units connected in parallel, welcome customers to inquire. For more details, please contact us with sales@dieselgeneratortech.com.