May. 31, 2019
People who work and live at sea, electricity for their life and equipment on board all is powered by marine generator set, while the power of generator set comes from engine. It can be said that a good engine for power generation guarantees the logistics work at sea.

At the same time, about working environment of engine, there is some difference between engine of marine power generator set and engine of genset for land use. At sea, in working environment with high salt and humidity, not only needs to test the strength and corrosion resistance of the engine block, but also the assembly technology level of the engine. Any defect will lead to the engine can not work properly, which will bring economic losses to users. In addition, because mariners live on board for a long time, they need a silent and low noise engine to guarantee mariners' work and rest. To guarantee a natural daily life of people at sea, marine generator set will work for a long time, so it is very necessary to have a reliable engine power for generator set.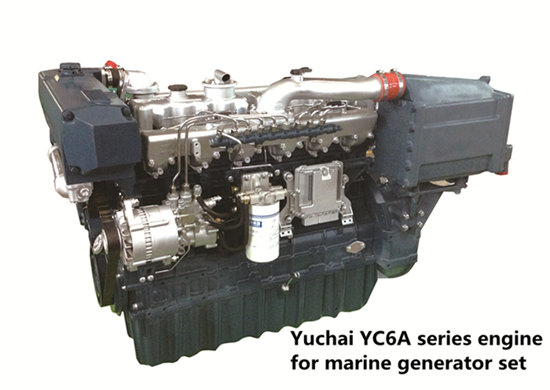 The harsh working environment and people's actual needs are all difficult problems for marine generator sets. It is also the test for engine. Maybe people do not know to choose which engine for marine diesel power generator set. While Yuchai diesel engine YC6A series can solve all problems once.
YC6A series diesel engines are developed by Yuchai, which using German technology and Japanese marine engine technology.
Yuchai YC6A series engine through long-term market trial, is a mature product with excellent performance and high reliability. The market quantity of YC6A series engine is more than one million. Such model is developed for characteristics of generator set, which is characterized by high cost performance, easy use and maintenance, and superior NVH performance.
Technical parameters
Model

YC6108ZLCB

YC6A170C

YC6A190C

YC6A195C

YC6A220C

YC6A200LC20

YC6108ZLCB

Type

Vertical, V-type, water-cooling, four stroke

Air intake mode

Turbocharged & Inter-cooled

Cylinder quantity

6

Bore x stroke

108mm X 132mm

Piston displacement

7.252L

Compression ratio

17:01

Continuous power/Speed

112kw

(150Ps)

1500r/min

125kw

(170Ps)

1500r/min

140kw

(190Ps)

1800r/min

145kw

(195Ps)

2300r/min

162kw

(220Ps)

2300r/min

145kw

(200Ps)

1500r/min

112kw

(150Ps)

1500r/min

Overload power/

Speed

123.2kw

(170Ps)

1548r/min

137.5kw

(185Ps)

1548r/min

154kw

(210Ps)

1858r/min

159.5kw

(220Ps)

2374r/min

178.2kw

(240Ps)

2374r/min

159.5kw

(220Ps)

1500r/min

123.2kw

(170Ps)

1500r/min

Min. fuel consumption rate

≤198g(kW.h)

Oil consumption rate

≤0.5g(kW.h)

Crankshaft rotation direction (for power output)

Anti-clockwise

Start mode

Electric start

Net weight

770kg

Dimension

L x W x H

1415mm×910mm×1075mm

Adapting reducer gearbox or marine genset

120C, 135, MB242 etc.

HCQ138, 120C, 135, MB242 etc.

120kw

120kw

Certificates

ZC, CCS

ZC, CCS, EIAPP

ZC, CCS
Main characteristics of YC6A series engine:

1.The cylinder block and cylinder head are made of alloy cast iron with high strengthening degree, using integral crankshaft and sliding bearing, small size, light weight and high reliability, and the overhaul period is more than 10,000 hours. Ensure high reliability after years of full verification by market.
2.Use unitary iron casting flesh water cooling jacket exhaust pipe (optional), the cabin temperature is lower and the use is safer.
3. Use necking combustion technology, AD type high pressure oil pump, low inertia small orifice injector, combustion more fully, the fuel consumption index is much better than that of the same power block products in China, and the advantages of supercharger type are more obvious.
4.With Yuchai's exclusive piston ring sealing technology and valve oil sealing technology, the consumption of lubricating oil is 50% lower than that of domestic products of the same power grade. Effectively reduces pistion temperature and ensures the long service life.
5.Advanced and mature electronically-control common rail(BOSCH) and high-efficient turbocharged inter-cooled technologies are equipped with, which ensure precise control of fuel-injection quantity and sufficient air intake; and the full combustion, low fuel consumption and less emission of diesel engine under different load conditions are ensured.
6.Requirements for Grade G3 generator set performance is satisfied.
Yuchai YC6A series engine has excellent quality and technology, it can meet requirement of working environment with high salt and humidity at sea and guarantee to supply electricity for people and equipment at board for a long time, Yuchai YC6A series engine is the ideal power for 90kw-120 kW marine generator set. 90kw-120kw Yuchai marine diesel generator set is suitable for small fishing vessels and other small vessels.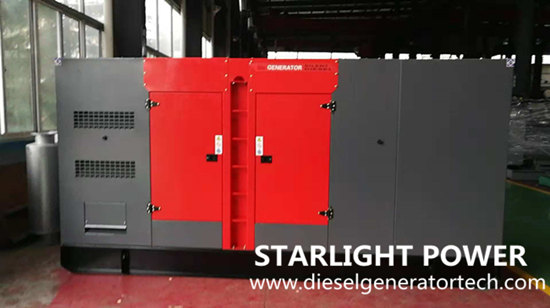 As we know, diesel engine of marine generator set is powered by diesel oil, so when use marine power generator set to create benefits, should also pay attention to the use of diesel oil skills, reasonable use of diesel oil is to protect your beloved diesel generator set. Here Starlight also shares some attentions as follows:
1.Guarantee cleaning of diesel oil, before the addition of diesel oil, to go through the full precipitation, sedimentation time preferably more than three days. When refueling, it should also be carefully filtered to prevent mechanical impurities from mixing into diesel oil. In actual operation, it is also necessary to ensure the cleanliness of oil storage containers and refueling tools. This principle is well known to all.
2.Diesel oil with different labels should be mixed properly. Diesel oil with different labels can be blended and used. It can be properly distributed according to different temperature conditions to make full use of fuel resources. It should be noted that the pour point of blended diesel is not the uniform value of the two kinds of labeled diesel oil, but slightly higher than the uniform value of the two kinds of labeled diesel oil.
3.Gasoline must not be mixed into diesel oil , which used in diesel engine of marine generating set. If gasoline exists in diesel oil, the extinguishing performance will be significantly worse, resulting in difficult start-up, so that the diesel generator set can not be started. When gasoline enters the cylinder, it will also wash the smooth oil film of the cylinder and accelerate the wear of the cylinder.
4.Should select diesel oil as well as possible, when choosing diesel oil, we should try our best to select high-grade or first-grade products with sulfur content less than 0.2% and 0.5% , respectively to reduce the corrosiveness of diesel oil.
Yuchai diesel generator set Power range is from 22kw to 2420kw, if you would like to select more powers, please contact us.