Jul. 26, 2022
Whether it's a commercial or residential environment, electricity is important to everyone. However, the grid sometimes experiences blackouts or blackouts. In order to ensure that the normal production and operation of enterprises are not harmed by voltage power outages, many enterprises choose diesel generators as backup power systems. When choosing a diesel generator, how to clarify the power of the generator for the office building? How is it different from a domestic diesel generator? For many years, Starlight Power has been helping our customers to find the right diesel generator, giving the right high quality diesel generator for business requirements.

Not all generators are created equal. Generators that are common or backup power sources in a typical home are generally smaller, more portable, and can meet the light to moderate power needs of the home.
Commercial diesel generators, on the other hand, are designed to provide sufficient power to a business or commercial location during a power outage. Please operate again indefinitely before electrical repairs. They contain automatic operation, which means the generator starts automatically in the event of a power outage. Please turn them off during maintenance. This ensures minimal clearance between the company's computers, refrigerators, engines, and production equipment.
Unlike domestic diesel generators, commercial diesel generators generally include automatic voltage regulators that ensure continuous control of voltage, avoiding power surges and sudden drops that can damage equipment or stop operation.
How to determine what power a diesel generator needs?
Choosing the right diesel generator for your requirements is the most important part of a company's power supply configuration. Underestimating power requirements not only slows or halts business operations, but also destroys major equipment.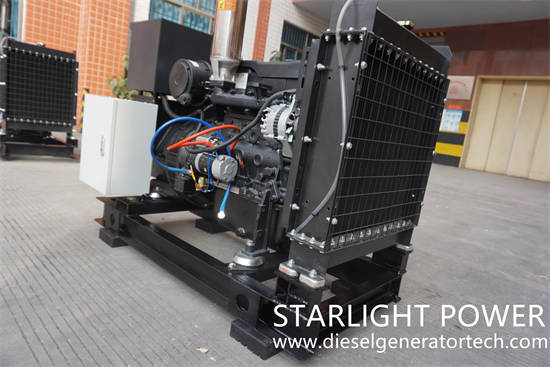 Today, here, Starlight Power professionals have sorted out a convenient situation table to guide you to master all the detailed information. In addition, there are some major factors that influence which generator to choose.
Different devices have different volumes for voltage sags, and motors may be operating at up to six times their operating load.
Because running loads can compromise the generator's control panel system by reducing the available voltage, there must be a generator large enough to handle the large allowable voltage drop. When choosing, be sure to check the device manufacturer's spec sheet for the allowable input voltage drop.
The generators have a canonical frequency (50Hz for each). However, extremely heavy loads, especially when starting, can reduce the speed of the car and subsequently harm the frequency. The maximum speed and frequency that the system can handle must be considered.
All internal combustion engines require a certain amount of gas to function properly. Altitude, humidity, and temperature ranges can compromise generator operation. Generally, generator manufacturers give manuals for percentage reductions in power when environmental conditions exceed specification ratings.
Generators are universal or standby. Commercial applications will determine backup power requirements: whether diesel generator power must run continuously, or only temporary power during mains outages. You can also click to view information about Starlight Power's diesel generators on the Starlight Power website, and be sure to refer to the Starlight Power diesel generator selection table. Having the right knowledge early on and then maintaining normal production operations during the next outage period is not a problem.
Jiangsu Starlight Power Generation Equipment Co., Ltd. was founded in 1974 and is one of the earliest manufacturers of generators and diesel generator sets in China. The company has a registered capital of 218.88 million yuan. The company covers an area of 86,000 square meters and a building area of 55,000 square meters. There are more than 660 employees, including 456 professional technicians and 106 senior technicians. It has 46 sales and service outlets nationwide. The main products are diesel engines, generator sets, and diesel generators, providing users with a one-stop service of design, supply, debugging and maintenance at any time. Starlight has always insisted on using first-class talents, building first-class enterprises, manufacturing first-class products, creating first-class services, and making every effort to build a first-class domestic enterprise. If any question please feel free to visit our website https://www.dieselgeneratortech.com/ or send email to sales@dieselgeneratortech.com.