Oct. 17, 2022
The development of society and people's daily life cannot be separated from electrical energy. Brushless synchronous generator is an AC power source that converts mechanical energy into electrical energy by driving the rotation of the prime mover. In this paper, Starlight Power will introduce the basic structure analysis of brushless synchronous generator.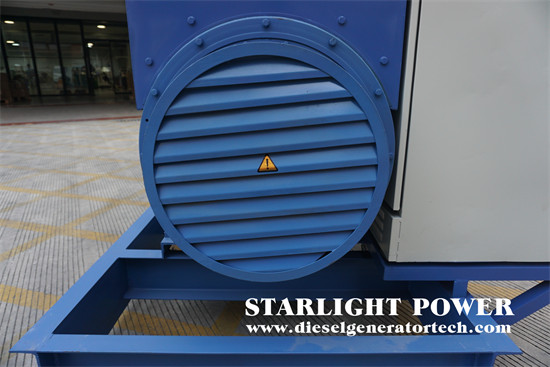 There are mainly two types of small and medium-sized brushless synchronous generators, as follows:
(1) Rotary armature type
The magnetic pole is fixed (the fixed part is called the stator), the armature winding (induction conductor) rotates on the rotor, and the rotating rectifier is used to lead the AC current from the rotor. The AC exciter is such a motor.
(2) Rotating magnetic field type
The magnetic pole is installed on the rotor to rotate, and the armature is wound and assembled on the stator to remain stationary. The AC current can be directly led out by cable. The body of brushless generator is this type of motor. Such motors can also be divided into:
Salient pole generator: it has obvious magnetic pole, and the magnetic pole core is sheathed with concentrated magnetic pole winding. Implicit pole generator: there is no obvious magnetic pole, and the magnetic pole windings are scattered and embedded in the rotor (magnetic pole) iron core slot.  
The small and medium-sized generators are mostly of transfer type. Whether salient pole or non salient pole generator, its structure can be divided into two parts, namely static part, including stator (base, stator core, stator winding), end cover, bearing cover (sleeve), AC exciter stator, etc; Rotating part is also called rotor, including shaft, rotor core (magnetic pole core), magnetic pole winding, bearing, fan, exciter armature, rotating rectifier, etc.
The above content is the basic structure analysis of brushless synchronous generator, and we hope that the majority of users will have a certain understanding. Brushless synchronous generator has been widely used at home and abroad because of its small radio interference, brushless, less maintenance workload, reliable operation, superior performance, and easy to realize unattended.
Jiangsu Starlight Power Generation Equipment Co., Ltd. was founded in 1974 and is one of the earliest manufacturers of generators and diesel generator sets in China. The company has a registered capital of 218.88 million yuan. The company covers an area of 86,000 square meters and a building area of 55,000 square meters. There are more than 660 employees, including 456 professional technicians and 106 senior technicians. It has 46 sales and service outlets nationwide. The main products are diesel engines, generator sets, and diesel generators, providing users with a one-stop service of design, supply, debugging and maintenance at any time. Starlight has always insisted on using first-class talents, building first-class enterprises, manufacturing first-class products, creating first-class services, and making every effort to build a first-class domestic enterprise. If any question please feel free to visit our website https://www.dieselgeneratortech.com/ or send email to sales@dieselgeneratortech.com.