Apr. 26, 2023
After the plunger cone of the Ricardo diesel generator set injector occupies the entire metering chamber at the end of injection, the plunger of the Ricardo diesel generator set will continue to descend for a certain distance to apply a certain pressure to the nozzle head, so as to press out all the residual fuel between the plunger and the conical seating surface. This pressure is called PT injector plunger seating pressure. This pressure cannot be too high or too low. Excessive deformation of the fuel injector driving mechanism, and even damage to the nozzle of the fuel injector; If it is too small, there will be residual fuel between the plunger and the conical seat, which will burn and produce carbon deposits, causing the nozzle to overheat and even fall off.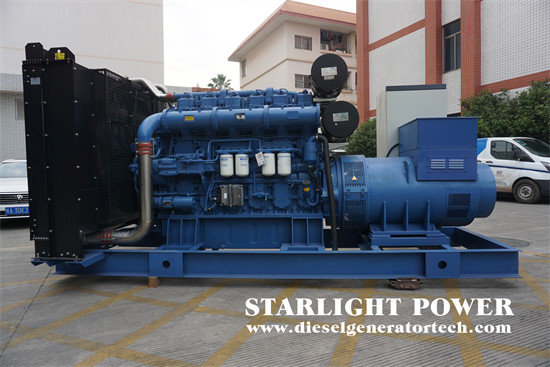 For reassembled diesel engines, this seating pressure should be readjusted. For diesel engines that have been in use for a period of time (usually around 2000 hours), due to wear and other factors, the original correct pressure can be damaged, so adjustments should also be made in a timely manner.
When adjusting the plunger seating pressure of Ricardo diesel generator set, cold adjustment is generally carried out first, followed by hot adjustment. Cold adjustment is carried out when the coolant temperature of Ricardo diesel generator set diesel engine is below 60 ℃. The thermal adjustment shall be carried out when the temperature of the diesel oil bottom shell of Ricardo diesel generator set is 88 ℃ and the coolant temperature is above 85 ℃. The "thermal adjustment" data is used for the adjustment of Ricardo diesel generator set diesel engine during the dynamometer test. At this time, the adjustment work must be rapid. The adjustment methods of Ricardo diesel generator set injector seating pressure include the instrument method and the torque method.
Jiangsu Starlight Power Generation Equipment Co., Ltd. was founded in 1974 and is one of the earliest manufacturers of generators and diesel generator sets in China. The company has a registered capital of 218.88 million yuan. The company covers an area of 86,000 square meters and a building area of 55,000 square meters. There are more than 660 employees, including 456 professional technicians and 106 senior technicians. It has 46 sales and service outlets nationwide. The main products are diesel engines, generator sets, and diesel generators, providing users with a one-stop service of design, supply, debugging and maintenance at any time. Starlight has always insisted on using first-class talents, building first-class enterprises, manufacturing first-class products, creating first-class services, and making every effort to build a first-class domestic enterprise. If any question please feel free to visit our website https://www.dieselgeneratortech.com/ or send email to sales@dieselgeneratortech.com.