Feb. 13, 2023
Today, we will briefly introduce the content of effective methods to avoid the vibration of Cummins generator body. If what else you need to know about this, welcome to visit our Starlight website. Next, we will introduce relevant information to you.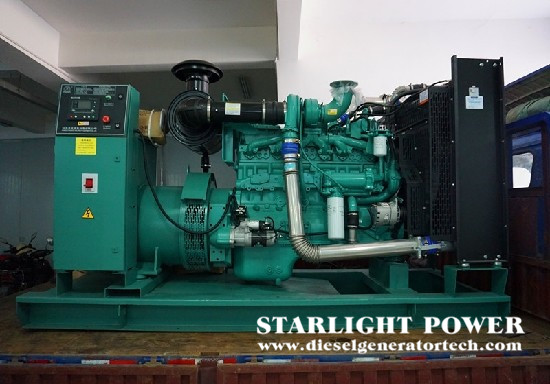 In addition to the vibration caused by its own reasons, the trembling and instability of the surrounding environment will also affect the equipment. During the maintenance of Cummins generator, users should adopt methods to prevent Cummins generator from wearing. There are many reasons for wear, and shaking is a cause that cannot be ignored.
During the maintenance of Cummins generator set, if it is necessary to move Cummins generator, it is recommended to use shock absorber. The shock absorber instrument needs to be fastened on the concrete foundation with expansion bolts. The operator places Cummins generator on a flat and stable foundation through shock absorber according to the equipment hole on the Cummins generator chassis, which can effectively reduce the vibration and impact of Cummins generator on the building during operation, In addition to Cummins generator and shock absorber equipment, other parts of Cummins generator and external connection should also be flexible connection. For example, the smoke exhaust pipe is connected by corrugated shock absorption pipe, and the exhaust duct, fuel inlet pipe, return pipe, and distribution cable are also connected by flexible connection, so as to minimize the vibration of surrounding objects caused by the operation of Cummins generators.
In addition, the parts and components inside the equipment also need to be shockproof. The simplest way is to lubricate and maintain, eliminate the friction between the parts and components, and find out the defects of the equipment itself for timely maintenance. Only in this way can the wear and tear be effectively reduced. The safety and service life of Cummins generator can also be guaranteed.
Jiangsu Starlight Power Generation Equipment Co., Ltd. was founded in 1974 and is one of the earliest manufacturers of generators and diesel generator sets in China. The company has a registered capital of 218.88 million yuan. The company covers an area of 86,000 square meters and a building area of 55,000 square meters. There are more than 660 employees, including 456 professional technicians and 106 senior technicians. It has 46 sales and service outlets nationwide. The main products are diesel engines, generator sets, and diesel generators, providing users with a one-stop service of design, supply, debugging and maintenance at any time. Starlight has always insisted on using first-class talents, building first-class enterprises, manufacturing first-class products, creating first-class services, and making every effort to build a first-class domestic enterprise. If any question please feel free to visit our website https://www.dieselgeneratortech.com/ or send email to sales@dieselgeneratortech.com.