Sep. 21, 2023
Have you ever learned about the magnetic wire cutting motion of Cummins diesel generator sets? Firstly, they are driven by water turbines, steam turbines, diesel engines, or other power machinery. It converts the energy generated by water flow, airflow, fuel combustion, or atomic fission into mechanical energy, which is then converted into electrical energy by a generator. The rotor is wound by the rotor core (or pole yoke), washer, center ring, slip ring, fan, shaft, and other components.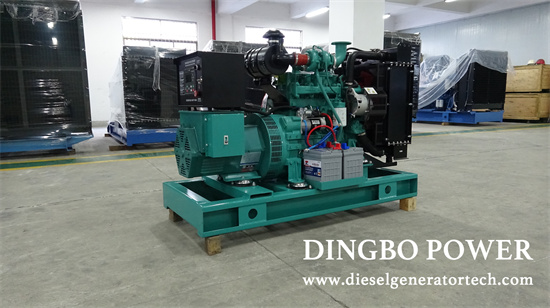 The stator and rotor of the generator are connected and assembled through bearings and end caps, allowing the rotor to rotate in the stator and cut off the magnetic field lines, thereby generating induced electromotive force. This induced electromotive force is led out through connecting terminals and connected to the circuit, thereby generating current. Cummins diesel generator sets, whether diesel or gasoline, generate a certain order of electricity from each cylinder. The thrust acting on the piston rod enters the thrust of the crankshaft rotation, thereby driving the crankshaft. The brushless synchronous generator is installed coaxially with the engine crankshaft. In fact, power machinery can be used to drive the rotation of the generator rotor, using the principle of "electromagnetic induction". The induced electromotive force output by the generator can be generated in the load circuit by closing the current.
Jiangsu Dingbo Power Generation Equipment Co., Ltd. has been established for many years. In addition to strict requirements on the quality of diesel generator set products and after-sales service, it also has strict regulations on the plant environment, production equipment and supporting facilities, which reflects the strict style of Dingbo people. It is not only responsible for generator products, customers, but also employees, so that every employee of Dingbo Power generation equipment can work in a comfortable environment, Make it comfortable for every visiting customer to visit. Dingbo Power Group, relying on high-quality generators, generator sets, diesel generator, diesel generator sets, good services and the care of friends from all walks of life, carries forward the enterprise spirit of "pragmatic innovation, pioneering, unity and hard work, dare to be the first", and adheres to the enterprise style of "treating people with sincerity and heart to heart", has won the strong support of customers in the fields of post and telecommunications, finance, petrochemical, metallurgy, transportation, education, medical care, etc, Having a proud performance. Dingbo people are gradually moving towards economies of scale and entering the international market after joining the WTO with flexible sales strategies and relying on the company's advantages and strength. If you would like to get more information welcome to contact us via sales@dieselgeneratortech.com.