Aug. 09, 2021
Diesel generator is a complete set of mechanical equipment that converts other forms of energy into electrical energy. It has low fuel consumption, low emissions, low noise, advanced technology, reliable work, convenient maintenance, long service life, lightweight and portable, high emergency rate, and low comprehensive cost. As well as a wide range of uses in industrial and agricultural production, defense, technology and daily life. In recent years, with technological advancement, as a high-quality choice for home emergency power supply and power supply for outdoor travel, diesel generators can provide limited power supply and can be easily replaced in places where they are used; they can be placed indoors in thunderstorms, but in some cases diesel power generation The engine needs to be used outdoors. In severe weather, the lightning protection of the equipment will be involved. So what are the specific steps for the lightning protection of diesel generators?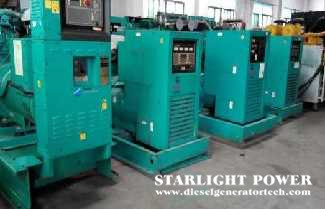 First, it is necessary to determine the lightning protection method of diesel generators, which should be based on the capacity of diesel generators, the strength of local lightning activities and the requirements for power supply reliability. The diesel generator connected to the overhead transmission line through the transformer, as long as the transformer is reliably protected, there is no need to take lightning protection measures for the diesel generator. In the mine area, there is no overhead direct wiring for the important diesel generator In order to prevent the lightning wave on the high-voltage side of the transformer from endangering the edge of the diesel generator through the transformer, it is advisable to install a group of magnetic blower arresters on the outlet of the diesel generator. Diesel generators directly connected to overhead power distribution lines must be protected against lightning, and different lightning protection measures should be taken for diesel generators according to different conditions according to the provisions of the domestic standard design code.
The lightning arrester used to protect the high-voltage rotating electric machine generally adopts the magnetic blown arrester, and the arrester should be close to the diesel generating set. Under normal circumstances, the arrester can be installed at the outlet of the diesel generator; if there are no more than two diesel generators connected to each group of bus bars, or the capacity of a single unit is no more than 500kw, and the distance between the arrester and the arrester is no more than 50m, the arrester is also It can be installed on each group of busbars. When the neutral point of the direct-matching motor can be drawn and not directly grounded, a magnetic blower or ordinary valve-type arrester should be installed on the neutral point. When using diesel generators outdoors, attention must be paid to lightning protection to ensure personal safety.
Jiangsu Starlight Power Generation Equipment Co., Ltd. was founded in 1974 and is one of the earliest manufacturers of generators and diesel generator sets in China. The company has a registered capital of 218.88 million yuan. The company covers an area of 86,000 square meters and a building area of 55,000 square meters. There are more than 660 employees, including 456 professional technicians and 106 senior technicians. It has 46 sales and service outlets nationwide. The main products are diesel engines, generator sets, and diesel generators, providing users with a one-stop service of design, supply, debugging and maintenance at any time. Starlight has always insisted on using first-class talents, building first-class enterprises, manufacturing first-class products, creating first-class services, and making every effort to build a first-class domestic enterprise. If any question please feel free to visit our website https://www.dieselgeneratortech.com/ or send email to sales@dieselgeneratortech.com.