Aug. 04, 2020
Starlight Power is authorized as OEM supplier of diesel engine of genset by Weichai Baudouin. Our diesel generator set powered by Weichai Baudouin engine covers power from 350KW to 2200KW, 50Hz/60Hz.
Features of Weichai Baudouin M series diesel engine
1. Overall structure
a. The body is made of high strength ductile iron and grid structure to increase cylinder strength;
b. The single cylinder head has enough cooling area to ensure that the copper sleeve of the fuel injector is fully cooled;
c. Four valve structure, the valve adopts special steel thickened head, and the exhaust valve adopts valve rotating mechanism;
d. High strength alloy steel crankshaft and chrome molybdenum steel for connecting rod;
e. The whole machine adopts more than 10.9 grade high strength bolts;
f. The whole machine is equipped with protection device of high temperature parts and rotary parts.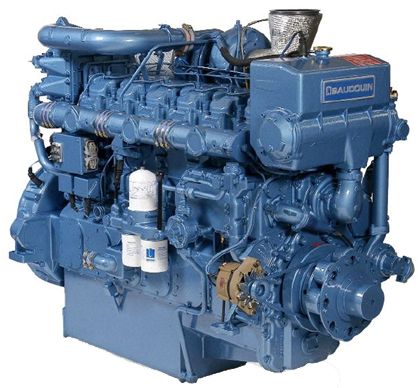 2. Fuel system
It adopts double protective high pressure oil pipe, and has leakage protection and alarm functions;
Bosch integral in-line pump, full speed governor.
3. Cooling system
a. It adopted the exhaust pipe structure of fresh water cooling water jacket. The use of clean internal circulating water of diesel engine can improve the reliability and service life of exhaust pipe, and reduce the cabin temperature.
b. High performance turbocharger with Borg Warner water cooled volute, which reduces the engine room temperature and improves the engine room working environment.
c. Gear driven copper centrifugal seawater pump, safe and reliable. 6M26 series engine adopts gear driven seawater pump, 8M26 and 12M26 series engine drive seawater pump by belt through tensioning wheel.
d. Emergency fresh water circulation and sea water circulation can be used in case of diesel engine water cycle failure, and external water pump is connected for water supply, which enhances the reliability and safety of diesel engine.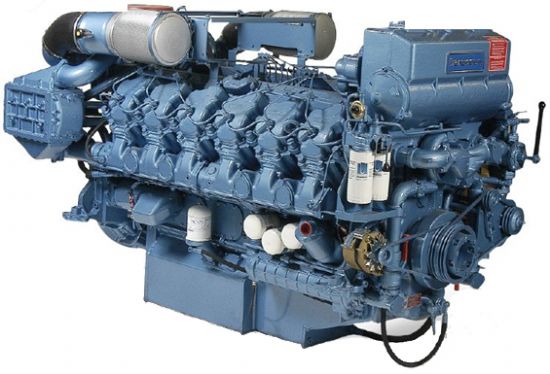 4. Lubrication system
a. Lubrication system designed by top European design team;
b. Large flow oil pump, can provide higher oil pressure (rated point up to 6kg);
c. The oil filter is designed with humanized oil pan;
d. By pass oil centrifugal filter improves the quality of lubricating oil;
e. Equipped with hand compressor oil pump, taking into account the oil pump function, convenient for users to change oil.
5. Monitoring system
a. It can realize two kinds of stop modes: stop electromagnet and oil stop solenoid valve, which is safe and reliable;
b. Electronic and mechanical instruments realize double protection function, with independent water temperature and oil pressure alarm function;
c. Multi point control can be realized according to users' needs.
Here are Starlight Power diesel generators powered by Weichai Baudoui engine
Genset Model

Genset Power:KW

(Prime/Standby)

Engine model

Engine power: KW

(Prime/standby)

Cylinder Number

XG-380GF

350/385

6M26D447E200

406/447

6

XG-440GF

400/440

6M26D484E200

440/484

6

XG-440GF

400/440

6M33D506E200

460/506

6

XG-500GF

450/500

6M33D572E200

520/572

6

XG-500GF

470/500

6M33D572E200

520/572

6

XG-550GF

500/550

6M33D633E200

575/633

6

XG-550GF

520/550

6M33D663E310

575/633

6

XG-600GF

550/605

6M33D670E310

NA/670

6

XG-660GF

600/660

12M26D748E200

680/748

12

XG-660GF

600/660

12M33D748E310

680/748

12

XG-700GF

640/704

12M26D792E200

720/792

12

XG-700GF

640/704

12M33D792E310

720/792

12

XG-720GF

650/720

6M33D725E200

NA/725

6

XG-820GF

750/825

12M26D902E200

820/902

12

XG-820GF

750/825

12M33D902E310

820/902

12

XG-880GF

800/880

12M26D968E200

880/968

12

XG-880GF

800/880

12M33D968E310

880/968

12

XG-1000GF

900/1000

12M33D1108E200

1007/1108

12

XG-1000GF

900/1000

12M33D1108E310

1007/1108

12

XG-1100GF

1000/1100

12M33D1210E200

1100/1210

12

XG-1100GF

1000/1100

12M33D1240E310

1130/1240

12

XG-1200GF

1100/1210

12M33D1320E200

NA/1320

12

XG-1200GF

1100/1210

16M33D1400E310

1280/1400

16

XG-1200GF

1100/1210

12M33D1320E310

NA/1320

12

XG-1300GF

1200/1320

16M33D1530E310

1390/1590

16

XG-1400GF

1300/1430

16M33D1580E310

1430/1580

16

XG-1500GF

1400/1540

16M33D1680E310

1530/1680

16

XG-1700GF

1500/1650

12M55D1870E310

1700/1870

12

XG-1800GF

1600/1760

12M55D2020E310

1850/2020

12

XG-1800GF

1650/1815

16M33D1800E310

NA/1800

16

XG-2000GF

1800/1980

12M55D2210E310

1989/2210

12

XG-2400GF

2200/2420

12M55D2450E310

NA/2450

12
Features of diesel generator set with Weichai Baudouin diesel engine
a.Emission: meet Non-road stage III emission standard (equivalent to EU Stage III);
b.High reliability: cylinder body adopts cast iron and grid structure with stronger cylinder body;
c.The crankshaft is made of high strength alloy steel, service life is 32000 hours;
d. High economic efficiency: high flow fuel filter and centrifugal rotor oil filter are equipped as standard to ensure high filtering accuracy, provide cleaner fuel and oil, filter element replacement cycle up to 500 hours, which can reduce the use cost;
e. High maintenance convenience: observation windows are arranged on both sides of the body to facilitate the replacement of connecting rod and connecting rod bush;
f. Good environmental adaptability: standard air inlet heater, reserved water heating inlet and outlet interface, good cold start performance in low temperature environment,. Still has reliable operation above 4000m altitude and good plateau capacity.
Starlight Power generator manufacturer can supply above diesel genset, you can select open type genset, soundproof genset, container genset, trailer mobile genset. We have focused on high quality product for more than 43 years, having R & D, sales, technical team. Welcome to contact us by email sales@dieselgeneratortech.com.