May. 16, 2019
Starlight company is a diesel generator manufacturer, we are not only have our own brand Starlight generator set, but also cooperate with Cummins. In 2008, we have satrted a good cooperation with Cummins, and became its OEM supporting factories and technology centers, has laid a solid foundation to open up the international market. In this article, Starlight company mainly writes about the maintenance and introduction of DCEC Cummins B series diesel engine.
DCEC Cummins B series diesel engine has a higher popularity in the international market. With turbocharged, air cooled turbocharged as the basic model, it has eight characteristics: reliable, durable, emission and noise meet American regulations, advanced performance indicators, wide range of applications, good applicability, low cost, easy maintenance and repair.
Main performance parameters of B series engines
Model

Rated power(kw)/

rotary speed

Max torque(N.m)/

rotary speed

Min specific fuel consumption (g.Kw/h)

B125 20

77/2800

334/1600

217

B140 20

96/2800

382/1600

212

B160 20

96/2800

558/1600

215

B170 20

96/2800

638/1600

209

B180 20

118/2600

658/1600

209

B210 20

125/2600

700/1500

205

B230 20

170/2500

750/1600

205
1. 6BTAA diesel engine structural parameters
| | |
| --- | --- |
| Engine Type | Inline 6 cylinder |
| Displacement | 5.9L |
| Air Intake means | Natural, Turbocharged, Air Cooled Turbocharged |
| Bore | Φ102.02mm |
| Stroke | 120mm |
| Weight | 453KG |
| L×W×H | 1026×699×912mm |
| Rated speed | 2600~2800rpm |
2. 4BTAA diesel engine structural parameters
| | |
| --- | --- |
| Engine Type | Inline 4 cylinder |
| Displacement | 3.9L |
| Air Intake means | Natural, Turbocharged, Air Cooled Turbocharged |
| Bore | Φ102.02mm |
| Stroke | 120mm |
| Weight | 353KG |
| L×W×H | 1026×699×912mm |
| Rated speed | 2600~2800rpm |
4 cylinder and 6 cylinder engine power range: automobile use( 120~210HP), engineering machinery(80~180HP), generator set ( 120~180HP/50HZ), marine use(120~120HP).
Air intake and exhaust systems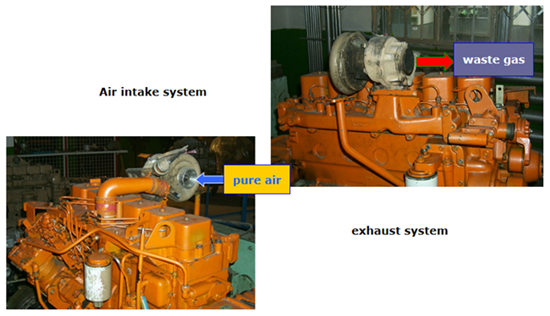 The maximum speed of the turbocharger rotor is 13000 rpm. All parts are dynamically balanced, and the position of each part must be marked and unchangeable. Generally, the disassembly should be carried out by professionals, and the assembly should be carried out according to the original marked position.
The axial clearance of turbocharger turbine rotor is 0.026-0.076mm and the radial clearance is 0.30-0.46mm. The turbine shaft is not allowed to bump and keep clean.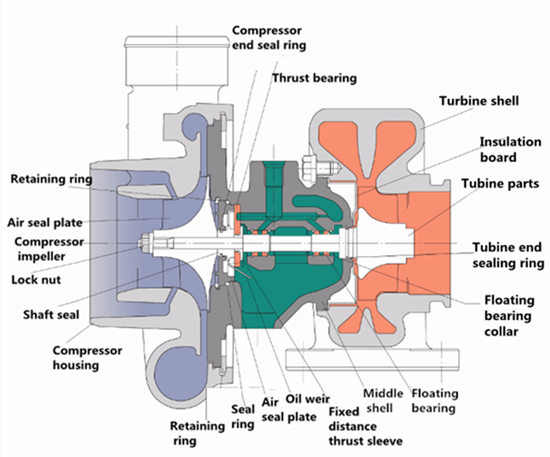 B series diesel engine structural characteristics
Reasonable strength, compact structure, simple, less variety and quantity of spare parts, light weight, high efficiency and energy saving.
A.Use the design of combining several parts, this reduces parts quality, the universality of parts is increased and many complex parts are omitted. For example, pump shell, oil pump shell, water pump intake pipe and oil cooler shell. All these parts are combined in Cylinder Block. Intake manifold, thermostat seat, cooling water small circulation pipe, fuel filter seat are assembled in cylinder head.
B.Many aluminum castings and stampings, so that weight is light. For example, aluminium castings include gear chamber, flywheel housing, intake pipe cover, valve chamber cover, oil cooler, etc. Stamping parts includes oil pan, tappet chamber cover, gear chamber cover, etc.
C.As far as possible to reduce quantity and variety of parts, for example, the total number of gears in the gear room is 6 (including three gears of the driving oil pump and the air compressor). The cooling piston is made of plastic nozzles , which cannot be simplified further.
D.Widely use light and simple accessory assembly with high versatility.
E.Spare size of key parts have more than needed, and adequate strength reserve.
F.In order to meet the needs of multi-purpose and matching, design a large number of selected parts. For example, the refueling port can be set at the top, front and side; There are three types of oil pan: front oil tank, middle oil tank and back oil tank; Oil gauge can be set in front, middle and rear position; Can choose to install air compressors, hydraulic pumps and air conditioners, cryogenic starter and some kinds of high pressure oil pump.
lubrication system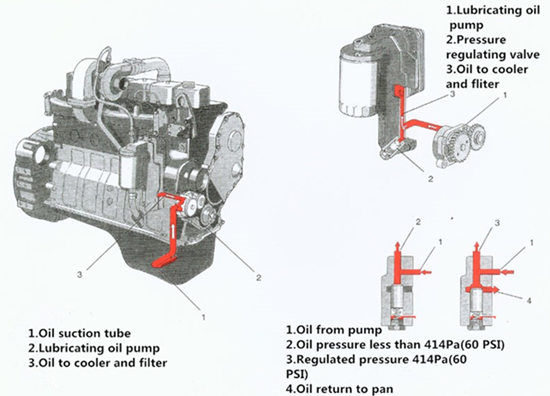 Usage and maintenance specification
A.Cleaning of air. Must guarantee air filter normally working when the diesel engine is running, air intake of diesel engine must be filtered strictly, 99% pure air and air filter should work normally.The specifications of filter element should meet the requirements of 6BT diesel engine.Can not be replaced by other filter elements. Not to leak short circuit, air intake blockage.
B.Cleaning of fuel requirements. If the fuel contains fine and hard impurities, it is easy to wear the plunger and cam disc of the oil pump and make them invalid. Or plug the injector. Some can also enter the cylinder hole through the injector to accelerate the wear of cylinder barrel and piston ring. If the fuel contains water or corrosive impurities, it will also lead to the rust of the plunger, cam disc and other important parts, or even jam, and twist off the pump shaft.
C.Cleaning of coolant liquid. The cooling fluid used in the B series diesel engine is antifreeze and antirust fluid.In the winter of low temperature, it is not necessary to drain water every day. The replacement period is 2 years.
D.If it contains other chemical impurities and scales in the water jacket, it will also lead to poor heat dissipation, poor cooling effect and engine failure.
E.Check oil level of diesel engine. When checking oil level, the engine must be placed horizontally to ensure that the measured value is accurate. The correct reading can be obtained only when the engine is down. Wait for at least 15 minutes after the engine shuts down before starting to check the oil level. This period of time allows the oil to flow back to the oil pan.

F.Check coolant liquid level. Do not open the pressure cap from the hot engine. The pressure cap shall not be opened until the coolant temperature drops below 50 degrees C (120 degrees F). Otherwise, high temperature coolant or steam ejection may cause personal injury.
In a word, the cleanliness of oil, water and gas is an important factor for prolonging the life of DCEC Cummins B series diesel engines, which must be paid enough attention to.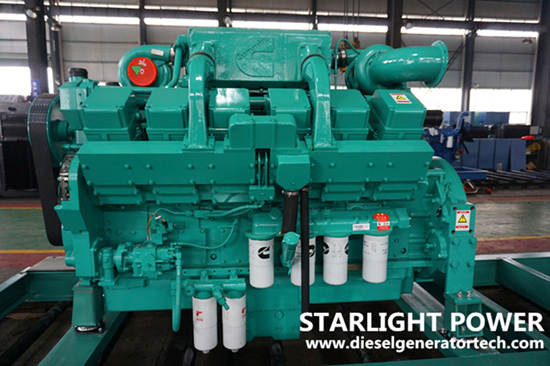 Starlight company Cummins series diesel generator set is powered by Cummins diesel engine, during the time of 2010 to 2017, Starlight series Cummins generator set got optimum outstanding achievement. Starlight company has a group of professional sales elites and technicians, we believe we can give you most professional guidance and reply for your question.