Jul. 10, 2023
When the temperature is low, the diesel generator shall be preheated, otherwise it is difficult to start. For the manually started diesel generator, gradually increase the speed, and then pull the pressure reducing handle to the non pressure reducing position, so that there is normal compression in the cylinder of the diesel generator. If the pressure reducing mechanism of the diesel generator is improperly adjusted or the valve is against the piston, it is often difficult to shake the car. It is characterized by that the crankshaft of the diesel generator can not rotate when it turns to a certain position, but can be retracted.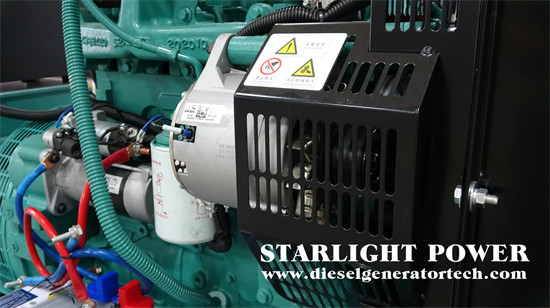 At this time, besides checking the pressure reducing mechanism of diesel generator, check whether the meshing relationship of timing gear is wrong. For the diesel generator using electric starter, if the starting speed is extremely slow, most of the reasons are that the starter is weak, which does not mean that the diesel generator itself is faulty. The electrical circuit shall be checked in detail to determine whether the battery is fully charged, whether the wire connections are tight, and whether the diesel generator starter works normally.
When diesel generator is used to a certain extent, oil consumption will be extremely fast. In fact, all kinds of diesel generator may encounter the problem of too fast oil consumption. When diesel generator is found to consume too much oil, first check whether there is oil leakage at the connection between the diesel generator body, gear chamber cover, and the large plate on the side of the traveling wheel. If the diesel generator leaks oil, observe whether the sealing gasket at each connection part is complete, and replace the damaged sealing gasket. If the sealing gasket is complete, check whether the connecting screws of each part of the diesel generator are loose.
Since 1982, Starlight Generator has been a generator set manufacturer qualified by the "National Internal Combustion Engine Quality Supervision and Inspection Center". The product quality has passed the IS09001 quality system standard certification. And obtained the qualification certificate for self-operated import and export. Over the years, starlight units have been widely used in all walks of life, and have won the network access qualification of the Ministry of Information Industry, the network access qualification of the Ministry of Radio and Television, the network access qualification of CNPC, the network access qualification of China Mobile, and the manufacturing qualification of marine units. In 2016, Starlight was awarded the Certificate of Qualified Supplier of China Nuclear Power Group. Starlight Generator has been cooperating with Shangchai Power for many years. In 2009, it became the OEM partner of Shangchai Power in China. Starlight generator VOLVO unit ranks the top three in the Asia-Pacific sales volume, and is the core OEM partner of Sweden Volvo in the Asia-Pacific region. If any question please feel free to visit our website https://www.dieselgeneratortech.com/ or send email to sales@dieselgeneratortech.com.