Jan. 31, 2023
Guide to Jiangsu Starlight Electricity Equipments Co.,Ltd.: At present, with the orderly opening of the national epidemic control and the resumption of production of enterprises and institutions across the country, China Power has also ushered in a peak period. According to the statistics of the China Electricity Council, from January to November 2022, the electricity consumption of the whole society was 7858.8 billion kilowatt-hours, up 3.5% year on year. Among them, the electricity consumption of the whole society in November was 682.8 billion kilowatt-hours, up 0.4% year on year. During the peak period of power consumption in the power grid, there may be power failure and power failure, so the small editor suggested that enterprises and public institutions can use diesel generator sets as emergency standby power supply to meet unexpected needs. Now let's introduce how to buy a suitable diesel generator set.
The main factors to be considered in the purchase of diesel generator set are the purpose of the unit, the capacity and variation range of the load, and the automation function.
1. Purpose: The diesel generator set is generally divided into three situations: common, standby and emergency. The requirements are different for different purposes.
2. Automation: whether the automatic switching with the mains can be realized in case of power failure.
3. Load capacity: different load capacity and load shall be selected according to different purposes to determine the unit capacity and standby capacity.
4. Know the brand and origin of diesel engine or generator. For example, Cummins in the United States, volvo in Sweden and Stanford in the United Kingdom. It is impossible for any diesel generator set to be completed by one enterprise independently. Only by comprehensively understanding the manufacturer and brand of diesel engine, generator and control cabinet of the unit can the grade of the unit be comprehensively evaluated.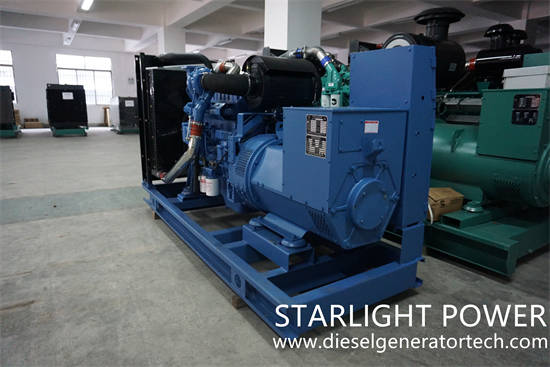 5. Avoid purchasing generator sets with a price lower than the market price. The unit with too low price generally has problems. Be alert whether it is a refurbished unit.
6. Confuse the relationship between KVA and KW. Take KVA as KW to exaggerate power and sell it to customers. In fact, KVA is apparent power and KW is effective power. The relationship between them is IKVA=0.8KW. KVA is generally used as the unit of power for imported units, while KW is generally used for domestic electrical equipment. Therefore, KVA should be converted into KW at a discount of 20% when calculating the power.
Founded in 1974, Jiangsu Starlight Electricity Equipments Co.,Ltd., a wholly-owned subsidiary of Jiangsu Starlight Power Group, is one of the earliest manufacturers of generating sets in China. Over the past 40 years, the company has won the recognition of users by relying on advanced testing equipment, modern production technology, professional manufacturing technology, perfect quality management system, strong R&D technology strength. For more details, please contact us with sales@dieselgeneratortech.com.