Jul. 26, 2022
Industrial diesel generators are very different from domestic diesel generators. Industrial diesel generators can withstand long-term use without being affected by the use environment. Although the power range is from 20kW to 3000kW, and the output power is from 150hp to 4000hp, the types of industrial diesel generators are also different. In this article, Starlight Power will take you to understand how to choose an industrial diesel generator set.

Diesel engines are known for their durability, long life and generally low maintenance. A diesel engine running at 1800rpm can run for 12,000 to 30,000 hours between major maintenance services. The same gas engine may need a major overhaul after 6,000 to 10,000 hours of operation.
Diesel burns at a lower temperature than gasoline, which reduces engine heat and wear. Electricity produced by diesel generators can also reduce costs by increasing the efficiency and energy density of diesel fuel. While diesel is formally a "dirty" fuel, improvements in engine technology have reduced diesel emissions. Biodiesel blends of up to 20% are generally safe to use in regular diesel engines.
Natural gas generator.
Natural gas generators use propane or LPG. Natural gas has the advantage of being easily stored in underground or above-ground storage tanks. It is also a clean burning fuel that reduces emissions issues. Generators that run on natural gas are built to last, but can be more expensive when you first buy them.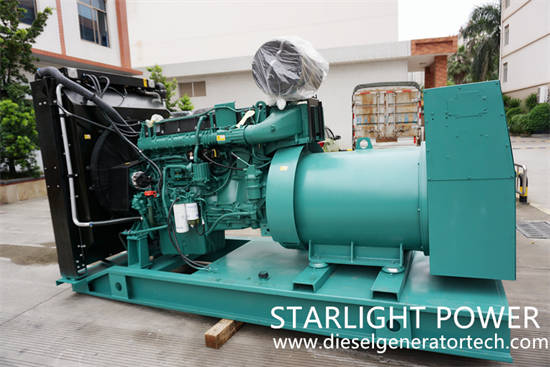 While natural gas is generally cheaper than other fuels, it must be trucked to your facility, which increases operating costs. Natural gas generators have lower power output than similarly sized diesel generators. You may need to move up one dimension to get the same result. Therefore, natural gas generators are not the best choice for large industrial applications.
Gasoline Generator.
The purchase price of gasoline generators is usually lower. While gas generators can run for extended periods of time, they do require more extensive maintenance. Gasoline deteriorates rubber parts, causing the engine to wear out faster. Gasoline storage is more difficult due to a higher probability of fire or explosion. Also, gasoline itself can go bad, so long-term storage isn't ideal. Therefore, gasoline generators are also not the best choice for large industrial applications.
Mobile industrial diesel generators.
Mobile industrial diesel generators are the trailer-mounted version, not the type that you can simply pull behind you as you walk. Large mobile industrial diesel generators were an excellent choice for use on construction sites before the power supply was established. These devices are also often used by emergency responders when large amounts of power are required on site.
Total power requirements in kilowatts need to be considered when selecting an industrial diesel generator set to select the correct generator power. This is also something to consider if the load with a motor or compressor draws more power at startup than in run mode. As a rule of thumb, it is a reasonable power figure to determine the maximum load requirement of the unit and add 20% to the total.
Jiangsu Starlight Electricity Equipments Co.,Ltd. is one of the earliest manufacturers of generators and diesel generator sets in China. The company was established in 1974 and the company occupies an area. With an area of 86,000 square meters and a building area of 45,000 square meters, it has 64 sales and service departments across the country to provide users with one-stop service of design, supply, debugging and maintenance at any time. Welcome customers to come to consult and visit. Looking forward to your inquiry, please send email to us for details sales@dieselgeneratortech.com.