Mar. 14, 2023
As we all know, Perkins diesel generator sets use diesel as fuel to convert diesel energy into electric energy. So, how does it convert diesel energy into electric energy during operation? As a professional generator set manufacturer, Starlight will talk about it with you in detail.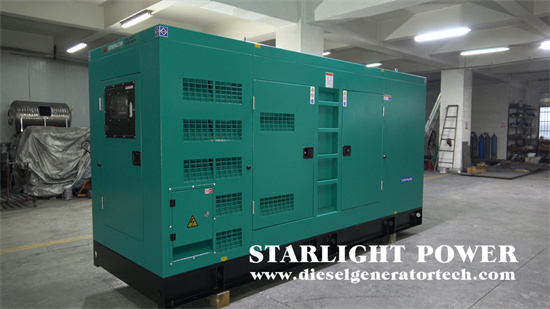 In the cylinder of the Perkins diesel engine, the clean air filtered by the air filter is fully mixed with the high-pressure atomized diesel fuel injected by the fuel injector. Under the upward extrusion of the piston, the volume decreases and the temperature rises rapidly, reaching the ignition point of the diesel fuel. The diesel fuel is ignited, the mixed gas burns violently, the volume expands rapidly, and pushes the piston downward, which is called "work". Each cylinder works in a certain order, and the thrust acting on the piston turns into the force pushing the crankshaft to rotate through the connecting rod, thus driving the crankshaft to rotate. When the brushless synchronous alternator and the crankshaft of the diesel engine are installed coaxially, the rotation of the diesel engine can be used to drive the rotor of the generator. By using the principle of 'electromagnetic induction', the Perkins generator will output the induced electromotive force and generate current through the closed load circuit. The diesel generator set is a type of AC power supply equipment in the self-provided power station. It is a small independent power generation equipment that uses the internal combustion engine as the power to drive the synchronous alternator to generate electricity.
Since 1982, Starlight Generator has been a generator set manufacturer qualified by the "National Internal Combustion Engine Quality Supervision and Inspection Center". The product quality has passed the IS09001 quality system standard certification. And obtained the qualification certificate for self-operated import and export. Over the years, starlight units have been widely used in all walks of life, and have won the network access qualification of the Ministry of Information Industry, the network access qualification of the Ministry of Radio and Television, the network access qualification of CNPC, the network access qualification of China Mobile, and the manufacturing qualification of marine units. In 2016, Starlight was awarded the Certificate of Qualified Supplier of China Nuclear Power Group. Starlight Generator has been cooperating with Shangchai Power for many years. In 2009, it became the OEM partner of Shangchai Power in China. Starlight generator VOLVO unit ranks the top three in the Asia-Pacific sales volume, and is the core OEM partner of Sweden Volvo VOLVO in the Asia-Pacific region. If any question please feel free to visit our website https://www.dieselgeneratortech.com/ or send email to sales@dieselgeneratortech.com.