Oct. 18, 2019
Dongfeng Cummins Engine Co., Ltd. was originally established in June 1996 by Dongfeng Motor Corporation and Cummins Inc. with a 50:50 equity ratio.
Dongfeng is one of the largest truck manufacturers in China. Cummins is the world's largest company in the design, manufacture and sale of diesel and CNG engines. Dongfeng Cummins will receive strong support from Cummins global production system in the fields of product development, manufacturing, quality and management, and will continuously improve the competitiveness of enterprises and products. At the same time, the joint venture's export products will also be supported by Cummins' global after-sales service system.
In this article, you will learn Dongfeng Cummins 4B3.9-G2 engine ( used in diesel generator) technical datasheet & standard parts supplied.
DCEC 4B3.9-G2 Engine Technical Datasheet
Type

In-line, 4 Cylinder, 4 Cycle, Aspirate Diesel Engine

Bore x stroke

102 x 120 mm

Displacement

3.9 litres

Compression ratio

16.5:1

Rated speed

1500r/min

Rated power

24KW

Standby power

27KW

Genset matching power

20KW (prime)

Fuel injection pump

AD injection pump

Governor

Electronic governor

RSV mechanical governor

Steady speed droop

≤1% Electrical Governor

≤6% Mechanical Governor

Lubricant capacity

11 litres

Coolant capacity

8 litres (Engine only)

Net weight

300kg

Wet weight

320kg

Overall dimension (L x W x H)

765 x 582 x 908 mm

Coolant intake size

Φ58mm

Coolant outlet size

Φ45mm

Flywheel

SAE3#

Cooling way

Forced water cooling cycle

Test Condition

Standard air intake temperature

25℃

Air intake pressure

100kPa

Standard light diesel

0# or -10# light diesel

Fuel intake temperature

40℃

Air intake restriction

251mmHg

Exhaust back pressure

76mmHg

Lubricant oil

15W40-CF4 Upgrade
Cummins 4B3.9-G2 Engine Design Characteristic:
Belt drive system: Belt drive system with tensioner offering automatic belt tension.
Maintenance: Both cylinder bore and cylinder head valve guide tube can be repaired by resisting.
Connecting rod: Alloy steel with high strength and inclined cutting.
Crankshaft: Alloy steel with whole bearing supporting and bearing and round corner harden.
Cylinder block: Dragon door style cylinder block without liner and with water pump turbo house resisted.
Fuel system: AD fuel injection pump with electrical governor.
Garret turbocharger: Bypass high efficient turbocharger.
Piston: Silicon- aluminium alloy piston with dual Ni-resist and oil cooling.
Starting function: Be started at -12℃ without assistant installation; Be started at -35℃ with assistant installation.
Fuel consumption: Excellent fuel consumption with B.S.F.C 215g/kw.h.
Construction characteristic: Simple and compact construction, fewer components and light weight.
Note: We are authorized as Dongfeng Cummins diesel generator set OEM (B/C /LSeries engines on power generators are mainly produced by Dongfeng). Power range is from 24KW to 200KW. For alternator selection, we supply original Stamford, Siemens, Leroy-Somer, Shanghai KEPU, Marathon, etc. Genset electronic control module between Deep Sea 7320 (UK) and SmartGen 6110 (China) can be available.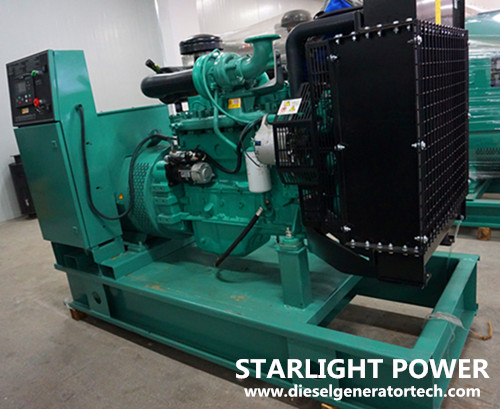 Dongfeng Standard Parts Supplied
Diesel Engine
Engine Mounting
Alternator and Starter with 24 V D.C.
Fuel Filter, Oil Filter, Coolant Filter
Speed Sensor
Oil Pressure Sensor
Coolant Temperature Sensor
Flywheel and Flywheel House
Electrical Governor Actuator
Available Equipment
Air Filter Assembly, Air Intake Resistance Indicator, Support and Air Intake Tube.
Muffler and Flexible Tube
Fuel Pre-Filter and Support
Radiator, Fan, Fan Flange and Coolant Tube
Electrical Governor Controller Panel
Cold Starting Equipment: PTC and Air Intake Heater
Oil Heater
Coolant Heater
Heat Exchanger and Sea Water Pump
Instrument Control Panel: Tachometer, Oil Pressure Meter, Coolant Temperature Meter, Oil Temperature Meter, Voltage Gauge, Working Indicator, Warning Indicator, Beeper, Power Switch, Start Switch, Circuit Breaker and Terminal Connection.
Literatures for Engine
Engine Operation and Maintenance Manual, Engine Warranty Handbook, Engine Certificate.
Tools bag
Spare Parts Ordered by Customer
Note: Oil, Diesel Fuel, Coolant Available Recommended by DCEC.