Nov. 30, 2022
There are many kinds of diesel generator sets, and their composition is also different. Let's take a look at the composition of large diesel generator sets. First of all, it is composed of diesel engine, generator and control system. There are two connection methods between diesel engine and generator, which are flexible connection. That is, use the coupling to connect the two parts! For rigid connection, high-strength bolts are used to connect the generator rigid adapter plate with the diesel engine flywheel plate. There are more diesel generator sets in the market that use rigid connection.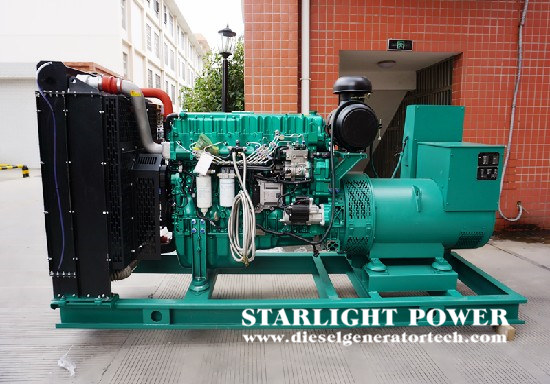 As for the connection, the large diesel generator set is installed on the common underframe after the diesel engine and generator are connected, and then equipped with various sensors for maintenance, such as water temperature sensors. Through these sensors, the operating conditions of the diesel engine can be visually displayed to the operator. With these sensors, an upper limit can be set. When the limit value is reached or exceeded, the control system will give an alarm in advance.
If the operator fails to take measures at this time, the control system will automatically shut down the unit, and the diesel generator set will adopt this method to maintain itself. The sensor of the diesel generator set has the effect of receiving and reflecting various information. It is the control system of the diesel generator set that truly displays these data and performs maintenance functions. The control panel is generally installed on the generator.
It is called knapsack type control screen, and some are separately placed in the operation room, which is called split type control screen. The control screen is connected with the generator and sensors through cables to display electrical parameters and diesel engine operating parameters separately. In addition, diesel generator sets also have chassis, couplings, radiators, fuel tanks, and some are equipped with silencers and enclosures.
Jiangsu Starlight Power Generation Equipment Co., Ltd. was founded in 1974 and is one of the earliest manufacturers of generators and diesel generator sets in China. The company has a registered capital of 218.88 million yuan. The company covers an area of 86,000 square meters and a building area of 55,000 square meters. There are more than 660 employees, including 456 professional technicians and 106 senior technicians. It has 46 sales and service outlets nationwide. The main products are diesel engines, generator sets, and diesel generators, providing users with a one-stop service of design, supply, debugging and maintenance at any time. Starlight has always insisted on using first-class talents, building first-class enterprises, manufacturing first-class products, creating first-class services, and making every effort to build a first-class domestic enterprise. If any question please feel free to visit our website https://www.dieselgeneratortech.com/ or send email to sales@dieselgeneratortech.com.