Dec. 09, 2021
Diesel generator sets are now more and more widely used, such as hotels, transportation and so on. Diesel generator sets can be used as a common power source or as an emergency backup power source. When a diesel generator set is used as a backup power source, it is likely to be idle for a long time. Diesel generator sets that have been idle for a long time need to be maintained and inspected regularly to ensure that the equipment is running normally at any time. What inspections need to be done when diesel generator sets are in standby state: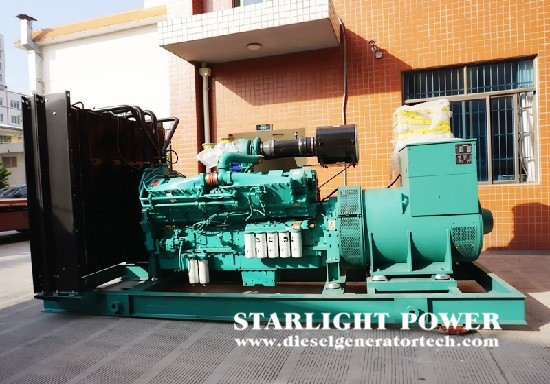 1. The key switch of the diesel engine has no alarm signal in the automatic state.
2. Check that there is no abnormality in the body of the diesel generator set, and all the external screw connections of the set are not loose or falling off.
3. Lubricating oil pressure gauge, lubricating oil temperature gauge and cooling water oil gauge are complete and complete.
4. The fuel supply valve and the fuel return valve of the diesel engine should be opened and the pipes connected correctly.
5. The oil level of the oil tank of the diesel generator set is above 1/2, and there is no oil leakage, and the oil quality is clean.
6. Security section power indicator (MAINS SUPPLY) A, B, C phase lights are on
7. Diesel generator set power indicator (GENERATOR SUPPLY) A, B, C phase lights are off.
8. Check that there is no sundries on the battery, the connection line is not loose, and the charging current is normal and there is no loss of electricity.
9. Check that the oil level of the lubricating oil tank (crankcase) is above the "L" position of the dipstick (L means low oil level, H means high oil level).
10. Check that the cooling water level in the cooler is normal, that is, unscrew the upper cover of the cooler, and the water level is full of oil.
11. The switchboard, control device and electrical part should be in standby state.
Every maintenance and inspection of diesel generator sets must be meticulous to ensure the normal operation of the equipment to prevent the chain from dropping when required, and at the same time extend the service life of the diesel generator set.
Jiangsu Starlight Power Generation Equipment Co., Ltd. was founded in 1974 and is one of the earliest manufacturers of generators and diesel generator sets in China. The company has a registered capital of 218.88 million yuan. The company covers an area of 86,000 square meters and a building area of 55,000 square meters. There are more than 660 employees, including 456 professional technicians and 106 senior technicians. It has 46 sales and service outlets nationwide. The main products are diesel engines, generator sets, and diesel generators, providing users with a one-stop service of design, supply, debugging and maintenance at any time. Starlight has always insisted on using first-class talents, building first-class enterprises, manufacturing first-class products, creating first-class services, and making every effort to build a first-class domestic enterprise. If any question please feel free to visit our website https://www.dieselgeneratortech.com/ or send email to sales@dieselgeneratortech.com.