May. 22, 2019
In this article, Starlight company mainly shares CCEC Cummins N series diesel engine. The diesel engine model of N series includes NT855-GA, NTA855-G1A, NTA855-G2A, NTA855-G4, NTAA855-G7, NTAA855-G7A etc.
Introduction of CCEC Cummins N series diesel engine
Diesel type: in-line six-cylinder, four-stroke, direct injection
Aspiration: exhaust gas turbocharging, intake air cooling
Cylinder bore*stroke: 140 x 152 mm
Engine displacement: 14 L (855 cubic inches)
Engine power: 146-358 kW (195-480 hp)
Fuel system: PT fuel system
Compression ratio: 14:1~15.5:1
Structure diagram of CCEC Cummins N series diesel engine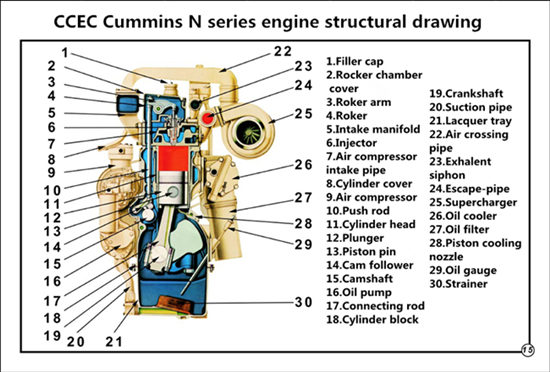 Main characteristics of CCEC Cummins N series diesel engines
1.It has a wide range of applications and can meet the matching requirements of modern equipment;
2.Easy to install and debug engine;
3.Wide power range, 146~336 kW ( 195-450 hp);
4.It is convenient for the updating of matching equipment products;
5.Large torque reserve, up to 1640N-m, maximum torque with low speed, good adaptability;
6.Good fuel economy, minimum fuel consumption is less than 196g/kW-h;
7.PT mechanical oil supply system meets the requirements of Euro I and Euro II emission regulations;
8.Full-range governor or bipolar governor can be selected;
9.The structure design of engine parts is reasonable and durable;
10.Back-end force takeoff is optional, which has compact structure, strong output capacity and convenient application.
Design characteristics of main components of CCEC Cummins N series engines
1.Cylinder
A.Strengthened rib arrangement, wide skirt edge design. This improves the stiffness and strength of the cylinder block, reduces the vibration and noise, and the reliability of the engine is enhanced;
B.The design of large cylinder hole can arrange four larger valves, which not only reduces the intake resistance, improves the inflation efficiency, improves the fuel economy, but also improves the valve life and engine reliability.
2.Cylinder cover
A.Two cylinder one cover, easy maintenance;
B.Adopt four valves (two-in and two-row) structure, so that intake resistance is small, obviously improves the charging efficiency, and is conducive to the improvement of combustion;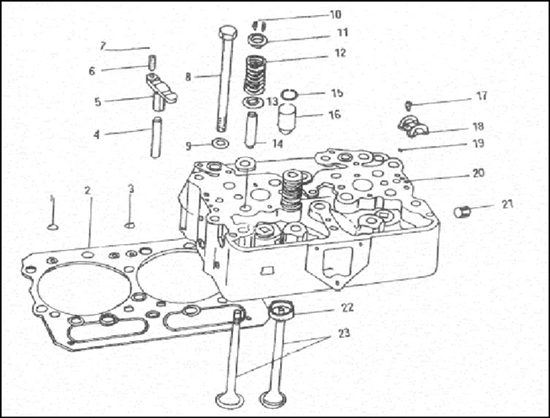 C.Improve exhaust port and exhaust port as transitional change structure, adopt pulse airway, it is beneficial to the full utilization of exhaust energy;
D.Select and use high strength cast iron material, this has improved impact resistance of cylinder head. Increased valve stiffness makes the engine more capable of overspeed.
3.Crankshaft
A.Made by high strength alloy steel, improving crankshaft strength and life;

B.The large overlap degree of the crankshaft effectively improves the rigidity and strength of the crankshaft and enhances its reliability;
C.The original crankshaft structure is a balancing block structure, now is Integral crankshaft structure, the failure rate of crankshaft is greatly reduced and the reliability of crankshaft is increased;

D.Corner induction hardening, improving the strength of crankshaft, the induction hardening of crankshaft journal up to 2.2mm in depth improves the wear resistance of crankshaft.
4.Piston and connecting rod
A.Piston is made by suitable aluminum alloy materials, when in high speed, small inertia and good thermal conductivity, the strength can meet the working requirement;
B.Precise barrel design for piston skirt, ensuring exact coordination when working, can have enough pressure bearing surface. And the clearance will not be too small, nor will it cause cylinder knocking because of too large clearance;
C.The connecting rod is made by high strength alloy steel, improving the strength;
D.I type connecting rod structure, use minimum material to guarantee design strength.
5.Camshaft
A.Made by high strength alloy steel, to improve the strength and life of camshaft;
B.By using large diameter camshaft and large cam structure, the intake profile is improved, the valve seating speed is slowed down and the impact force is reduced, thus the valve wear is improved, and the vibration is reduced, and the reliability and durability of the engine are improved;
C.Super-precision polishing of cam surface ensures accurate and reliable cam trajectory.
6.Exhaust manifold
Pulse exhaust manifold reduces the influence between cylinders and cooperates with cylinder head exhaust port, making full use of exhaust gas energy and improving the efficiency of exhaust gas turbine.
7.Supercharger
Use small wheel diameter, structure and size is compact, high pressure ratio and wide flow range, It can effectively reduce the exhaust temperature of the engine, improve the exhaust condition and reliability of the engine, and meet the needs of high-power engines and matching requirements of high-primary engines.
8.Fuel system of CCEC Cummins N series diesel engine
Basic structure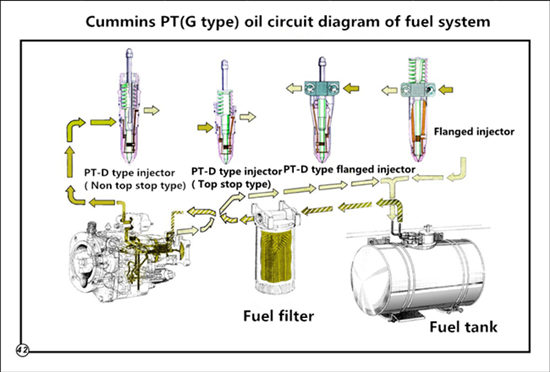 It consists of fuel tank, fuel filter, PT fuel pump, low pressure pipeline, injector, rocker arm, push rod, injection cam and return pipe, etc. PT fuel pump includes gear pump, magnetic filter, pulse diaphragm damper, bipolar governor, throttle shaft, solenoid valve, etc.
PT fuel pump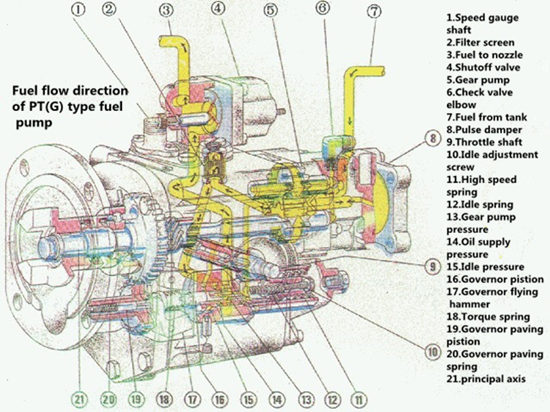 PT fuel pump sucks the fuel from the tank and sends it to the injector through filters, governors, etc. According to the design of the PT system, about 80% of the fuel supplied by the PT pump to the injector will be returned to the fuel tank through the injector in operation. It mainly serves as a cooling and lubricating injector, and prevents the freezing of fuel in cold weather and brings the air in PT system back to the fuel tank to be discharged.
Fuel injector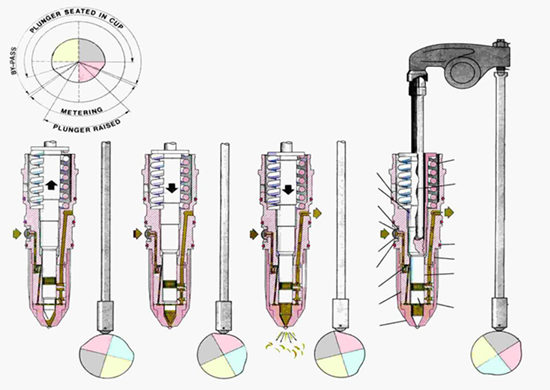 Starlight CCEC Cummins diesel generator set powered by N series diesel engine prime power: 200kw, 220kw, 250kw, 280kw, 300kw, 320kw etc.