Dec. 16, 2022
Jiangsu Starlight Power Guide: There is a diesel generator set. The box of the generator set is a combined type, which needs to be towed by a tractor when moving. This diesel generator set is called a mobile trailer power station. It is a backup power supply specially used for field engineering construction, and is widely used in electric power, mobile, telecommunications, civil and other industries. Although compared with the emergency power supply vehicle, the mobility is poor, but the cost is low. Let's follow the introduction of the mobile trailer power station with Jiangsu Starlight Power Group.

1. Main advantages of trailer power station.
(1) Good all-weather performance, suitable for field operation and mobility operation.
(2) Good ventilation system and measures to prevent thermal radiation shall be taken to ensure that the unit is always in the best working condition.
(3) Super capacity daily fuel tank, which can operate continuously at full load for more than 8h.
(4) Traction device is reserved for wheel chassis, which can be positioned and balanced at any time.
(5) The use of special noise reduction materials can greatly suppress mechanical noise and exhaust noise.
(6) The cable rack can be pre installed for customer convenience.
(7) The tail is equipped with warning lights, turn signals, fog lights and meets the requirements of traffic safety.
(8) Convenient maintenance and repair.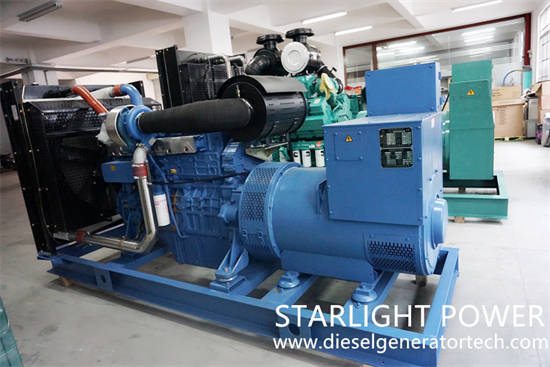 2. Performance introduction of trailer diesel generator set.
(1) The flexible and convenient drawbar makes the traction convenient.
(2) The unique manual, pneumatic and hydraulic braking devices keep the traction safe and reliable.
(3) The aluminum or steel container type enclosure ensures that the units in the power station will not be eroded by rain, snow, wind and dust.
(4) The main cable quick plug enables users to output power conveniently and quickly.
(5) The daily oil tank shall ensure the continuous full load operation of the power station for 8h.
(6) The manual or hydraulic support leg can stably support the weight of the trailer power station for a long time.
(7) Heavy duty air filter and motor dust-proof device are suitable for desert and dust environment.
(8) The air heating device and water jacket preheating device are suitable for humid and cold environments.
3. Main configuration of trailer power station.
(1) When the silent unit operates with 75% load, the average noise measured at 1m is 80-85dB (A).
(2) Move two or four wheels of the trailer.
(3) Control switch cabinet.
(4) Lead acid battery of starting system, floating charging device, connecting wire and battery switch, etc.
(5) Exhaust system corrugated damping joint, industrial muffler, residential muffler, rain cap, etc.
(6) Mechanical outriggers.
(7) Grounding steel drill and grounding wire.
(8) Fuel system 8h daily fuel tank, fuel supply pipeline, fuel pipe, etc.
(9) Power and control cables, etc.
(10) Spare parts and other labels, appearance identification, attached tools and technical data, etc.
Jiangsu Starlight Electricity Equipments Co.,Ltd., as an OEM supporting manufacturer authorized by Cummins to provide Chinese diesel generator sets, has professional manufacturing technology, perfect quality management system and strong R&D technical strength. It can provide users with generator sets of various specifications from 15KW to 2500KW. It can also provide users with one-stop service of design, supply, debugging and maintenance at any time. welcome contact us by email sales@dieselgeneratortech.com.