Sep. 14, 2017
Yuchai diesel generator YC12VC/YC6C/YC12VT Series engine features are listed below:
1) Cast iron crankshaft made in one single piece; top-quality alloy cast iron cylinder head; engine is small in size, light in weight and featured with less vibration, low noise and higher reliability as well.
2) 4-valve technology; bring in advanced technology to produce injector, which has better atomization and more intense combustion; fuel consumption is much low than all similar products with same power.
3) Adopt gear to drive water pump, ensuring higher efficiency and better reliability; dual thermostat in design, improving cooling system's reliability in further;
4) Lower emission and lower noise;
5) Bigger power reserve, stronger power;
6) Parts are highly interchangeable.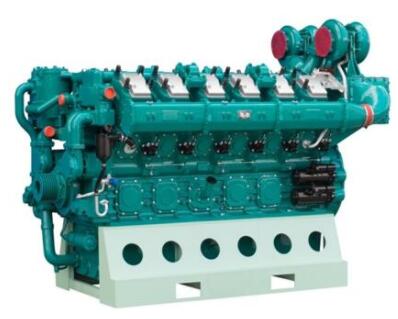 YC12VC Series Engine Technical Parameters (Ideal to 1200-1500KW generator set)
Model

YC12C2065L-D20

YC12C2305L-D20

YC12C2470L-D20

Type

Vertical, V type, water-cooled, four stroke

Intake way

Supercharged and mid-cooling

Cylinder-bore-stroke (mm)

12-200 ×210

Displacement (L)

79.13

Compression ratio

14.5:1

Rated Power/Speed (KW/rpm)

1380/1500

1540/1500

1650/1500

1-hour power/Speed

1518/1500

1694/1500

1815/1500

Fuel consumption (g/kw·h)

≦195

Oil capacity (L)

280

Oil consumption (g/kw·h)

≦1

Starting way

Electric start

Noise Limit Lw dB(A)

≦124

Emission

T2

Altitude (m)

≦2500

Overall size (mm)

3285×1644×2218

Net weight (kg)

8300
YC6C Series Engine Technical Parameters (Ideal to power 500-800KW generator set)
Model

YC6C1020L-D20

YC6C1165L-D20

YC6C1315L-D20

Type

Vertical, V type, water-cooled, four stroke

Intake way

Turbo charging with inter-cooling

Cylinder-bore-stroke (mm)

6-200 ×210

Displacement (L)

39.58

Compression ratio

15:1

Rated Power/Speed (KW/rpm)

680/1500

780/1500

880/1500

1-hour power/Speed

748/1500

858/1500

968/1500

Fuel consumption (g/kw·h)

≦195

Oil capacity (L)

180

Oil consumption (g/kw·h)

≦1.5

Starting way

Electric start

Noise Limit Lw dB(A)

≦102

Emission

T2

Altitude (m)

≦2500

Overall size (mm)

3000×1524×2150

Net weight (kg)

4500
YC12VT Series Engine Technical Parameters (Ideal to 600-800KW genset)
| | |
| --- | --- |
| Model | YC12VT1060L-D20 |
| Type | Vertical, V type, water-cooled, four stroke |
| Intake way | Supercharged and mid-cooling |
| Cylinder-bore-stroke (mm) | 12-145 ×165 |
| Displacement (L) | 32.7 |
| Compression ratio | 15:1 |
| Rated Power/Speed (KW/rpm) | 780/1500 |
| 1-hour power/Speed | 858/1500 |
| Fuel consumption (g/kw·h) | ≦192 |
| Oil capacity (L) | 65 |
| Oil consumption (g/kw·h) | ≦1.0 |
| Starting way | Electric start |
| Noise Limit Lw dB(A) | ≦121 |
| Emission | T2 |
| Altitude (m) | ≦2500 |
| Overall size (mm) | 1950×1225×1460 |
| Net weight (kg) | 2820 |