Oct. 18, 2019
Volvo Engine TAD1341/42/43/44/45GE Technical Data
Lubrication System
Oil Change Volume




Oil capacity including oil filters, approx.:

36 liters (9.5 US gal)




Oil pressure, hot engine:




Operating Speed

370-520 kPa (54-75 psi)

Idle, min

270 kPa (39 psi)






Oil filter




Full flow filter

2

By-pass filter for engine oil

1




Lube Oil Pump




Type

Gear driven




Oil




Oil capacity including oil filters, approx.:




Oil pan, standard

36 liters (9.51 US gal)

Oil pan, aluminum

52 liters (13.74 US gal)






Oil pressure, hot engine:

at operating speed

300-650 kPa (44–94 psi)






Oil filter




Full flow filter

2

By-pass filter

1






Lube Oil Pump

Type

Gear driven
Oil recommendations
Engine Designation

Oil quality

Sulfur content in fuel, by weight






up to 0,5 %

0,5 – 1,0 %

more than 1,0 %1)






Oil change interval, reached first in operation:

TAD1340–45VE

TAD1350VE

TAD1341–45GE

TAD1350–55GE

VDS-2 2)

VDS-3

600 hours or 12

months

300 hours or 12

months

150 hours or 12

months

TAD1351–53VE

VDS-3

VDS-4

500 hours or 12

months

250 hours or 12

months

125 hours or 12

months
NOTICE! Mineral based oil, either fully or semi-synthetic, can be used on condition that it complies with the quality requirements above. 1) If sulphur content is > 1.0% by weight, use oil with TBN > 15. 2) The oil must also comply with at least one of the following specifications: ACEA:E7, ACEA:E5, Global DHD-1, API:CI-4 eller API:CH-4.
VDS = Volvo Drain Specification
ACEA = Association des Constructeurs Européenne d'Automobiles
API = American Petroleum Institute
Global DHD = Global Diesel Heavy Duty
TBN = Total Base Number
Viscosity
Select the viscosity according to the table. The temperature values refer to stable ambient temperatures. * SAE 5W/30 refers to synthetic or semi-synthetic oils.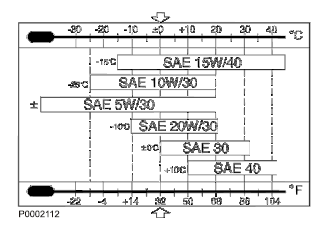 Fuel System
Feed pump

Feed pressure at 900 rpm

min 100 kPa (14.5 psi)

Feed pressure at 1800 rpm

min 300 kPa (43,5 psi)

Feed pressure at full load

min 300 kPa (43,5 psi)






Bypass valve




Opening pressure

400-550 kPa (58–80 psi)
Fuel specification
The fuel must comply with national and international standards for commercially supplied fuels, such as:
EN 590 (with nationally adapted environmental and cold weather requirements)
ASTM D 975 No 1-D och 2-D
JIS K 2204
Sulfur content: Complying with legal requirements in each country. If the sulfur content exceeds 0.5 weightpercent, the oil change intervals shall be changed, refer to Technical Data page 69. In some countries, higher quality requirements are set due to environmental reason, e.g. in Sweden (Environmental Class 1). These fuels show better emissions performance than the standard ones and can therefore be recommended. Due to lower density and/or viscosity, some of these environmental fuels can slightly decrease the maximum power output and also increase the volumetric fuel consumption.
Biodiesel (FAME)
Vegetable oil esters (Fatty Acid Methyl Esters, FAME), also called "biodiesel", are increasingly available as a blending component in diesel fuels. Volvo Penta accepts the same FAME content as in major on-road fuels EN 590 and ASTM D975; i.e. today up to 7%, without any specific additional service requirements. Please contact your Volvo Penta Dealer for futher information. For engines produced after 1 Jan 2009 Volvo Penta accepts, with specific service requirements,
• max 30% FAME blend (FAME component in accordance with EN 14214 and diesel fuel in accordance with EN 590)
• max 20% FAME blend (FAME component in accordance with ASTM D6751 and diesel fuel in accordance with ASTM D975)
NOTICE!
Higher FAME blends will negatively impact performance, emissions and fuel consumption.
NOTICE!
Engines for emergency applications, e.g. genset standby, must only run with market diesel fuel with minimum FAME content.
NOTICE!
In case of cold starting problems shift to diesel fuel. Do not to use FAME below -10°C.
NOTICE!
Raw vegetable or animal oils do not meet EN 14214 and are not allowed as fuels or fuel blending components.
Cooling System
| | |
| --- | --- |
| Type | Pressurized, sealed |
| Pressure cap, max opening pressure | 70 kPa (10.2 psi) |
| | |
| Coolant | |
| Volume (engine) | 20 liters (5.28 US gal) |
| | |
| Volume (engine+radiator and hoses) | |
| Radiator, standard | 44 liters (11.6 US gal) |
| Radiator, HD (Heavy Duty) | 58 liters (15.3 US gal) |
| | |
| Thermostat | |
| Qty | 1 pc |
| Opening temperature | 82°C (180°F) |
Coolant
Volvo Penta Coolant VCS and VCS Ready Mixed (yellow) are based on Organic Acid Technology, OAT. Volvo Penta Coolant and Coolant Ready Mixed (green) are silicate based.
IMPORTANT:
Different types of coolant must not be mixed with each other.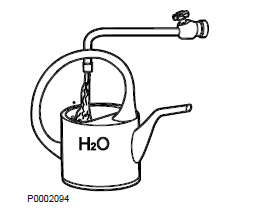 Water Quality
ASTM D4985:
Total solid particles

<340 ppm

Total hardness

<9,5° dH

Chloride

<40 ppm

Sulfate

<100 ppm

pH value

5.5–9

Silica (acc. ASTM D859)

<20 mg SiO2/l

Iron (acc. ASTM D1068)

<0.10 ppm

Manganese (acc. ASTM D858)

<0.05 ppm

Conductivity (acc. ASTM D1125)

<500 μS/cm

Organic content, CODMn (acc.

ISO8467)

<15 mg KMnO4/l
Electrical System
System voltage

24V






Alternator




voltage/max. current

28V/80A

power app.

2200W






Battery capacity

2 pcs. series connected 12 V, max. 220 Ah






Battery electrolyte specific gravity at +25 °C:

fully charged battery

1.28 g/cm3 (1.24 g/cm3)*

battery recharged at

1.20 g/cm3 (1.20 g/cm3)*
Identification Numbers
A Chassi ID
B Serial number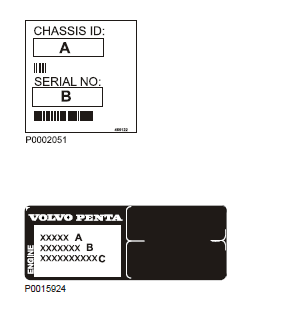 A Engine Designation
B Specification number
C Serial number
For More Volvo Engine workshop information, please visit:
Volvo Engine Cooling System Maintenance
Volvo Engine Electrical System Maintenance