Sep. 20, 2017
Shangchai diesel generator H series engine - Power Output: 62 -198KW
The H series diesel engine is jointly designed by SDEC and Ricard (UK) based on the market demand characteristics in China and by reference to the mature technologies of advanced engines in the world. The H series is a world-class power platform developed and made in accordance with GPDP development process and the SAIC MOTOR manufacturing standards. Characterized by compact structure, wide power range, high reliability, good economy and low vibration noise.
Product Featues:
1. Four valves per cylinder and optional design of air port swirl ratio and combustion chambers provide higher air intake efficiency; P7100 injection pump and vertically and centrally-mounted injectors, as well as the application of new fuel mixing and atomization technology result in decrease of fuel consumption by 8% -10%.
2. It is safe and reliable with its service life (B10) over 10,000 working hours.
3. Electronic governor with high precision of adjustment effectively controls over the engine state characteristics.
4. One-piece cylinder head, rea gear train, elastic connection and modular design result in small volume, light weight and industry-leading vibration and noise control.
5. Its cold start temperature is as low as at -10°C without an air intake heating aid, providing strong environmental adaptability.
Technical Parameters
Model




SC4H95D2

SC4H115D2

SC4H160D2

SC4H180D2

SC7H230D2

SC7H250D2

Type




In-Line Type, Water-Cooled, 4-Stroke, Direct Injection, Four Valve

Aspiration




Turbo

Turbo & Intercooler

Number of Cylinders×bore×stroke

mm

4×105×124

6×105×124

Cylinder Liner Type




Dry Liner

Compression Ratio




17.3:1

16:1

Total Displacement

L

4.3

6.5

Speed Governing Rate

%

≦5

Rated Power

KW

62

78

105

120

154

168

Rated Speed

rpm

1500

Standby Power

KW

68

86

116

132

170

185

Min Fuel Consumption

g/kW·h

195

Exhaust Smoke

FSN

1.0

Oil Capacity

L

11~13

15~17.5

Cooling System Capacity

L

6.8

9.6

Oil Consumption

g/kW·h

≦0.3

Emission Standards




STAGE Ⅱ

Noise

DB(A)

96

Net Weight

KG

430

460

600

Dimension (L×W×H)

mm

1012×723×1102

1053×717×1158

1343×741×1267

Inlet Size

mm

51

Outlet Size

mm

56

Flywheel and Flywheel Housing




SAE3#&11.5#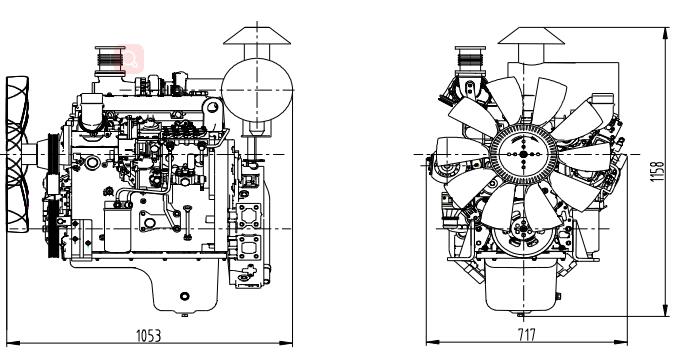 Model




4HTAA

4.3-G31

4HTAA

4.3-G32

4HTAA

4.3-G33

4HTAA

4.3-G34

4HTAA

4.3-G35

4HTAA

4.3-G36

6HTAA

6.5-G31

6HTAA

6.5-G32

6HTAA 6.5-G33

6HTAA

6.5-G34

Type




In-Line Type, Water-Cooled, 4-Stroke, Direct Injection, Four Valve

Aspiration




Turbo & Intercooler

Number of

Cylinders×bore×stroke

mm

4×105×124

6×105×124

Cylinder Liner Type




Dry Liner

Compression Ratio




16:1

Total Displacement

L

4.3

6.5

Speed Governing Rate

%

Electronic Control

Rated Power

KW

51/62

62/67

78/86

95/105

106/120

120/120

128/136

140/150

168/180

180/180

Rated Speed

rpm

1500/1800

Standby Power

KW

56/68

68/74

86/95

105/116

117/132

132/132

141/150

155/165

185/198

198/198

Min Fuel

Consumption

g/kW•h

192

Exhaust Smoke

FSN

1.0

Oil Capacity

L

11~13

15 ~ 17.5




Cooling

System

Capacity

L

6.8

9.6

Oil Consumption

g/kW•h

≦0.3

Emission Standards




STAGE Ⅲ

Noise

DB(A)

96

Net Weight

KG

460

600

Dimension (L×W×H)

mm

1039×728×1024

1330×742×1079

Inlet Size

mm

51

Outlet Size

mm

56

Flywheel and Flywheel

Housing




SAE3#&11.5#