Dec. 09, 2017
This article mainly talks about Shangchai G Series V-type SC27G diesel engine operation and maintenance manual. In the post, you will learn the safety instructions and the engine outline diagram including the detailed engine parts.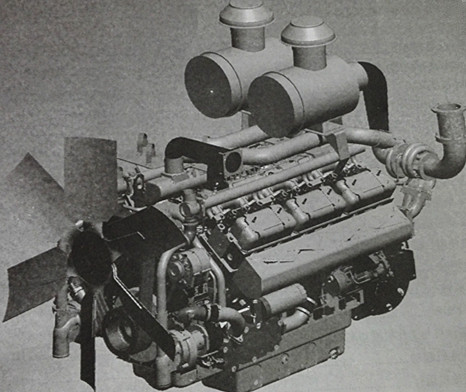 1.3 Safety Instructions (To user and operator)
● Do not wear a loose garment or any jewelry when working around the engine or its driven equipment. If necessary, wear safety goggles, work clothes, safety helmet or other protective items.
● All the exposed rotating parts should be provided with guards with firm installation to prevent personal injury.
The workroom of the engine should be well ventilated with waste gas exhausted outside.
● No flammable liquid is allowed to be around the engine.
● Take all tools, wires, other odds and ends away from the engine prior to starting.
● Make sure to shutdown the engine before any adjustment is performed to it and its driven equipment.
● Smoking is not allowed during fuel filling, otherwise, fuel steam can cause fire easily.
● Smoking is also not allowed when checking the electrolyte level because electrolyte will release flammable gas.
● Contact between electrolyte and skin or eyes must be prevented when replenishing rt for the battery, because electrolyte is an acid. In case of skin contact, please flush the contacted part with soap and clean water; in case of eyes contact, flush your eye(s) for 15 minutes with clean water and seek for medical treatment immediately.
● Cool the engine first when filling coolant to avoid being hurt by coolant steam. Open the pressure cap only when the coolant temperature is lower than 50 C, and then slowly loosen the cap to release the pressure of coolant.
● Wipe up lubricating oil, fuel, coolant or other liquids overflowed. Put oily rags into a fire-protection container, and do not leave Ft on the engine.
● Before starting the engine after being repaired, make sure to be ready to cut air supply. In case of any abnormal, cut air supply to stop the engine immediately.
● Do not rotate the engine with the fan, otherwise severe personal injury or damage to fan blades can be caused.
● Do not touch by hand the intake and exhaust system components such as the exhaust manifold, turbocharger, inter cooler air inlet pipe, expand tank because they are in high temperature when the engine is in operation,
● Release the pressure in the air system, lubricating system, cooling system or fuel system prior to dismantling or loosening any pipelines, permanent joints, connectors or relevant parts of these system. Do not use your hand to check leakage, otherwise high pressure and high temperature fuel, lubricating oil and coolant can cause personal injury.
● If the engine will not be used for a long time or is under repair, separate it from the battery to prevent an unexpected start-up. Meanwhile, place a sign STOP in the operation room or on the controller.
● Used engine oil may contain carcinogenic substance which can result in reproductive toxicity, therefore, inhalation of or longtime exposure to oil steam should be avoided. Waste oil should be disposed in proper, safe and reliable manner.
1.4 Engine Operation Instructions
● Read this manual carefully, and be in strict accordance with operation instructions and maintenance procedure specified in this manual.
● Conduct daily and 4-level maintenance as specified in this manual, and keep the records of scheduled maintenance.
Use the proper fuel, lubricating oil and coolant specified in this manual.
● Do not run the engine without air filter, otherwise, early engine wear will happen.
● The coolant specified in the manual should be adopted for the engine cooling system in any kind of climate.
● When filling lubricating oil, it is not allowed to use the mixture of oil of different specifications.
● Preparations should be well done before starting the engine. Be sure to remember that the engine must be started without load.
● Check if coolant, lubricating oil and fuel are enough before starting the engine. It is not allowed to start the engine with lack of diesel fuel in the fuel tank. The fuel tank should be replenished; or it will cause damage to the high pressure fuel pump.
● Observe the engine operation and all the instrument readings. In case of critical situation, an emergency stop should be performed to prevent the seizure of moving pads caused by low oil pressure or overheating due to lack of coolant.
● Do not run the engine at high load and high speed when the coolant temperature is blow 60°C.
● The belt tension and the other drive devices can only be inspected when the engine is in stop.
● Malfunction thermostat should be replaced in time but the use of thermostat cannot be omitted.
● Do not remove the lead seals on the engine to make adjustment without permission. If necessary send the relevant components to a professional service location for repair and adjustment.
2 About the Engine
2.1 Engine Outline Diagrams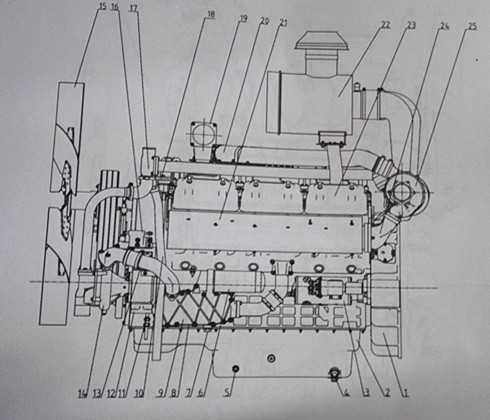 Left Side (Viewed from the flywheel end)
1. Flywheel housing
2. Oil pan
3. Starting motor
4. Oil drain plug
5. Oil temperature sensor joint (left side)
6. Oil filter (left side)
7. Oil pressure regulating valve (left side)
8. Water drain cock (left side)
9. Oil cooler (left side)
10. Gas outlet pipe of crankcase filtration device
11. Oil return pipe of oil separator
12. Front engine support
13. Engine nameplate
14. Water pump (left side)
15. Fan
16. Alternator
17. Thermostat outlet (left side)
18. Crankcase filtration device
19. Air inlet pipe adapter
20. Air inlet pipe
21. Heat shield (left side)
22. Air filter (left side)
23. Valve cover (left side)
24. Exhaust manifold
25. Turbocharger (left side)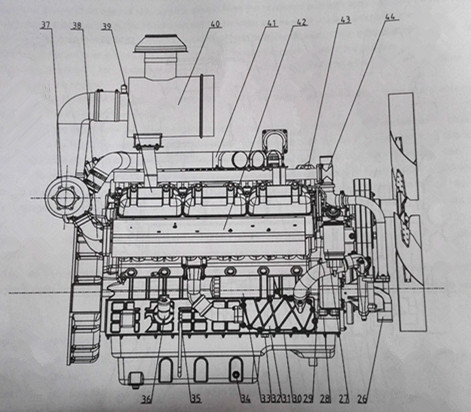 Right Side (Viewed from the flywheel end)
26. Water (right Side)
27. Fuel filter (first stage)
28 Front engine support
29. Fuel filter (second stage)
30. Water drain cock (right side)
31. Oil cooler (right side)
32. Oil pressure regulating valve (right side)
33. 0il filter (right side)
34. Oil temperature sensor joint (right side)
35. 0il dipstick
36. Oil filler
37. Turbocharger (right side)
38. Exhaust manifold (right side)
39. Valve cover (right side)
40. Air filter (righ tside)
41. Air inlet pipe
42. Exhaust heat shield (right side)
43. Water temperature sensor joint (Right side)
44. Thermostat outlet ( right side)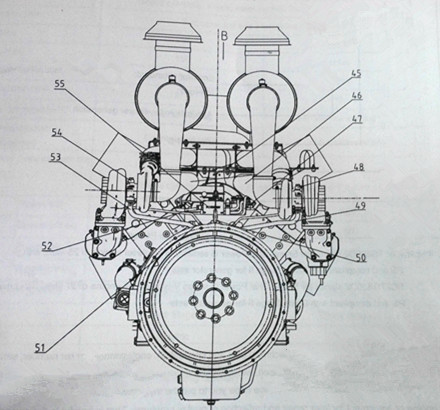 Rear End (Viewed from the flywheel end)
45. High pressure fuel pipe
46. Air inlet pipe
47. Fuel transfer pump outlet pipe
48. Turbocharger oil inlet pipe (right side)
49. Turbocharger oil return pipe ( right side)
50. Rear lifting ring
51. Speed sensor joint
52. Fuel pump oil inlet pipe
53. Turbocharger oil return pipe (left side)
54. Turbocharger oil inlet pipe (left side)
55. Fuel pump
2.2 Engine Model Identification
The engine model represents the meanings as follows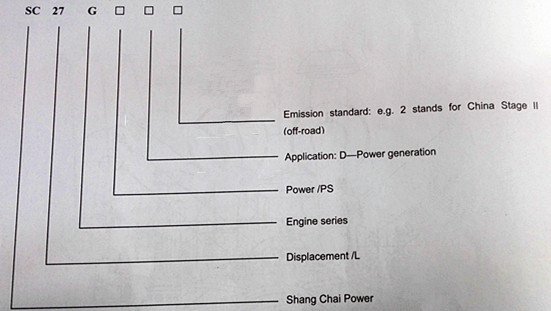 For example: SC25G690D2 stands for Shang Chai Power G series V-type diesel engine of 25 liters with power of 690 PS and compliant with China Stage II‖for generator sets
SC27G830D2 stands for Shang Chai Power G series v-type diesel engine of 27 liters with power of 830 PS and compliant with China Stage II for generator sets